Red Bull tech chief Newey says he nearly had a 'heart attack' on final Abu Dhabi lap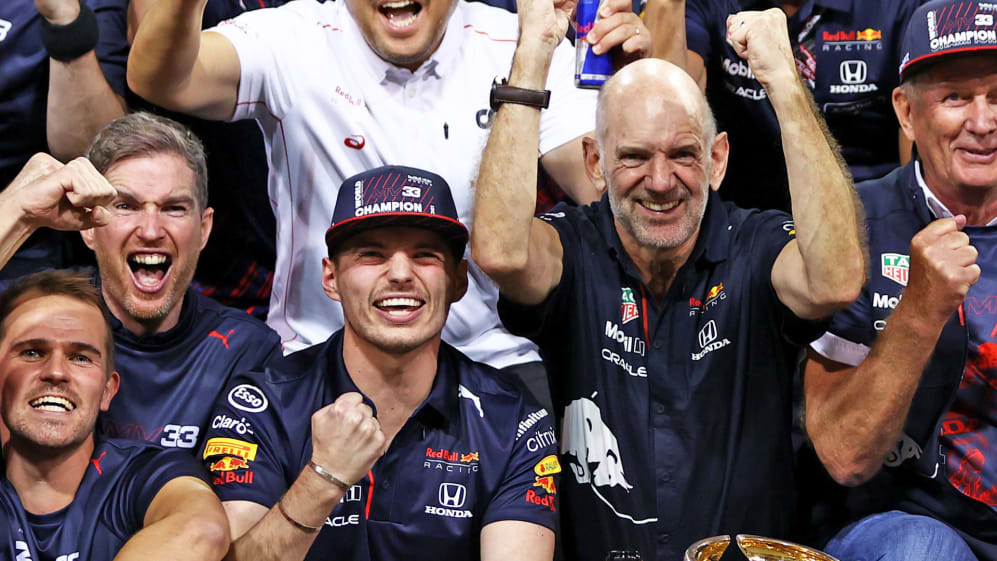 Red Bull's chief technical officer Adrian Newey has spoken about the intense emotion he felt on the final lap of the 2021 Abu Dhabi Grand Prix, which saw Max Verstappen win a battle against Lewis Hamilton to become the drivers' champion.
Newey, who was hired by Red Bull in 2006 and designed the Grand Prix-winning RB5 plus the championship-winning RB6, RB7, RB8 and RB9 machines, oversees Red Bull Advanced Technologies and the team's F1 car design. On Sunday, the RB16B became the team's latest title-winning machine.
READ MORE: 'I've achieved everything' – Verstappen says further F1 success will be 'a bonus' after claiming maiden title
Even though Newey has spent over three decades in F1, he admitted he's never seen a championship go down to the very last lap in the way it did in Abu Dhabi.
"It's the one I've come closest to having a heart attack! I've had other ones that have gone down to the last race of course but never the last lap. Yes, amazing, absolutely amazing," he said.
"You have so many emotions in a race like that. Obviously, in the laps before the Safety Car, it looked like it was all slipping away from us.
"And then the Safety Car happened, obviously we've got lucky in that sense, there's no two ways about it, without that Safety Car. But I reflect and of course I'm biased I know but when I reflect, Max thoroughly deserved it, on balance," he added.
Newey also reflected on "unlucky" retirements that Verstappen faced during 2021. The Dutchman, his country's first F1 champion, retired with a tyre issue in Azerbaijan, crashed out in a clash with Lewis Hamilton at Silverstone and again at Monza – while he suffered damage in a multi-car collision at the start of the Hungarian GP that left him P9 in the race.
READ MORE: 'We knew he'd be world champion one day' – Former team mates and fellow champs on Max Verstappen's maiden title
"When you start thinking about the year, some unlucky moments, Copse [at Silverstone] in particular, you know... [It] personally really grinds with me what happened there," added Newey.
Red Bull will now ready themselves to defend Verstappen's title as F1 enters a new era in 2022, while they take on Mercedes and seek to end the Silver Arrows run that has seen them win a record eight consecutive constructors' titles.
Meanwhile, events at the end of the Abu Dhabi GP were protested by Mercedes – who intend to lodge an appeal after their protests were dismissed.