REVEALED: The track tweaks set to make Melbourne's Albert Park Circuit 5 seconds a lap quicker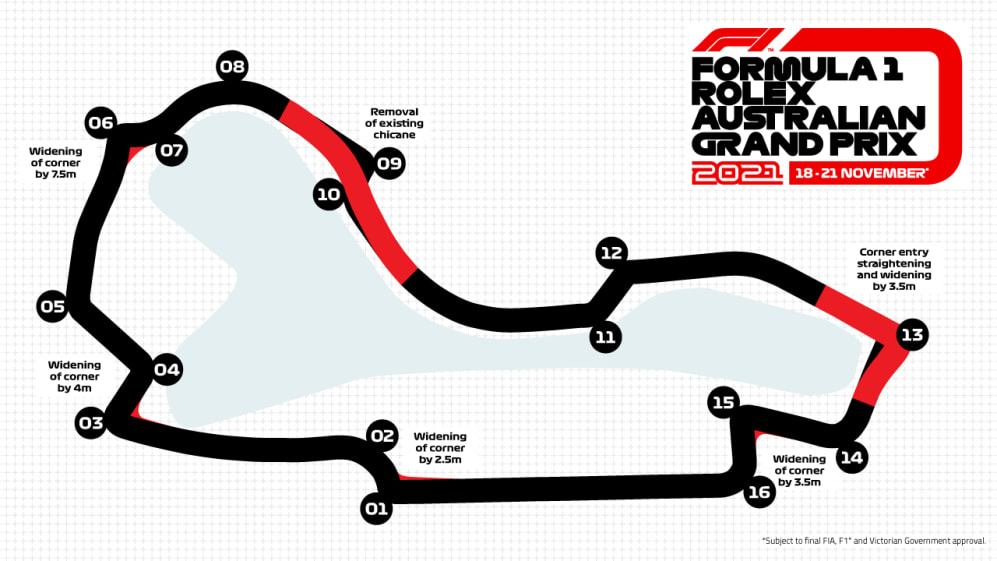 Melbourne's Albert Park Grand Prix circuit is undergoing its biggest transformation since joining the Formula 1 calendar in 1996, with organisers hoping the changes will enable more overtaking opportunities and promote faster and more competitive racing at the Australian venue.
In total seven corners at the circuit are being modified and two removed entirely ahead of the Australian Grand Prix on November 19-21, with the changes predicted to make lap times over five seconds faster and average speeds up around 15km/h.
The most obvious change to the parkland circuit will be the removal of the chicane at Turn 9 and 10 to create a sweeping right hander instead, as well as the possibility of an additional DRS zone. Meanwhile, there will also be a widening of the track at Turns 1, 3, 6, 13 and 15 – while Turns 13 and 15 are set to have their cambers altered to allow multiple racing lines.
WATCH: 5 Melbourne moments you may have forgotten about
The widening of the track at Turn 6, meanwhile, will increase speeds dramatically at that corner, up from a current minimum speed of around 149 km/h to 219 km/h.
As a result, the average qualifying lap time is expected to decrease by around 5 seconds, from 1m 21.0s to 1m 15.8s.
The move comes as the track is resurfaced for the first time in its 25-year stint on the Formula 1 calendar – with the organisers also taking the opportunity to add new locations for corporate suites, grandstands, and general admission fan zones. There will be ecological benefits to the changes too, with a 4,000m2 increase in parkland around Albert Park's lake, as well as improved infrastructure for cycling.
One person who was cheering on the changes was local hero Daniel Ricciardo – the McLaren driver predicting that while the on-track action should be improved in 2021, racing Formula 1's new generation of cars at the track in 2022 would be even more special.
"These changes are in the direction of what we want," said Ricciardo. "Better races, more battles – the changes are going to push us towards that.
READ MORE: No more delays for new era of F1: 'It's definitely coming in 2022,' says Brawn
"With these [2021] cars the changes should help a lot, but from 2022, if next year promises everything it does with being able to follow the car in front and the racing to be enhanced, then coming to a circuit like Albert Park with these changes should make a pretty amazing spectacle.
"I see all of these changes as beneficial for Sunday and we can have some fun on the brakes. It'll make the racing closer, I'm pretty confident of that."