Ricciardo admits he's 'keen to have a crack' in RB19 but says time off from racing 'feels right'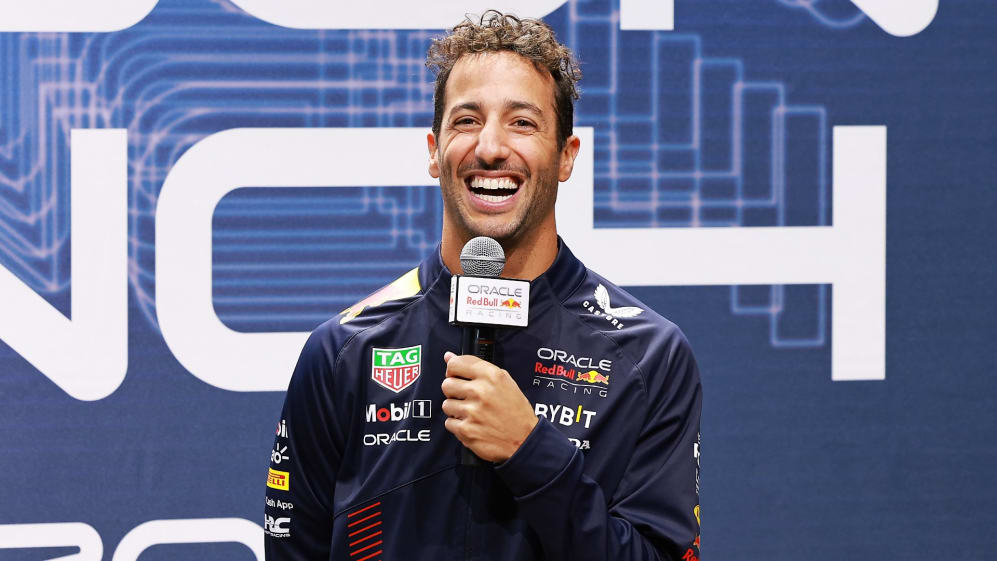 Daniel Ricciardo admits he would welcome the opportunity to drive Red Bull's 2023 race car at some point during the season – but says he's not "foaming at the mouth" to get back into a Formula 1 cockpit just yet and is content with his role as a reserve driver.
Ricciardo endured a tough two years at McLaren – despite winning the 2021 Italian Grand Prix – that ended with him departing the Woking team at the end of the 2022 season, a year earlier than had been planned. His departure gave him the opportunity to return to his former team Red Bull, four seasons after he left for Renault.
FIRST LOOK: Red Bull reveal 2023 RB19 during spectacular New York launch event
Ricciardo won seven Grands Prix with Red Bull in his last spell there, but now returns as a reserve driver, behind former team mate Max Verstappen, and Sergio Perez. It means that for the first time since 2011, the Australian won't be racing in F1 this season.
Speaking in a media session at the Milton Keynes team's launch of the RB19 in New York on Friday morning, Ricciardo admitted that he was happy with the prospect of some time off from competitive action, as he outlined his plans for the 2023 campaign.
"I am definitely keen to have a crack [in the car], just to stay race fit, so the body doesn't go into complete shock when it hits 5Gs, but also, if there was a test tomorrow, I'm still good," said Ricciardo. "[But I'm] still happy to have some time off. As the year progresses then I'm sure I'll put my hands up. But [I'm] not foaming at the mouth, [I'm] still happy to ease [into] 2023.
"Being here at the launch does excite me and it is kind of a cool feeling but I'm also really happy to be taking the year I am taking. At least currently where I am sat, it does feel right."
READ MORE: Ford announce new technical partnership with Red Bull for 2026 and beyond
He added his main driving duties this year will include some demonstration runs, but he's not expecting to be taking part in practice sessions at Grands Prix this year.
"From a driving point of view, simulator will be the main thing that I do [this year]," he said. "There are some events, so I'll do some show runs throughout the year. [It's] not confirmed, so I'm not sure if it will happen but I know there are some tyre tests."
He added: "I will say that if I am to drive this year's car, [tyre tests are] probably more likely than FP1s. So, potentially some tyre tests, there are maybe a couple in the middle of the year. That's something that could be there but mainly the sim work is the driving stuff for now."
Oops! Error retrieving Twitter post
Ricciardo did however admit that being away from the action for the season-opening Bahrain Grand Prix and his home race in Melbourne – which will be the first race he attends – could be the times when he most misses being part of the F1 grid.
ANALYSIS: Why have Ford decided to come back to F1 now – and what does it mean for Red Bull?
"I think I'll be watching the first race from likely a television, so I think that will start to warm up a few feelings – and then I'll be in Melbourne," said Ricciardo. "That will be the first race I attend. Just being around the whole atmosphere, the noise, the sound, the smell, all of it, that will probably do what it does.
"And whether I'm like stoked and excited and wanting to get back, or whether I'm just happy to be a fan for a bit longer, we will see. But, I think Melbourne will probably tell me quite a lot."