Ricciardo blames 'too good' start for Ocon contact in Turn 1 'disaster'
Starting the Turkish Grand Prix in P5, Renault's Daniel Ricciardo enjoyed one of the best launches of any driver off the line at Istanbul. Too good, in fact, with the Australian admitting after the race that his smart getaway had contributed to him colliding with his team mate Esteban Ocon in Turn 1.
Both Renaults, in fact, enjoyed strong starts from the grippier right side of the grid, Ricciardo so quick off the line that he found his way blocked by the Racing Point of Sergio Perez and the recovering Red Bull of Max Verstappen.
With Ricciardo past Verstappen but eventually forced to let Perez go, he then found himself in a Lewis Hamilton/Esteban Ocon sandwich, with Hamilton attacking up the inside into Turn 1, as Ocon tried to pass around the outside – with Ricciardo jinking his steering wheel to avoid contact with Hamilton and tapping Ocon into a spin.
READ MORE: How Hamilton was able to turn around a 5-second qualifying deficit to win in Turkey by 30 seconds
"The first 500 metres – it ended in disaster, but I would say the first 100, I was like 'wow'," said Ricciardo. "I had a really good launch, but then I had nowhere to go, because from memory, I think Max was trying to get into the better line, and then Perez was catching him and I was catching Perez, so I had to lift, so I lost my momentum there. So the start was too good!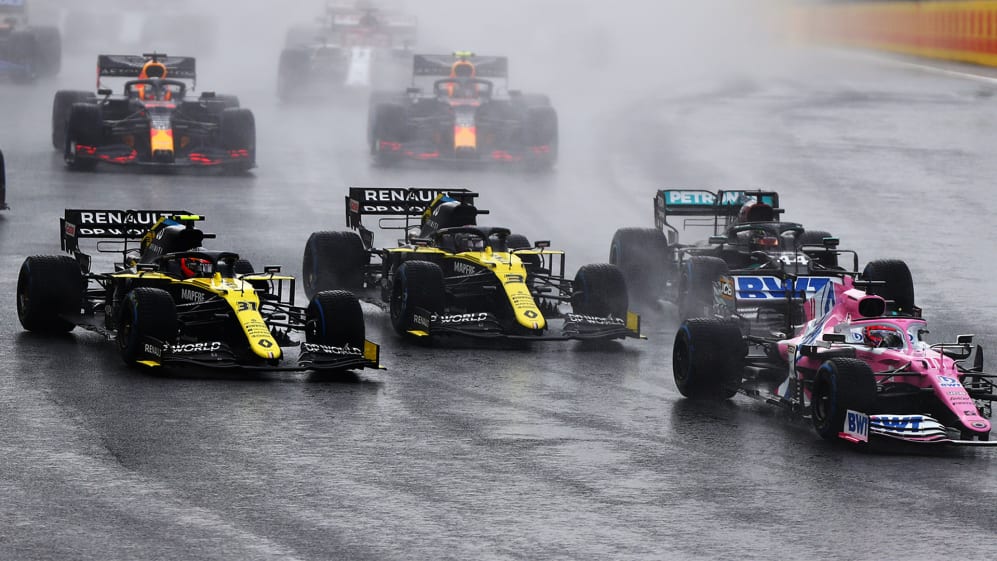 "And then all I remember is Esteban on the outside, and I thought I was okay, but then I saw Lewis come on the inside… I don't know if Lewis got into me, but it was inevitable I was going to hit Esteban, so I hit him, he spun, so we lost a couple of positions there.
"Whether it's a racing incident or not, still it's obviously the worst scenario if you and your team mate collide. I apologised to the team, but then we obviously had to try and get on with it."
WATCH: 'We had a top 5 car' says Esteban Ocon after 'unfortunate' Turkish GP
Ricciardo initially got on with it well, eventually slotting back into seventh place and spending much of the race heading a train of cars including Ferrari's Charles Leclerc and McLaren's Carlos Sainz. But with Leclerc and Sainz finishing the race fourth and fifth, as Ricciardo came home 10th – having been passed 10 laps from the end by the second McLaren of Lando Norris – the Australian admitted that an initially promising Turkish Grand Prix had turned into a "fight for survival".
"I remember Karel, my engineer, came on the radio and said, 'Your pace is good, you're one of the quickest on track.' And about two laps later, my front tyre was dead," said Ricciardo. "And then the race just went downhill for us… So just a real fight for survival at the end.
"There were some brief moments of some positive signs, but overall we didn't really have a good one today. You want to try and dissect and understand it, but part of me as well is like, we're never going to come here again with the track so shiny and so fresh in these conditions; we may never race in these circumstances ever again, but for sure there's something still to be probably be learnt."
READ MORE: Hamilton seals historic 7th title with peerless wet-weather victory in Turkey
Ricciardo's solitary point, as Ocon eventually came home 11th, saw Renault lose ground in the fight for P3 in the constructors' championship, with Racing Point and McLaren both demoting Renault from third to fifth, with the Anglo-French team now 18 points adrift of that P3 spot with three races to run this season.