Ricciardo 'encouraged' by Renault pace despite rear-wing failure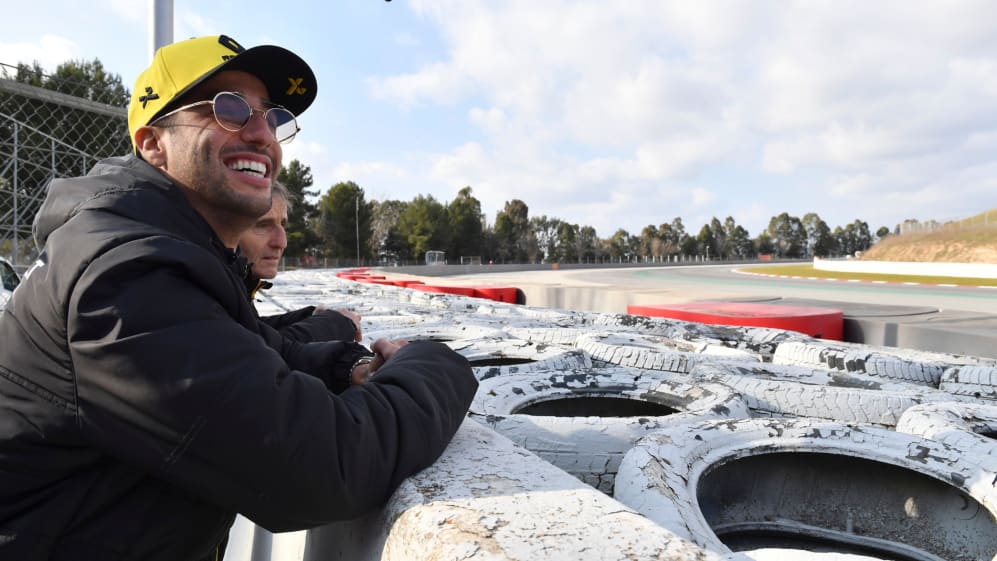 Daniel Ricciardo is only two days into his active career as a Renault driver – but despite a worrying incident where he lost the top part of his rear wing on Day 2 of pre-season testing in Barcelona, the Australian says he's already 'encouraged' by the performance of his new R.S.19. car
Ricciardo was bombing down the main straight at the Circuit de Barcelona-Catalunya when the top element of the wing detached itself, sending him spinning into the gravel. He luckily ended up short of hitting the barriers and drove back to the pits, where Renault began an assessment on the wing before sending him back out for a sighter lap before lunch.
"I guess it's all obviously new bits," said Ricciardo, referring to the larger, more powerful rear wings on the cars for 2019. "The DRS system is different to last year – there's more gains, creating more pressure. As soon as I braked, I lost the car… It turned out okay – I lost the rest of the morning but this is what testing is for."
Asked how he'd felt in the car prior to the crash, Ricciardo responded: "Before, let's call it, the DRS failure, I did quite a long run, about 15 laps or something [and] I was quite encouraged by that run.
"From how I would expect the tyres to behave in a long run on this circuit, I felt like the way I was able to bring the times back towards the end of the run… was quite good, quite encouraging. And obviously I mention the tyre but it's the car, the way the car's behaving... [So] just from my personal feeling, I felt quite encouraged by that run."
Ricciardo will also have been encouraged by the fact that the best of his 28 laps from Day 2, a 1m 18.886s, was within a hundredth of a second of Pierre Gasly, driving the Red Bull that would have been Ricciardo's had he not made his shock decision to move to Renault last summer.
But with three and a half weeks to go before the start of his home Grand Prix in Melbourne, is the Australian planning to use his Red Bull knowledge to try and help his new team make gains with the R.S.19?
"I'm certainly trying to feed back things I feel in the car," he said. "I don't know the technical things, like I don't know, 'We ran 0.2 degrees of this there and that', but obviously I can just give what I feel in terms of, 'Okay, in the mid-corner, when I come off to the brake, we were able to carry just a little bit more throttle, this is where we're weak so this is an area we need to work on', that sort of stuff.
"That's where I guess the team will also rely on me to try to steer them in the right direction, and obviously, 'Where was the Red Bull strong? Okay, is that an area we should put more emphasis on?' That kind of feedback, I guess, is useful for everyone."