Ricciardo 'flawless' in Austria - Horner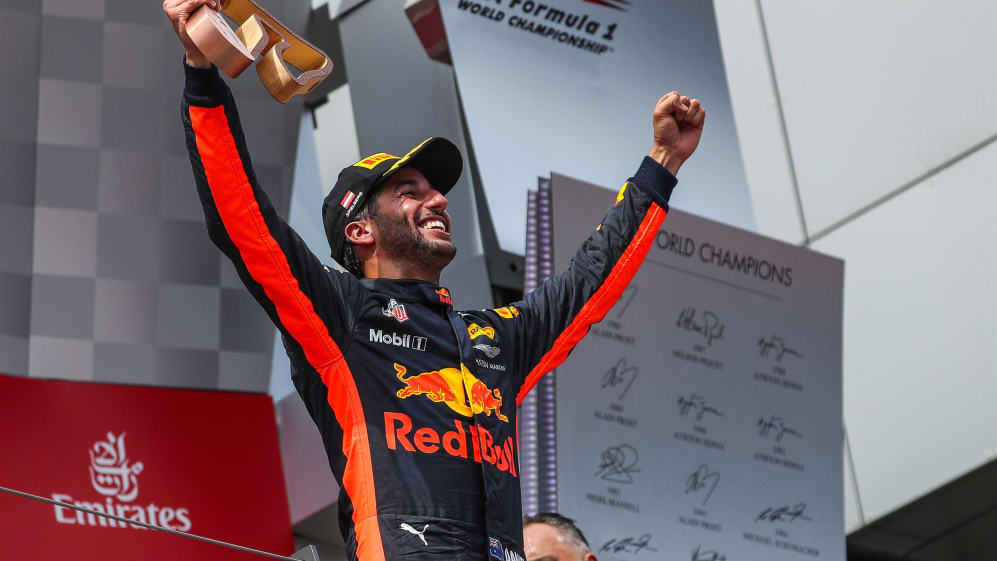 Red Bull boss Christian Horner has hailed Daniel Ricciardo's 'remarkable' drive in Austria after the Australian withstood enormous pressure from Lewis Hamilton in the closing stages of the race to pick up a fifth consecutive podium finish.
Running third behind Mercedes' Valtteri Bottas and Ferrari's Sebastian Vettel, Ricciardo calmly fended off Hamilton on multiple occasions as the race neared its conclusion, eventually beating the Briton across the line by just 1.4s.
"He's great under pressure, I mean there was a huge amount of pressure and he's driving qualifying laps at the end there," said Horner.
"He knew he had to make the time in the middle sector to buy himself a little bit of distance coming onto the start-finish straight. It was just zero mistakes. To get his fifth podium in a row, it's quite remarkable."
Horner reserved particular praise for Ricciardo's defence on the penultimate lap when Hamilton attacked with DRS assistance on his Mercedes.
"It's very easy to go in too deep, lock a brake up and then the other car gets the undercut [out of the corner]," he said, "but he judged it perfectly – he picked his braking point, he nailed the apex and that gave Lewis nowhere to go."
Ricciardo's run of five successive podium finishes – the longest such run on the grid – contrasts sharply with the form of team mate Max Verstappen, whose Austrian retirement [after a first-corner collision] was his fifth in the last seven races.
However, Horner said it's only a matter of time before the Dutchman's fortunes turn around.
"It's massively tough for him," said Horner, "but he will come through it as a stronger character.
"There's times in a Grand Prix driver's career where you forget how young he is. He's taking it all on the chin, and of course that's especially hard when he's seeing the other car get the podiums that he feels he should be achieving.
"But it will come right for him - he's performing at such a high level that I think when it does come right he could quite easily win three races in a row."
While Ricciardo has extended his advantage over Ferrari's Kimi Raikkonen in fourth place in the driver standings, 107 points to 83, Verstappen has now dropped out of the top six, slipping behind Force India's Sergio Perez.