Ricciardo: Midfield too close to call currently
Last year's midfield battle was a fierce-fought contest, with Renault, Haas, McLaren, Toro Rosso, Force India and Sauber all getting in the mix. It was Renault who came out on top – but the team's new driver Daniel Ricciardo admitted it would be hard for them to repeat the feat in 2019, judging by the pace seen so far in pre-season testing.
Following the second day of Week 2 of testing in Barcelona, it was McLaren's Carlos Sainz heading the time sheets with a 1m 17.144s, trumping Ricciardo's Renault team mate Nico Hulkenberg's previous best, a 1m 17.393s set at the end of last week. And even though Ricciardo conceded that the top three teams of Mercedes, Ferrari and Red Bull looked to still have the advantage over the rest, he still had to admit that the pace in the midfield had been strong so far.
VOTE: Which driver have you most enjoyed seeing in their new colours?
"It definitely looks like it's close in that midfield group," he said. "I would assume now the top three teams still have a bit of margin on the others.
"[But] if you look at Sainz's time, even if that's softest tyre, low on fuel – I'm not sure, but if it is, it's still a 1m 17s so it's fast. But, again, because we're not all out at the same time on the same fuel loads... so realistically, we're not going to know until qualifying in Melbourne when everyone's same fuel, same tyres, same track conditions. But I would, at the moment, just say that midfield group… it looks close, because everyone's able to do a low 17s, so it's close. Which is good for you guys, but I want to get away from that!"
"I'd like to think that we're at the front of [the midfield]," he added, "but there's no hard evidence yet that we are."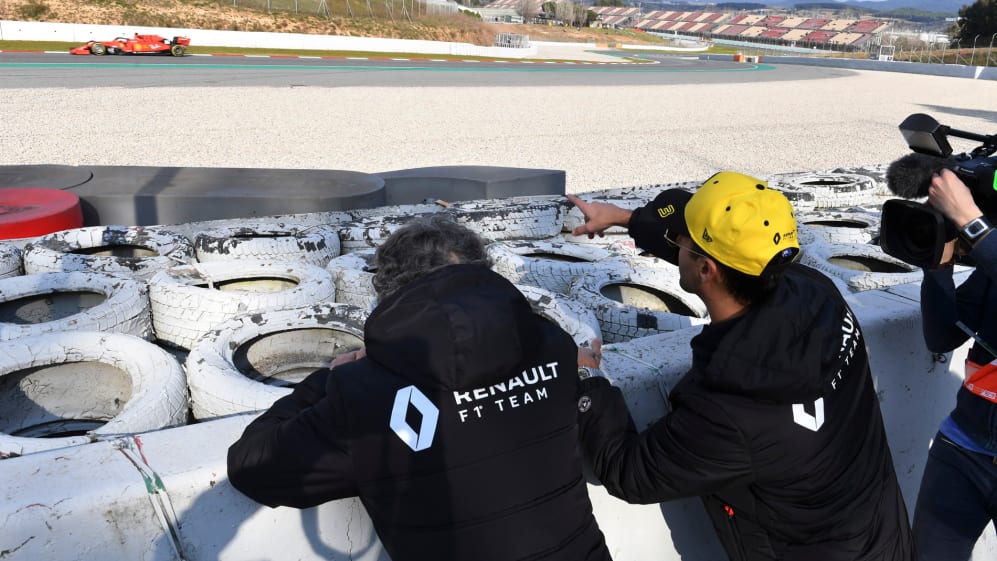 Renault know that they're principal goal in 2019 has to be to remain at least fourth in the constructors' standings. And Ricciardo has already identified a key area that he wants the team to work on to help take them both achieve that goal and push on to the next level.
Ricciardo 'encouraged' by Renault pace despite rear-wing failure
"I know that last year, speaking to Nico and just trying to understand how the team performed last year, the rate of development wasn't always as fast as they would have liked," said Ricciardo, "so that's another thing this year, just to try and understand what the car needs, but also then to see it start to happen and I guess happen a bit quicker. The team's building, the infrastructure and all that, it's expanding, so I guess they're addressing these things, so I guess that will also dictate how much we can pull away or catch the others.
"Obviously our objective is, first and foremost to be fourth or better… but it's really to try and hone in on that gap to the top three. As you know, it's big, so it's not going to happen overnight, but absolutely, the target this year is to close it in and try and just develop the car."