Ricciardo 'proud' of Brazil fightback to P6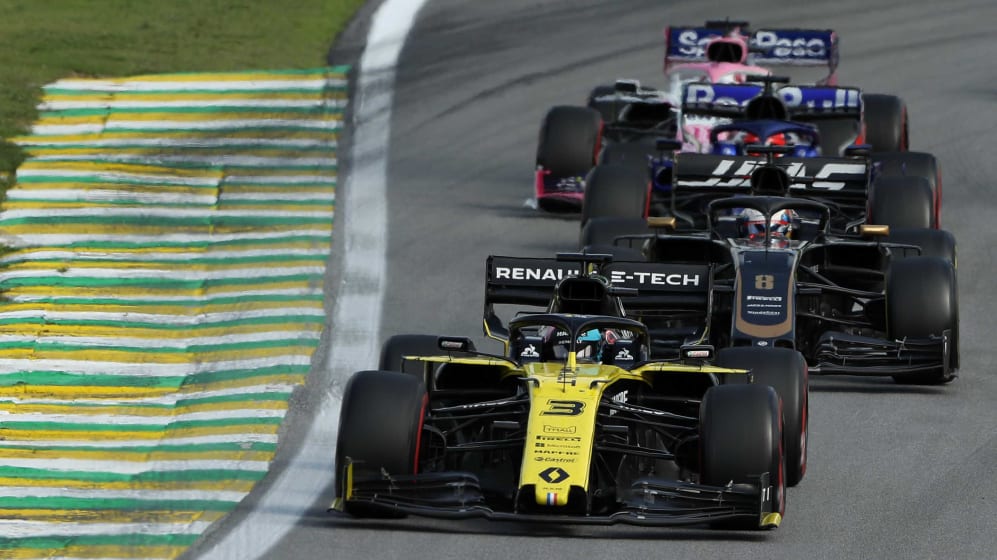 By Lap 8 of the Brazilian Grand Prix, the chances of Daniel Ricciardo claiming a P6 finish looked extremely remote, with the Australian flung right to the back of the pack after coming together with Kevin Magnussen. But a typically honey badger-ish fightback from Ricciardo saw him finish seventh on the road, before inheriting that sixth place once Lewis Hamilton had taken a post-race penalty.
Ricciardo was challenging Magnussen – not a man known for giving up a position easily – for 13th place when he left his braking fractionally too late into Turn 4, collecting the Haas and spinning it around. But while the Dane was able to continue, Ricciardo limped back to the pits for a new front wing - before stewards added to his pain by handing him a five-second penalty for the incident.
WATCH: Enjoy the highlights from a crazy Brazilian Grand Prix
From there, it looked as though a long afternoon spent outside the points awaited Ricciardo. But a succession of Safety Cars late on in the race allowed the Renault driver to work his way up to seventh by the flag – which became P6 after the stewards ruled that Hamilton had caused a collision when trying to overtake Red Bull's Alex Albon two laps from the flag.
"We kept our head down," said Ricciardo of his late climb up the order. "I didn't expect to get up to seventh, but we made it happen and that part of the race was strong.
"The penultimate restart [on Lap 60] was awesome – I think I got three cars on that lap and it was fun, it was cool. And yeah, reasonably proud."
I wanted to apologise to Kevin - if I'm in that position and someone hits me I would expect the same
Asked to comment on the Magnussen collision earlier in the race – which left the Danish driver seething, as he labelled Ricciardo a "****** idiot" over team radio – Ricciardo admitted: "I take responsibility for the incident with Kevin.
"Obviously upset with myself," he added. "It was close, but I went into him and he spun. Sometimes you can do that and it works, but sometimes you touch wheels… In the heat of the moment, of the battle and sitting as low as we do, you don't always see how much room there was.
"But I wanted to apologise. If I'm in that position and someone hits me I would expect the same. I knew as soon as he spun there was a chance for them to give me a penalty."
READ MORE: 'This is the best day of my life' says Gasly after stunning Brazil podium
Despite Ricciardo's efforts at Interlagos – and reward of eight points – Renault's race result in Brazil leaves them with something of a headache.
That's because, with Ricciardo's team mate Nico Hulkenberg failing to score after finishing a disappointed P15, and Toro Rosso taking a hefty 19 points – for Daniil Kvyat's 10th place along with Pierre Gasly's sensational second – Toro Rosso have now closed to within eight points of Renault's fifth place heading to the final race of the season in Abu Dhabi.
2019
Constructors' standings post-Brazil
POSITION
POINTS

4

McLaren

140

5

Renault

91

6

Toro Rosso

83

7

Racing Point

67

8

Alfa Romeo Racing

57