Ricciardo: Renault's surprise Monza pace 'easy' to extract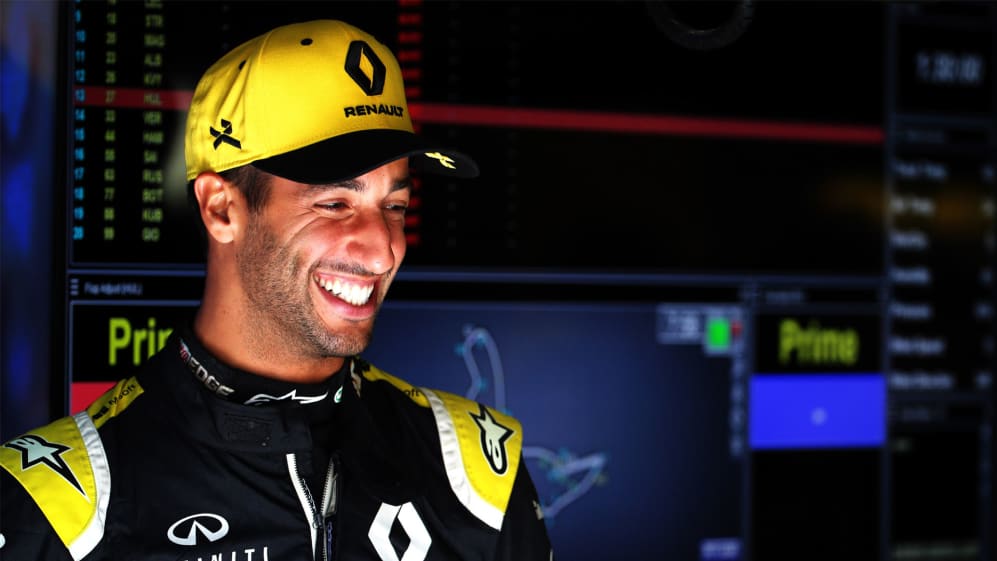 Renault have showed blistering pace at Monza so far, and it's culminated in a P5 spot on the grid for Daniel Ricciardo. That left the Australian beaming in Italy after securing his best qualifying position since the Canadian Grand Prix.
To say Ricciardo's fifth-place finish in Free Practice 3 on Saturday had been unexpected would be a slight understatement.
But Ricciardo also managed to convert that pace into fifth in qualifying for the Italian Grand Prix, representing his best-ever qualifying position at the circuit – and he said the pace had been easy to find as the car was transformed in its low-downforce configuration.
"I feel like after the break, maybe all the partying, all the drinking helped," joked Ricciardo. "But in all seriousness, the car running on more low-downforce – what we ran in Spa, everything was [taken] off here pretty much... it just felt like the balance was there and we didn't really touch the car all weekend. Yeah, we have the engine upgrade that we are able to use this weekend and that's just fun, it's been really strong, straight-line speed is there.
"It hasn't really required too much work, too much head scratching, it's been pretty easy," he concluded.
Team mate Nico Hulkenberg, who was summoned to the stewards for missing Turn 1 during the drivers' baffling Q3 standoff but ended up receiving no penalty, called qualifying "weird and strange" but still showed enough pace to take P6 and help Renault lock out the third row for the team's best collective qualifying of the year.
"I'm happy with the result," he said, "but it could have been a little better. It was okay, I lost some rhythm in Q2 with a lock-up at Turn 1, so I had to reset myself.
"The ending was clearly a bit extreme but the tow has a big impact here and it's worth a couple of tenths, which you can't make up in the corners. That's why we had some games at the end. It was peculiar with all the cars bunched up. Our pace was clearly very strong today and we have to back it up with points on Sunday," explained the German.
MUST-SEE: Drivers miss out on final runs in crazy end to Monza qualifying
Also part of that Q3 scrap, Ricciardo was one of the few to benefit from not setting another flying lap as the chequered flag was waved.
As Ricciardo joked before heading off into Saturday evening: "Leclerc and myself weren't too disappointed!"