RM Sotheby's and Ferrari auctioning 1,000th GP celebration memorabilia and 2021 VIP packages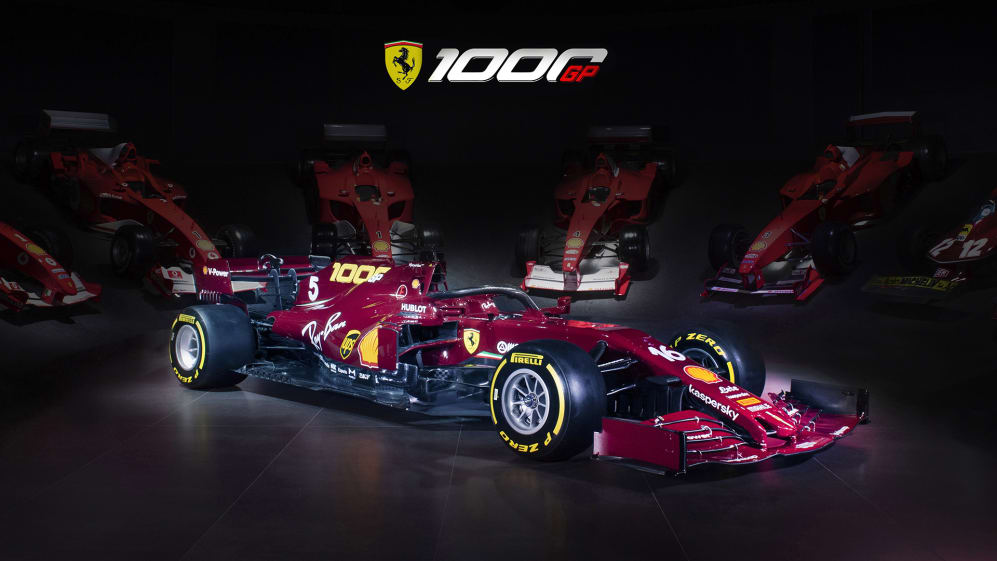 Ferrari celebrated their 1,000th World Championship Grand Prix with a special throwback livery this season, and now the Scuderia are auctioning 16 lots in an online sale including a replica of their 1,000th Grand Prix car and chances to watch a 2021 Grand Prix with the team.
The online-only RM Sotheby's auction, which began on December 7 and runs to December 14, includes the SF1000 show car signed by Charles Leclerc and Sebastian Vettel and dressed in its special burgundy livery, which was used at Mugello this season. With days to go in the bidding, the car has already smashed the world record figure and now stands at €1,040,000.
READ MORE: Vettel pinpoints 2018 as 'decisive moment' in Ferrari career as he prepares to leave team
Other lots include three sets of 1,000th Grand Prix racing gloves and suits signed by Leclerc, Vettel and 2021 Haas driver Mick Schumacher; two replica 1,000th GP racing helmets signed by both Leclerc and Vettel; and two SF1000 rear-wing endplates signed by both 2020 drivers.
For diehard Scuderia fans eager to travel, there are also two packages for two people to join the team as a VIP guest next season, with behind the scenes access and a meet-and-greet with 2021 drivers Carlos Sainz and Leclerc in the team's motorhome.
There also three packages for two people each to enjoy a behind-the-scenes guided tour of Ferrari's Maranello factory and race operation, and to watch a 2021 race live – including a tour of the Ferrari museum and one-night's stay in Maranello.
"Scuderia Ferrari is unique in being the only team to have taken part in every season of the Formula 1 World Championship. This year it reached the historic milestone of competing in its one-thousandth Grand Prix, which was held at the company's home track of Mugello," said Team Principal Mattia Binotto.
READ MORE: Unwell Ferrari boss Binotto to fly home and miss Abu Dhabi GP
"For the occasion, the cars raced in a special livery, featuring the colour used on the first Ferrari car built in Maranello. We chose to commemorate this event by producing two show cars, one of which will be auctioned through RM Sotheby's; the other will remain with us at Ferrari. It is an amazing opportunity to acquire a piece of history relating to the most successful team in motor racing's blue riband category."
View the lots or bid on RM Sotheby's auction here.