Feature
ROAD TO F1: De Vries takes commanding F2 win as Ilott shines in GP3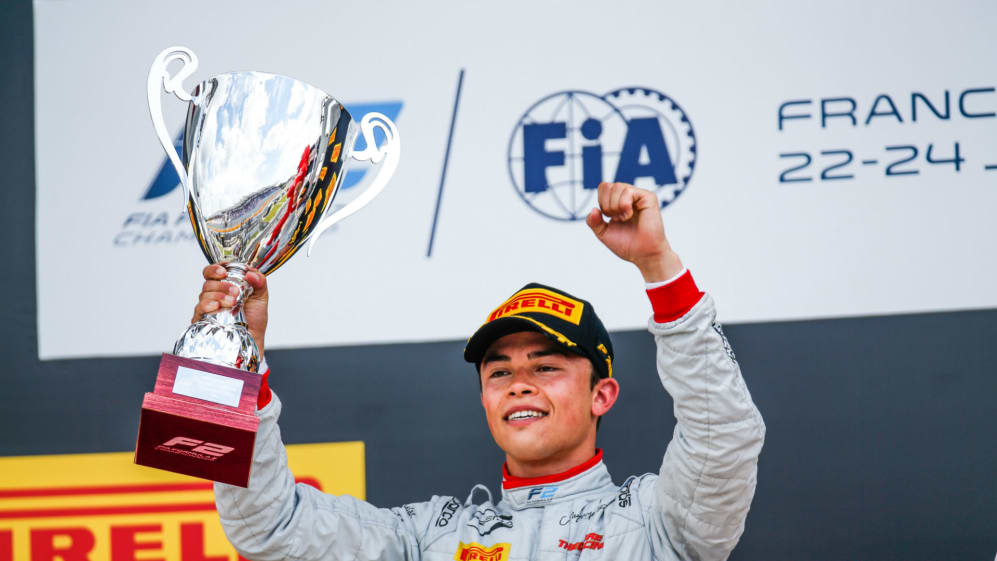 There was a feast of racing at Circuit Paul Ricard, with the Formula 2 championship resuming for its fifth round of 2018 while the GP3 talents made their second appearance of the season. It was an impressive return to action for some, but others will be less happy…
THE RACES
F2 FEATURE RACE
If you ever wanted an example of why Mercedes rate George Russell highly, here it is... Having notched his maiden Formula 2 pole position on Friday, the ART Grand Prix driver then produced a superb performance in difficult conditions to take his third win of the season.
It was by no means easy, with the Briton forced to demonstrate his defensive prowess when Carlin's Sette Camara attempted a last-corner lunge, as shown below. But after leading every lap, he held his nerve to take the victory ahead of Camara and send a timely reminder of his Formula 1 potential.
It was heartbreak for MP Motorsport's Roberto Merhi, who finished third after making up 11 places – only to be disqualified for failing to comply with the tyre pressure specifications and promoting Luca Ghiotto to the podium.
Elsewhere it was disappointing day for McLaren junior Lando Norris and his title rival Artem Markelov, who both stalled at the start to ultimately finish in 16th and 14th respectively. Alexander Albon will also want to forget this race, after an engine problem when on course for a podium finish brought an end to his race.
In challenging and sometimes treacherous conditions, it was certainly a memorable race at Circuit Paul Ricard.
F2 SPRINT RACE
This second race produced a new winner in the 2018 championship, with Nyck de Vries producing a mature performance to finish almost ten seconds ahead of his nearest rival, Louis Deletraz, while Luca Ghiotto completed the top three.
McLaren protege De Vries carved his way through the field, producing a number of fine overtakes including a great outside-pass on Deletraz to take the lead – a position he ultimately held on to.
Norris, another driver in the ranks at the Woking team, also enjoyed a decent race by charging through the field from 16th on the grid to finish fifth. This was a much-needed boost for the youngster following the disappointment of the Saturday's race.
However for feature race winner Russell, his chances of back-to-back victories were dashed at the start when a throttle issue ultimately meant he lost two laps before his ART challenger was able to get involved in the action. It was even worse for the sister ART of Jack Aitken, whose spin on the formation lap (see the video below) ended his race before it got going.
All in all, it was another entertaining edition packed with plenty of drama – and it gives us lots to look forward to ahead of the next showdown this week…
GP3 FEATURE RACE
Home hero Dorian Boccolacci was stripped of his victory in this first race, allowing fellow Frenchman Anthoine Hubert to inherit his maiden series win. Boccolacci and MP Motorsport team mate Niko Kari failed to supply an adequate fuel sample and therefore were disqualified, with Giuliano Alesi jumping up to third.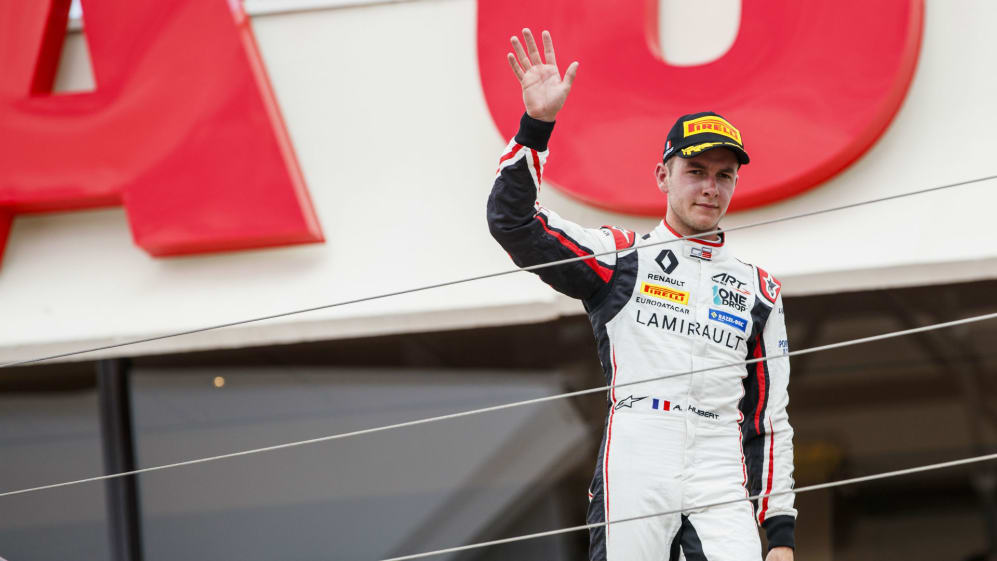 GP3 SPRINT RACE
Ferrari junior Callum Ilott won't forget this race in a hurry, the Briton producing a battling performance to claim his maiden GP3 victory. The ART driver, who started this reversed-grid race on pole, was made to work hard by Trident's Pedro Piquet, losing his lead before recapturing his position late on the opening lap. Piquet took home second as Arden's Joey Mawson finished third for their first podiums in this series.
DRIVER OF THE WEEKEND - Nyck de Vries
British drivers Ilott and Russell deserve a shout-out for their victories, but this week's award goes to De Vries for securing a commanding victory in the F2 sprint race. The Prema driver may have crossed the line 9.6s ahead of second-placed Deletraz, but this win wasn't handed to him on a plate. He was forced to show his technical ability, taking the lead on Lap 13 and then gradually increasing the gap. The Dutchman will be hoping to kick on now, and will have his eyes on a potential title quest.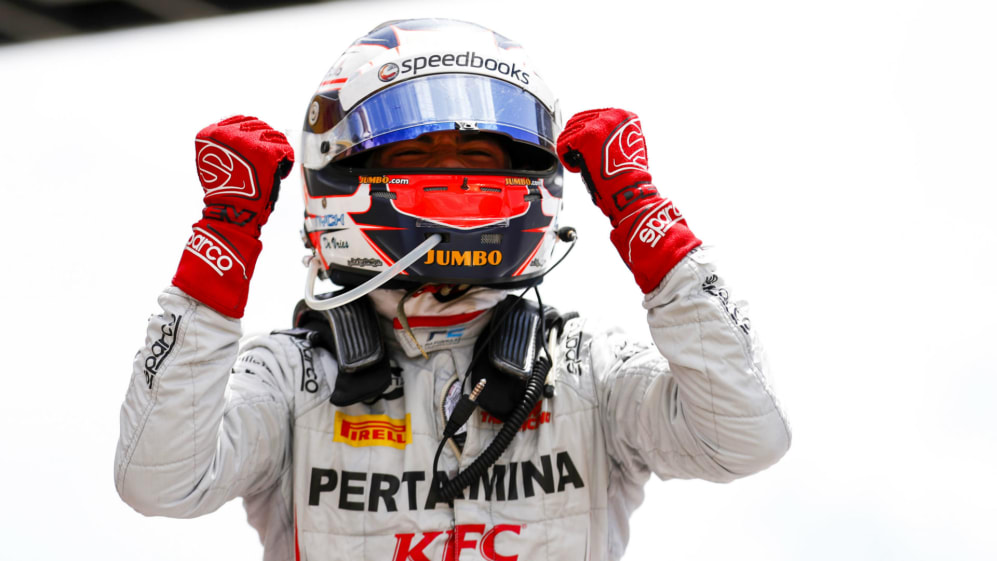 THE KEY QUOTE
"Yeah, it was an extremely difficult race, probably one of the most tricky races I've ever driven in or been a part of. Being at the front is always extremely difficult because you've got no reference to another driver going off or spinning off when the rain is falling. I was always the one approaching the corners first, not knowing how much grip there was going to be, whether it was going to be wet or dry. In the end, for myself and Sergio to finish 30 seconds ahead of P3 meant we had a fantastic race." - George Russell, seen below leading his rivals at the start of the feature race.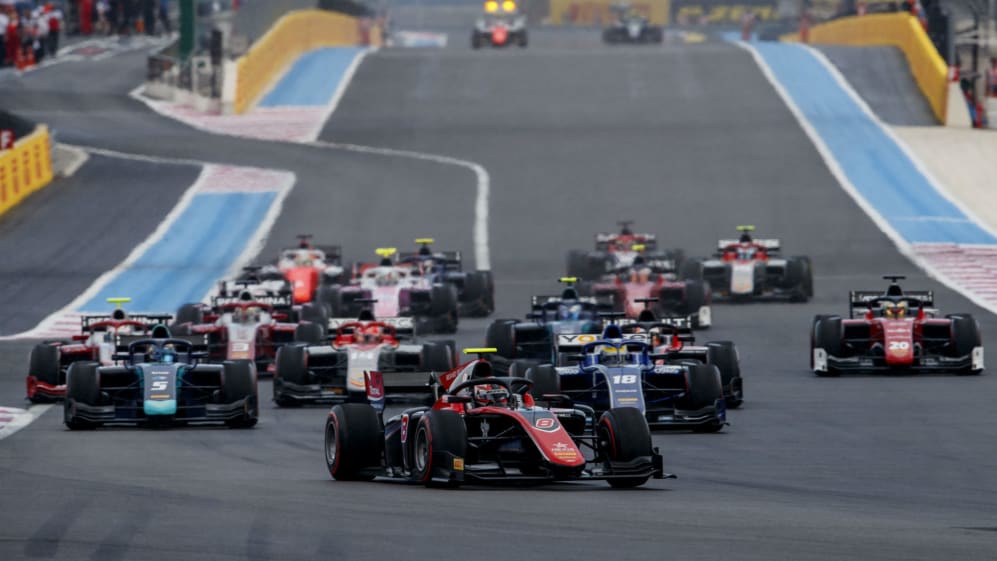 THE STANDINGS
Despite missing out on a podium in France, Norris retains his F2 championship lead on 104 points while Russell jumped up two places to second, 13 points behind his fellow Brit. Sprint race winner De Vries completes the top three on 75 points.
THE STANDINGS:
| POSITION | DRIVER | TEAM | POINTS |
| --- | --- | --- | --- |
| 1 | Lando Norris | Carlin | 104 |
| 2 | George Russell | ART | 91 |
| 3 | Nyck de Vries | Prema | 75 |
| 4 | Alexander Albon | DAMS | 73 |
| 5 | Artem Markelov | Russian Time | 71 |
After the second round of the GP3 series, Hubert retains his lead at the top of the standings thanks to his inherited feature race win. In fact, the top five hasn't changed at all with Nikita Mazepin sitting second ahead of Alesi.
The top five in GP3:
| POSITION | DRIVER | TEAM | POINTS |
| --- | --- | --- | --- |
| 1 | Anthoine Hubert | ART | 63 |
| 2 | Nikita Mazepin | ART | 49 |
| 3 | Giuliano Alesi | Trident | 42 |
| 4 | Callum Ilott | ART | 36 |
| 5 | Leonardo Pulcini | Campos Racing | 29 |
WHAT'S NEXT?
Formula 2 and GP3 are back at the Austrian Grand this weekend in support of Formula 1 from June 29-July 1.
For more information on the FIA Formula 2 Championship, click here.