Feature
Ross's Monaco GP review: A proper street fight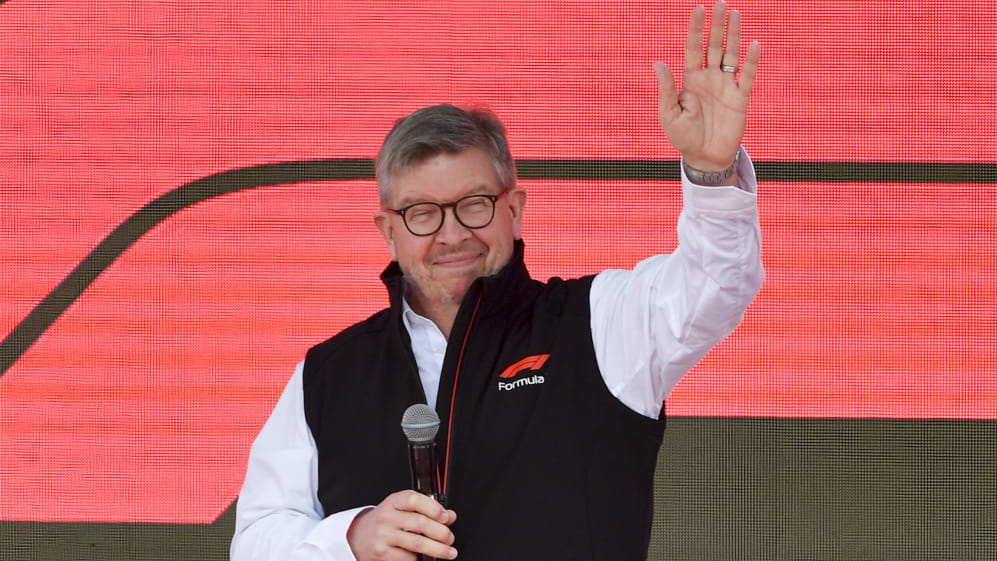 Formula 1's Managing Director Ross Brawn casts an eye over the five key moments from round six of the World Championship in Monaco...
Lewis' Monaco masterclass
A win in Monaco is always special, but the way Lewis Hamilton did it, on such an unusual day, was really something. I think that when he looks back at his racing career, Lewis will remember this latest victory with particular pleasure.
Almost from start to finish Lewis' race was run with his heart in his mouth, with hardly a moment to catch a breath. First, he was pursued by team-mate Valtteri Bottas and then, for the bulk of the race, by the relentless Max Verstappen.
From lap 11 of the 78-lap race Lewis ran the medium tyre, while his pursuers were on the hard compound Pirellis, which they intended to take to the flag. The result was Hamilton having to nurse fading tyres to the end, while fending off incessant attacks from Verstappen.
Hamilton, though, was up to the task and once again demonstrated his amazing tyre management skills, even as Verstappen, who needed to get by to negate a five-second time penalty, became ever more desperate.
It was an unusual weekend, marked by the death of Niki Lauda, who was not just a hero of our sport, but a friend, confidant and reference point for Lewis. Knowing him as I do, I can imagine the emotional turmoil he was going through, and what he said on Saturday afternoon following a closely contested qualifying and again on Sunday after the chequered flag are the tip of the iceberg. He could not have paid a better tribute to Niki.
Lauding Lauda
Niki's passing affected everyone in Formula 1 this weekend. He was an amazing driver, a true hero and an inspiration for so many, on-track and off it.
Over the course of four decades and more he left an indelible mark. It's clear that all of us, managers, drivers, teams, fans, media, who make up the Formula 1 family, were shocked by his death and it was wonderful on the grid to see all those trademark red caps being worn on Sunday.
The magic of Monaco
Whenever the Monaco Grand Prix fails to deliver great excitement, the event is branded an anachronism. And yet every year we return and remember the magic of seeing these phenomenal cars brush the barriers at almost 200 km/h, as they plunge down to the hairpin or burst out of the tunnel with the drivers practically blinded by the bright sunlight.
It's particularly the case in qualifying, where on the replays it really does look like the cars want to come through the barriers to cut the corners and gain a few thousandths of a second. It was no different this year and qualifying was a true spectacle. The drivers were right on the ragged edge and just millimetres separated them from perfection and a long, lonely walk back to the pit lane.
On Sunday we held our breath for the full race distance, entranced by Hamilton's defence, Verstappen's faultless pursuit, and by the possibility of both losing out to Sebastian Vettel who looked to exploit the situation in the event that Hamilton's tyres finally gave out.
It was a genuinely fascinating cat and mouse battle, but elsewhere the race was also enlivened by some great overtaking, especially in the early stages when Charles Leclerc tried to make up for the disappointment of Saturday and from McLaren's Carlos Sainz.
When it was all over, one was left with a clear understanding that what the drivers accomplish around these streets is absolutely phenomenal, controlling almost 1,000 horsepower for an hour and three quarters at incredible speeds on roads normally used to go shopping.
As Lewis said after qualifying, it's always on the limit, always out of control and like "trying to wrestle a bull". It's another reason why we love Formula 1 and why we continue to be mesmerised by the Monaco Grand Prix.
The red mist descends
I mentioned Leclerc because for a handful of laps, he was truly spectacular. Then Charles went too far and paid a high price for his impetuousness. His reaction was understandable, however. It's his home race and his first attempt at it with a front-running team. It was supposed to be a special moment but it ended only in disappointment.
After some problems on Thursday, Saturday morning's final practice session offered a ray of light when he topped the timesheet. But then came the slap in the face of that Q1 strategic error – which Mattia Binotto fully admitted was a team miscalculation – and he dropped all the way down to 16th, a starting position that led to him overdoing it on Sunday.
It was a difficult weekend for Ferrari, although it ended with their best result of the year. However, Sebastian Vettel's second place came at the end of a race in which he didn't play a key role, sitting behind Verstappen throughout but unable to really worry the Dutchman.
It reflected a weekend during which the Scuderia was the third strongest team. That was predictable given what we saw in Barcelona, where the car struggled, especially in the third sector of that track. The season seems to be getting away from the Maranello team, but it's not the time to give up and it must learn from its mistakes if it wants to move forward.
Honda powers up
There were four Honda power units in the top eight in the Monaco Grand Prix, a result that would have seemed out of reach for the Japanese company a few years back.
Its marriage to Red Bull, preceded by last year's 'engagement' to Toro Rosso, is beginning to reap rewards.
Much of that is down to the Milton Keynes team, but the contribution from its sister team in Faenza is very important, both for what it did last year and for the way the team is running this season. Plus, between the two teams, they have a group of young drivers with different levels of experience who are proving very competitive.
Verstappen is a known quantity (even if we tend to forget he is still only 21), Pierre Gasly is rapidly finding his feet at Red Bull Racing and over at Toro Rosso, Daniil Kyvat is tenaciously clawing his way back into the limelight after a year out. But it's Alexander Albon who is proving to be the biggest surprise and the most successful of this year's three rookies.
In Monaco, the Thai driver proved he was clever as well as quick, especially when it came to managing his tyres, and he rattled off no fewer than 40 laps on the softs he'd used in qualifying. It was a well-managed strategy, as was that of his team-mate who stopped much earlier, on lap 21, to switch to hard tyres. Two different routes to reach Toro Rosso's targeted destination of a double points finish and both drivers made the journey look comfortable.