Vettel buoyed by second but says Ferrari no closer to solving grip issues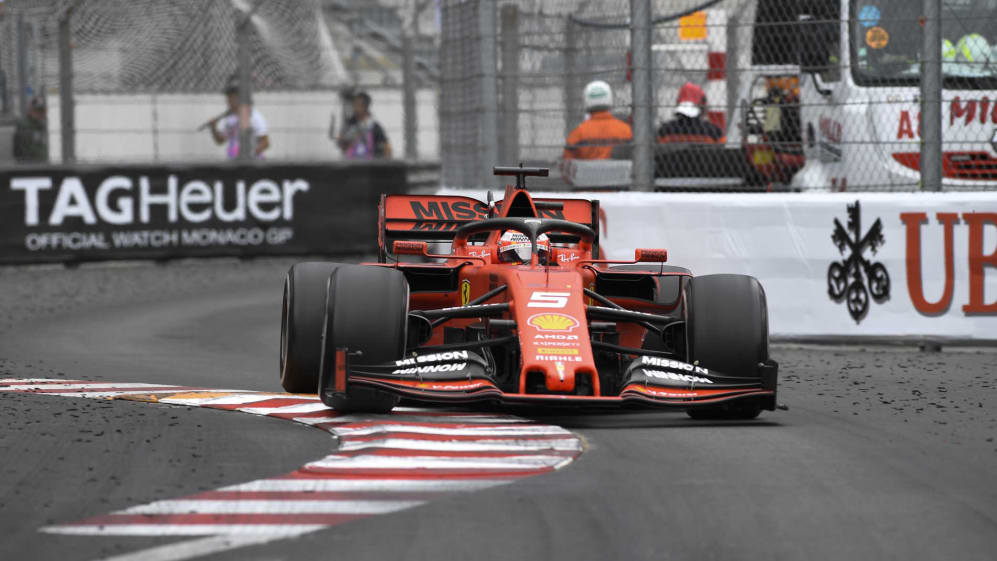 It was Ferrari's best result of the season, but Sebastian Vettel knows his second place in Monaco was somewhat fortunate and that Ferrari need to get their heads around the Pirelli tyres quickly because they are still no match for rivals and championship leaders Mercedes.
Red Bull were on par with Ferrari on the streets of Monte Carlo across the weekend, with Mercedes once again the team to beat. With Charles Leclerc out of contention after Ferrari's qualifying misjudgement, the Prancing Horse's hopes rested firmly on four-time world champion Vettel's shoulders.
The German maintained fourth at the start and then gained a place when Valtteri Bottas picked up a puncture for his pit lane clash with Max Verstappen. He then got another when Verstappen's time penalty for an unsafe release was applied when the chequered flag fell.
Second matched his result in Monaco last year and followed victory the previous season but he now trails championship leader Lewis Hamilton by 55 points – more than two race victories.
"Given the circumstances this weekend, which was a tough weekend for us, I think we take second - but we also know that the pace probably wasn't good enough this weekend to really put the cars in front under enough pressure, to try and do something," said Vettel.
"So overall, it's good points but we know that we're not yet where we want to be, so we need to stay focused, work hard and that's the only way we get closer to currently Mercedes, which is currently faster than anybody else."
Ferrari's main problem this year has been getting the tyres into the right operating window. All to often, they haven't been successful, which means both drivers lack grip and confidence. Get some consistency in this area and Vettel reckons they'll be in the fight with Mercedes.
"I don't think the car is as bad as it looks," says Vettel. "The results should be better here and there but it's very difficult for us to get the car in the window where it is happy. Certainly when we get it in there we're more competitive but still a way from where we want to be.
"That's really the key lesson. We need to focus on trying to get the car short-term more in that window. Looking forward for the next three, four, five races, obviously we need to make sure we improve the car, put more grip onto the car so that we can go faster, simple as that.
"But that guy [grip] seems to hide fairly well. I don't know exactly where he is right now, so if you find him, or if you've got his number, that grip guy, but we've been looking for him for a while! I don't think there are any secrets we will be able to unveil. As usual, attention to detail and a lot hard work is the only way to get us up."