Russell calls P5 at Abu Dhabi GP a 'reality check' for Mercedes after 'character-building' season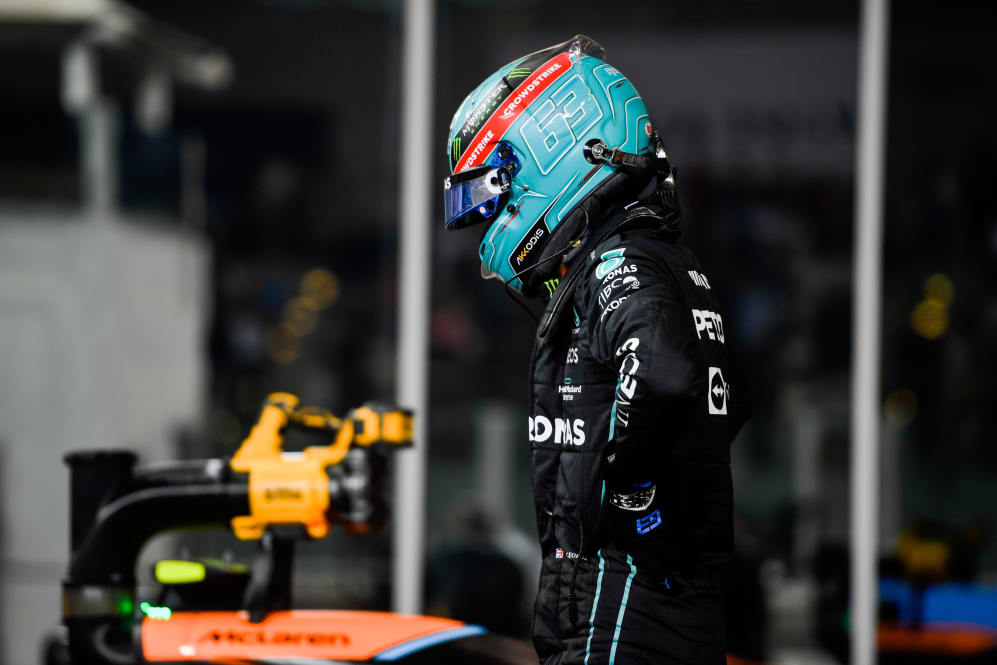 After the highs of winning his first F1 race in Brazil, George Russell admitted taking the chequered flag at the season-ending Abu Dhabi Grand Prix in fifth place was a "reality check" for him and Mercedes.
Russell dropped down a place to seventh behind Lando Norris at the start but quickly got past his fellow Briton and his struggling team mate Lewis Hamilton to go up to fifth, before making the switch to the hard tyres.
With a resurgent Hamilton closing in, Mercedes opted to pit Russell a second time for the medium tyre. Russell was running in sixth in the closing stages – having been left there by a slow 5.2s first stop compounded by an unsafe release that resulted in a five-second penalty – before Hamilton's retirement vaulted him up to finish in P5. After the race, Russell admitted the result showed Mercedes still had work to do.
READ MORE: 'We finished with a car that we didn't want' says Hamilton as Mercedes suffer first mechanical DNF of 2022 at Yas Marina
"Yeah, definitely, if things panned out slightly differently," said Russell when asked if he thought finishing on the podium had been possible. "We made a strong start but just went the wrong place and lost out to Lando and then had some pace but with the pit stop that was the race over with really.
"Long, tough, fatiguing race. Glad to have seen the chequered flag. Really proud of the work and development we've done as a team this season. For sure this was a bit of a reality check for all of us that there is still a long way to go, but we are all looking forward to the off season now."
It was Russell's 19th top-five finish in 2022, in what was a strong first season as a full-time Mercedes driver. Reflecting on his year, he admitted there were positives for him and his team to take from a "character-building season".
READ MORE: Vettel urges fellow drivers to continue his legacy after retiring from F1 with points finish in Abu Dhabi
"I think it's obviously a character-building season for us as a race team, but we've got so many positives to look back on," said Russell. "For me personally, first pole, first victory – given the season we've had, that's a huge achievement.
"But we all have very high expectations. In this team, I have very high expectations of myself, and we know we have to raise the bar in [2023] if we want to fight with the guys in blue [Red Bull]."