'We finished with a car that we didn't want' says Hamilton as Mercedes suffer first mechanical DNF of 2022 at Yas Marina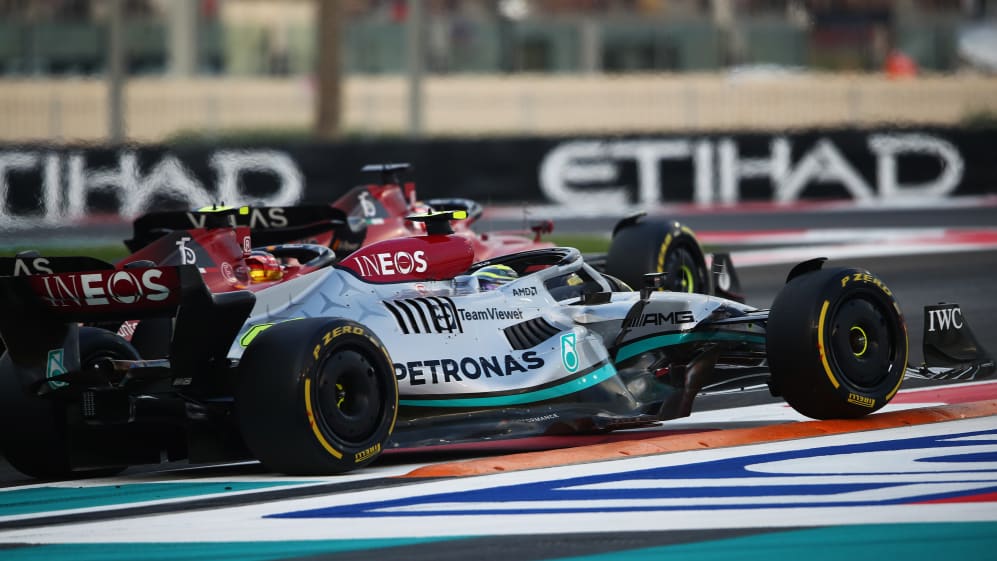 Lewis Hamilton's final race of the season ended prematurely as he pulled into the pits three laps from the end of the 2022 Abu Dhabi Grand Prix – but the seven-time champion was still grateful to his team for pushing throughout a tough campaign.
Hamilton endured the first pole-less and win-less season of his career and pulled into the pits with a suspected hydraulic issue on Lap 55 of 58.
Asked if the end to his race was an apt summary of his season, Hamilton said: "Yeah, it really was."
READ MORE: Verstappen cruises to victory in Abu Dhabi as Leclerc seals P2 in standings over Perez
But he added: "Ultimately, I think we started with a car that we didn't want and we finished with a car that we didn't want but we were basically stuck with it. We kept trundling way, kept working away at improving it, but I think the fundamentals have still been there until the end, as you saw this weekend.
"It's been more of a team building exercise this year and I'm very, very proud of everybody… Whilst we're not celebrating a World Championship, we'll be celebrating them still for their hard work and efforts.
"I hope that the struggles this year really provide us with the tools and the strength to fight for many more championships moving forward."
The seven-time champion explained that on Lap 1 at Yas Marina, while he was battling with Carlos Sainz, a trip over the sausage kerb and a hard landing cost him performance – but he bounced back in his second stint. Hamilton was running fourth before retiring, though Sainz was right on his tail before the hydraulic issue slowed the Mercedes driver.
"We have a bib under the seat, right under the floor, and it took a big hit… and when that happens you just lose a bit of performance. The balance kind of shifted forwards because it felt like I had all of a sudden loads more wing on, and I was struggling with the car being quite oversteery," he said.
READ MORE: Vettel urges fellow drivers to continue his legacy after retiring from F1 with points finish in Abu Dhabi
"Once I had the pit stop, we took a bunch of wing out and it managed to be rebalanced. There was definitely some sort of loss but… I got back on the pace."
The Mercedes driver added that he's going into the winter break without F1 at the fore of his mind.
"I think right now I just, I'm not looking forward to another year or anything like that, I'm looking forward to putting now my energy into my family, and to just getting back and seeing the family – I haven't seen them for a while – and yeah, just relaxing, being healthy, staying positive…" said Hamilton.