Russell reflects on THAT battle with Albon and Norris – and why his Russia race unravelled
The sight of George Russell, Alex Albon and Lando Norris all fighting on track early in Sunday's Russian Grand Prix was one fans of F1's rookie class of 2019 will we've been waiting for a long time - and might have lasted longer but for some unforeseen issues at Williams...
The three youngsters have been friends and rivals through the junior ranks, and their online racing escapades were one of the highlights of lockdown earlier this year. That translated into an exciting battle in Sochi where the trio went wheel-to-wheel for a number of laps after early pit stops before Russell faded from the fight, hampered by both a less competitive car but also race-day struggles for Williams.
READ MORE: 'We're there for each other' – Albon on the camaraderie of F1's 'Twitch' generation
"It was great to be battling with those guys, obviously, for me to be trying to hold up a Red Bull and a McLaren was very, very tricky," Russell said. "But we had great straight-line speed this weekend which actually made it that much easier to keep them behind and obviously I think there was a good amount of respect between the three of us which made it great.
"That lock-up did actually hurt the race quite a bit but nevertheless we still would have had to pit from the hard as the hard would not have made it to the end. The pace just wasn't there in the race.
"We actually understand why now. I was very confused when I finished the race where the pace had gone but we do know now why we had no pace in the race, and it is a relief now, as I was actually pretty disappointed and worried directly after the race."
When the race debrief took place, it transpired the root of Williams' problems were the way they were using their Pirelli tyres, as Russell ended up stopping three times.
"It's purely tyres, which unfortunately in this sport it always seems to be the case," Russell elaborated. "We just had a tyre temperature issue so the tyres were running much, much hotter than expected, and I was reading on my steering wheel, and that misled us a bit. Long story short the tyres were just running well over the window and if the tyres are too hot and you keep pushing on then they just degrade.
"It was a risky move. With all the information we knew at the time, boxing [on lap one] was the correct decision, with hindsight it probably wasn't – but no hard feelings, you have to make those decisions with the information you have at the time and that was the right thing to do."
Nicholas Latifi reported a similar issue as he ended up 16th, and while he was two positions ahead of his team mate in the race he wants to work on his qualifying performance, even if that was also compromised in Sochi.
"It's definitely the biggest area that needs improvement from me," Latifi admits. "I feel across the previous race weekends the performance on my side has been improving, there's been little things that at each round I can say 'okay these ones were my mistakes, these ones were bad luck, these ones were maybe things with the car'.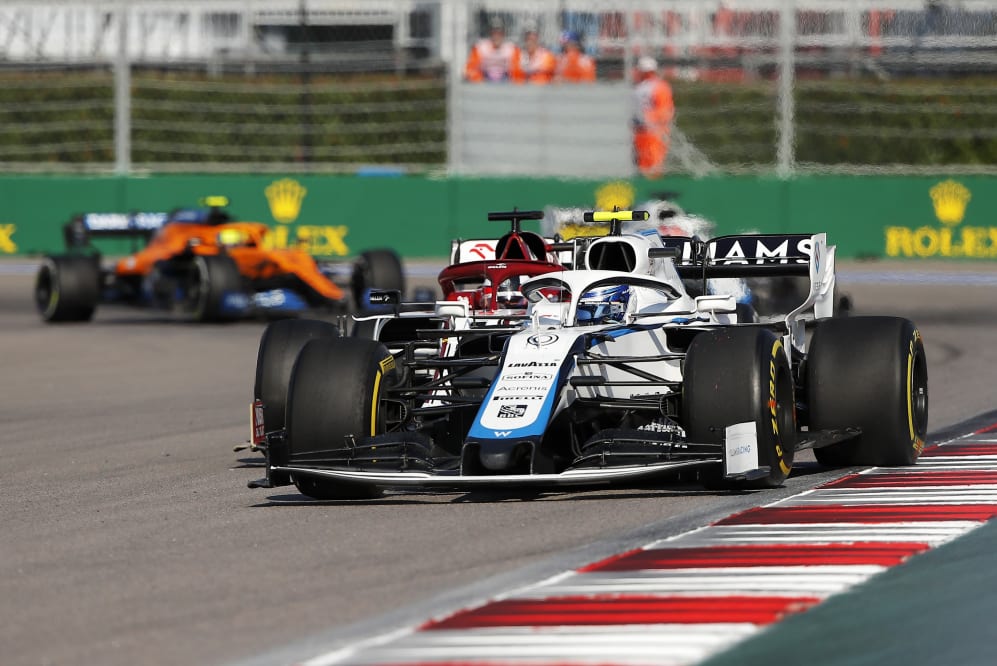 "It's been something of a struggle to get consistently, but I think yesterday was very disappointing for me as all weekend the car was feeling great on one lap pace but we unfortunately encountered some braking issues in qualifying, the session that matters.
"We saw what the issues were quite clearly after looking at the data, resolved them for the race, it was not an issue, but it hampered my ability to get a good lap. I missed my first lap, so had one lap with no reference and with brakes that were not working properly. Second lap with confidence the brakes were working I would have improved a massive amount.
"It's a shame, but the most important thing is George showed the pace was there and as a team everything is still massively going tin the right direction, especially this track in particular was absolutely terrible for the team last year and the step in performance has been shown week in week out relative to last year."