Russell says Mercedes 'a long way off' as Hamilton warns 'longer term fix' needed after early Bahrain running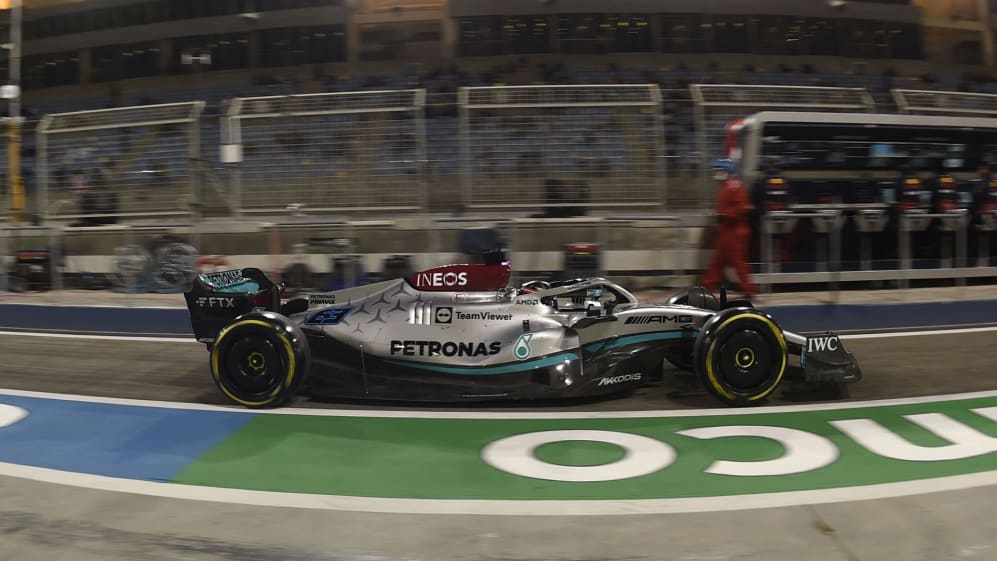 The opening day of the 2022 Bahrain Grand Prix weekend wasn't the best for champions Mercedes, as George Russell and Lewis Hamilton came away from practice with a stark assessment of the Silver Arrows' pace.
Russell finished fourth in both of the opening practice sessions of the season, as Pierre Gasly topped FP1 for AlphaTauri and reigning champion Max Verstappen set the pace in FP2 for Red Bull. Mercedes' new recruit said his team were far off their rivals Red Bull and Ferrari – emphasising that his squad had their work cut out to catch up.
FP2: Verstappen leads Ferraris in second Bahrain GP practice session
"It's all about lap time, and we're certainly not where we want to be," he said. "I think we've made a bit of progress solving some issues, but the pace just is not there at all at the moment so we need to really go over the data tonight to understand why we're both struggling a little bit with the car.
"And we're a long way off the pace off Red Bull, Ferrari – even the likes of AlphaTauri, Alfa Romeo are seemingly on our pace or even quicker. So, we've got a bit of work to do."
That's not to say Mercedes aren't trying. Russell continued to explain that the Brackley/Brixworth squad are giving their all to defend their constructors' championship this season and squeeze potential out of their W13.
"We are truly throwing everything at [the car] at the moment to try and unlock the potential, which we think is there, but we're just really struggling to tap into that at the moment. And everything we try is maybe one step forwards, two steps back, and there's always a bit of a limitation – so it's going to take time.
"I think we hoped that we could've solved it for this weekend, but how things stand for the moment, we aren't in the fight and we've got some work to do," said Russell.
BAHRAIN GRAND PRIX – Read the all-new digital race programme here
Team mate Hamilton, who was seventh then ninth in the respective sessions, said Mercedes hadn't encountered problems of this scale in the past – echoing Russell's comments that their pace and balance issues wouldn't be fixed overnight.
"We're faced with much, much bigger problems this year," said the seven-time champion. "And everything we do to try and fix it doesn't really change that. It appears that it's probably going to be a more longer term fix, so yes, nothing in the short term."