'I will be more aggressive in 2022' vows Hamilton – as Verstappen says Mercedes have sandbagged during winter testing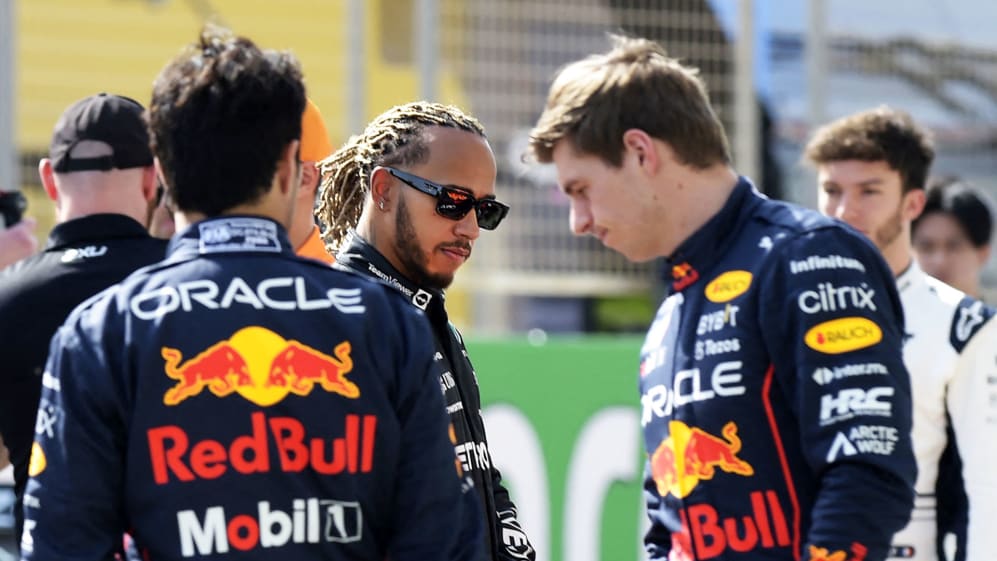 The war of words between Mercedes and Red Bull took mere minutes to begin as the first race weekend of the year got under way in Bahrain, with Lewis Hamilton vowing to be more aggressive on track in 2022 – as Max Verstappen accused his rivals of having sandbagged during pre-season running.
Hamilton was facing the media in Friday morning's press conference ahead of the season-opening Bahrain Grand Prix when he was asked whether, in light of his often-explosive rivalry with Verstappen in 2021 – which saw the pair come together on multiple occasions before Verstappen was crowned champion in Abu Dhabi – fans would see a more aggressive Lewis Hamilton out on track in 2022.
"I will be a more aggressive driver this year," replied Hamilton bluntly after a brief pause. "You'll see."
READ MORE: A new era dawns as the F1 drivers prepare for the 2022 season to get under way in Bahrain
There are question marks over Mercedes' performance in 2022, however, with both Hamilton and George Russell having played down their chances at Bahrain's Official Pre-Season Test a week ago. Mercedes' slim-sidepodded W13 was certainly seen to be porpoising heavily at times on Bahrain's main straight – with Hamilton telling reporters at the time that the team would not be fighting for wins in the early stages of the season with the car in its current state.
And Hamilton doubled down on his comments on Friday morning, telling the media: "I don't expect we've made a huge amount of progress.
"The car naturally was fresher coming into the test: you have a new engine, you have new components. But it's still car from last week. We obviously have learned a lot from the week of testing here and I hope we've taken some sort of step forward in terms of understanding where we position the car.
FORM GUIDE: Who's tipped to win the curtain-raising 2022 Bahrain Grand Prix?
"I'm hoping my guys have come up with some sort of solution going into this weekend and when I get in the car today it feels better," Hamilton added. "But I know there [won't be] a huge change in such a short space of time. So we'll still most likely have some of the problems that we had last week."
One person who appeared sceptical of Mercedes' pessimism was Verstappen himself, the reigning champion having been asked on Friday for his view on where the Silver Arrows lay in the pecking order.
"I think they'll be dead last, according to their comments – I think they have an awful car, and they've had that already since 2017 in pre-season testing," he deadpanned. "No, we'll find out. But they for sure will be competitive."
READ MORE: Test drive F1 TV Pro with a free trial – and see the 2022 season from every thrilling angle