Russell takes away a 'lot of positives' after extending top-5 streak in Monaco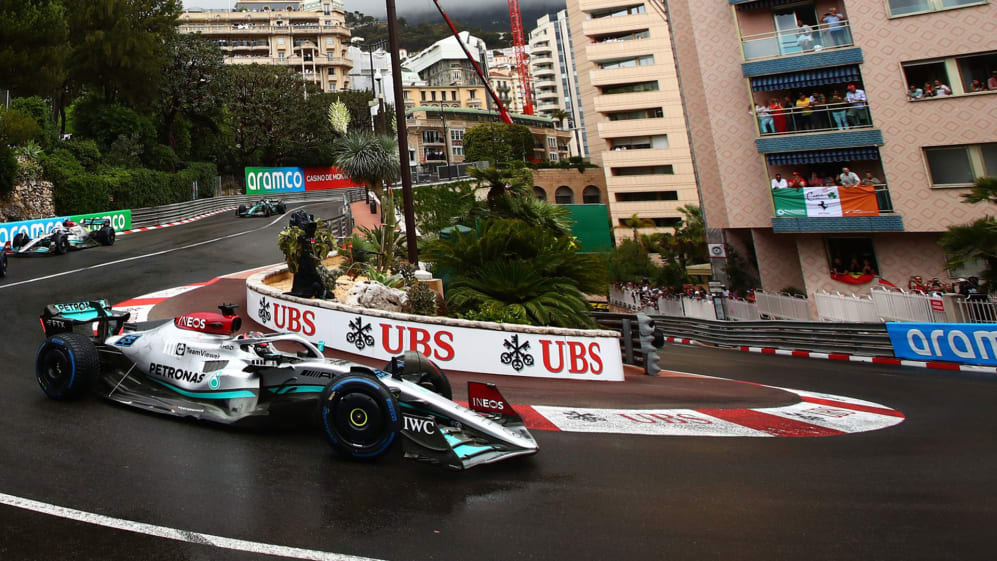 George Russell managed his seventh consecutive top-five finish with P5 in the Monaco Grand Prix for Mercedes, and was left feeling positive about being the "quickest car on track" at one point – as he hinted at more to come…
Russell jumped Lando Norris for P5 having skipped a swap to intermediates, the Mercedes driver finishing the race – much like winner Sergio Perez – on the medium tyre.
READ MORE: Perez wins a captivating wet-dry Monaco Grand Prix as Leclerc falls from pole to P4
Asked if he was pleased to keep his streak of top fives alive, he said: "Yes, I think so. There were definitely a lot of positives from that race. I think on the hard tyre before the second red flag, we were the quickest car on track and that was a pretty fun stint. Obviously a bit close with Lando on the pit exit there…
"He came out in front of me at the pit exit; I was behind and he went to the left and I sort of went on the wet stuff. It felt pretty dicey from within the car for Monaco in damp conditions!"
The 24-year-old – a director in the GPDA, or Grand Prix Drivers Association – was also satisfied with the delayed race start, as downpours saw the race begin late and be shortened to 64 laps.
"Yes, it was tough. I think it was a bit frustrating, from the beginning when we kept having the delays, but fair play to the FIA because I think they saw the weather coming in and it literally was undrivable conditions when we attempted it on the first occasion.
READ MORE: Leclerc brands Monaco race 'a freaking disaster' after dropping from pole to P4 in first finish at home
"And then the second red flag, track drying up, one dry line, it's never easy. Especially on a track like this. But we made it – P5, and more to come next time I think."
He added: "It was physical out there, it was very bumpy, which we knew was our limitation this weekend. But P5, we'll take the points and try and come back stronger next time."
Azerbaijan, where Lewis Hamilton (P8) lost out on a likely victory last season, is up next – Mercedes adding yet more points in Monaco to cement their third-place status.