Sainz backs himself after FP2 crash as Leclerc admits 'surprise' at Mercedes' Miami pace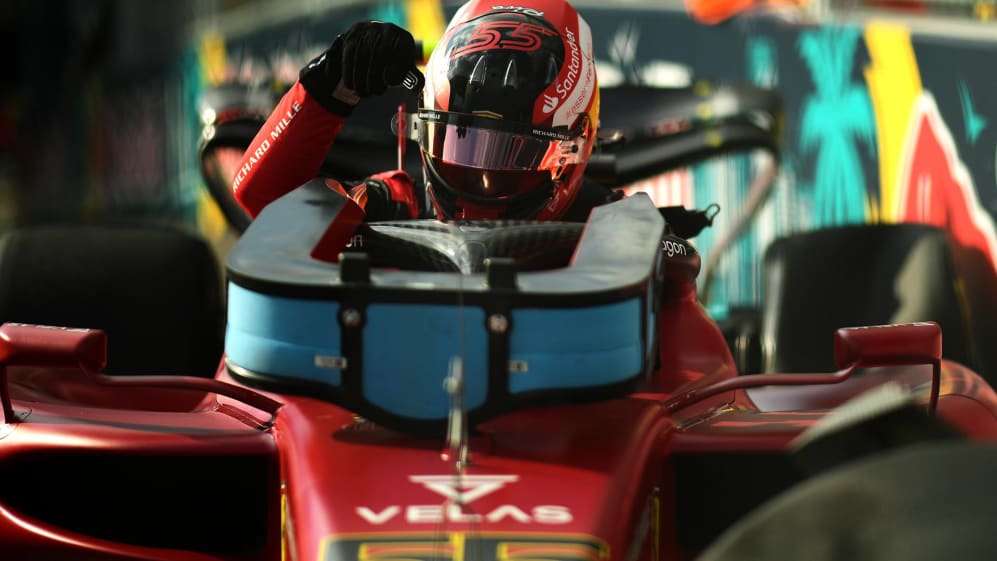 Carlos Sainz apologised to his mechanics over the crash that ended his FP2 session of the Miami Grand Prix weekend early. But the Ferrari driver backed himself to emerge from his recent rough patch of incidents – as team mate Charles Leclerc expressed his hope that rivals Mercedes can join the battle with Ferrari and Red Bull after an intriguing pair of practice sessions in Miami.
Sainz crashed early on in FP2, spinning and hitting the wall at Turn 14 that begins the tight chicane towards the end of the track. The Spaniard has had a tough time as of late, spinning out early in Australia and crashing in Q2 at Imola before being tapped into a spin by Daniel Ricciardo in the Emilia Romagna Grand Prix.
FP2: Mercedes' Russell leads Leclerc in incident-filled Miami practice session
After ending FP2 in the barriers, he said: "The pace is still there, I'm pretty fast out there. Just obviously disappointed because it's not the way you want to start a weekend, by giving the mechanics extra [work]. I hit the barrier probably in the worst possible place; there was no Tecpro there, I hit straight into a concrete wall which, even at the speed I was going, felt quite harsh, so the car has damage.
"I've given everyone a bit of a rough Friday night, which is not ideal…"
However, Sainz was in a defiant mood on Friday afternoon, adding that he had been through a similarly rough patch with McLaren, and that he has the experience and strength to bounce back and deliver results for Ferrari.
READ MORE: Bottas blames himself for 'really costly mistake' that ruled him out of FP2 running in Miami
"I am the first one that is not happy with the last two crashes… and I am the first one that is analysing it and trying to take conclusions from it. I remember going through a very similar scenario last year where I crashed a couple of times and right after them came my best run of races in Formula 1. So I know how to come out of it.
"I think I'm still learning a lot of this car. This car is still surprising me, I'm not going to lie, it's still things that are, let's say, a bit out of my control that are surprising me, and as soon as I get on top of them and learn them, I think as you saw today, I can be quick in any given lap."
On the other hand, team mate Charles Leclerc topped FP1 and finished second to George Russell in FP2, the Monegasque pointing out Mercedes as a surprising – but welcome – threat after they brought upgrades to Miami. He added that Max Verstappen ought to bounce back after a hydraulics issue cost him Friday running.
"Max [Verstappen] will be quick, for sure; whenever they solve their problems, they will be quick. The surprise is Mercedes for now; they seem to be very strong and also on the high-fuel pace they were strong, so they might be the surprise this weekend, and it would be nice if they could join the battle with Red Bull and ourselves," said Leclerc.
READ MORE: Verstappen laments 'extremely painful' start to Miami GP weekend as Red Bull endure rocky Friday
And the championship leader seemed to enjoy his first ever laps of Miami International Autodrome.
"It's very tricky track. But yes, it's nice, I like it, I enjoy it, it seems like the field is much closer together than what we've seen since the beginning of the season so it should be exciting. But we definitely need to do a step up for tomorrow," he said.
Watch the Miami GP Live on F1 TV Pro with exclusive onboard cameras, pre-race show and technical shows. Stream live ad free on your favourite device with F1 TV Pro. Subscribe now (only available in selected countries)