Sainz credits rally driving mentality for giving him early lead in Portuguese GP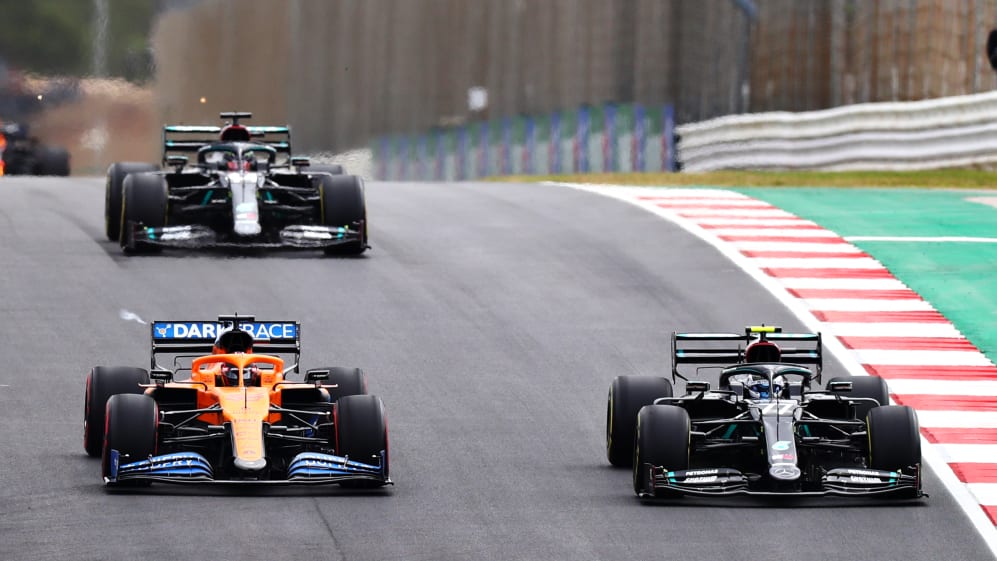 Carlos Sainz Senior won two World Rally titles by being quick in changeable conditions. And his son said it was that same mentality that saw him take a shock early lead of the Portuguese Grand Prix from Valtteri Bottas on Lap 2 of the race.
McLaren driver Sainz had enjoyed a strong start from seventh on the grid, before benefitting from contact between Max Verstappen and Sergio Perez, and passing a slow-moving Lewis Hamilton to finish the first lap in P2. But there was more to come, as Sainz then eased past Valtteri Bottas on Lap 2 to sensationally take the lead of the Grand Prix, as the Finn struggled to warm-up his medium tyres.
READ MORE: Hamilton takes record-breaking 92nd win with dominant drive in Portuguese GP
But although he'd end up being re-passed by Bottas four laps later, Sainz said he'd enjoyed his star turn in the first few laps at Portimao.
"I was very happy with those first few laps," said Sainz. "I always try to embrace them instead of sometimes you get a bit too cautious… I embrace them and try to hassle the car around a bit get the tyres to work, and I really enjoyed those first two laps to lead the race.
"On the formation lap, I really put a lot of emphasis in warming up the tyres because I knew the track was going to be particularly tricky to get up to temperature, and it worked well.
"So happy with that – for sure my Dad was even happier than me, because he likes those conditions, and he likes me being quick in those conditions, but yeah, happy."
READ MORE: Norris says Stroll 'doesn't seem to learn' after Portuguese GP collision
Despite his strong start, reality soon dawned on Sainz, who eventually fell to P6 at the flag, after struggling with graining on his MCL35. But with the Spaniard marking his first consecutive points finish since the Hungarian Grand Prix in July – having finished fifth at the Eifel Grand Prix – Sainz was at least happy to have re-found some momentum at last.
"Today, we didn't have much more pace than that," he said. "We've been struggling the last few races with graining on the front tyres, and today even with the medium, which was a much better tyre than the soft, we were still having graining… It's been a challenge today with the lower track temperature, with the rain coming down, getting the tyres in the window.
WATCH: Sainz overtakes Hamilton in stunning race start
"I think the Ferrari and the AlphaTauri have done a much better job than us on that; they're normally a bit better on the tyres, and today unfortunately, we went backwards. It tastes relatively bad after leading the race, but in the end it's a P6 that should taste much better than that.
"We've done a P5 and a P6 consecutively," Sainz added, "so happy to get a bit of consistency there, and looking forward to carry it over to Imola, keep the championship going – and if I have another opportunity to lead the race I'll try again."