Sainz criticises Russia's Turn 2 layout after crash, as FIA admit there's 'room for improvement'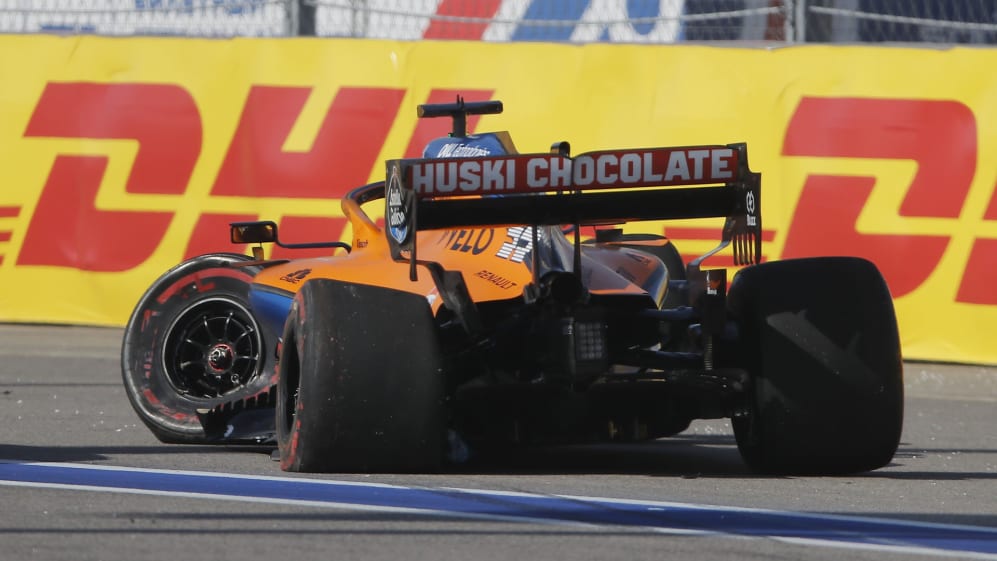 Carlos Sainz took full responsibilty for his Lap 1 crash in Sunday's Russian Grand Prix – but he said the tight, off-track chicane at Turn 2 in Sochi where he hit the wall "is not very well designed".
The Spaniard was one of two drivers to crash out on the opening lap – Lance Stroll was the other after he was nudged into the barriers by Charles Leclerc – after he went off track and then hit the wall heavily with his left front wheel as he tried to weave his way through the bollards marking the way the drivers must rejoin the circuit if they are to avoid receiving a penalty from the stewards.
READ MORE: Who were the Winners and Losers of the 2020 Russian Grand Prix?
The crash put him out of the race on the spot and afterwards the McLaren driver, who had started sixth, took the blame for the mistake.
"The angle was really, really narrow to go around the bollard and I just misjudged my entry speed, the track was very dirty, and [I] crashed pretty heavily against that wall. It is frustrating, but at the same time there's always going to be some mistakes during the year. Today was my mistake and I apologise to the team for it."
Although willing to accept the blame for the shunt, Sainz said the narrow angle of the chicane made life difficult for the drivers if they went off track at that corner.
READ MORE: Sainz blames 'misjudgement' for race-ending opening lap crash in Russia
"[I'm] definitely looking forward to Nurburgring to try and redeem a bit myself, but at the same time I think that corner is not very well designed," he said. "It's forcing drivers to take very strange lines and very strange incidents like the five-second penalties that we are given if we don't negotiate that chicane next to a wall.
"But it is what it is and I got it wrong today," he added.
Race Director Michael Masi acknowledged that Turn 2 at Sochi is something that he and his team have grappled with.
"Turn 2 has been one of those that's been a challenge in different ways each year," he said. "You fix things in one way, and it has another impact in another. So we're trying to find the best solution, and I think we've found a reasonable solution. Now is there room for improvement? Yes. There's always room for improvement."
Some observers have suggested replacing the tarmac run-off with a gravel trap, but Masi said that does not work at every track or every corner. "As I've said a number of times that there's different solutions for different circuits, different corners, taking everything into account. And gravel is not a solution everywhere," he said.
READ MORE: The Ross Brawn Column – On Bottas' resilience and why track limits issue isn't easy to fix
"With regards to speeds in run-offs, one of the things that obviously we've tried to achieve and aim to achieve is primarily that the rejoin in such circumstances is effectively funnelled in a way that it's as safe as possible. That's the primary objective.
"Secondary is to slow cars down if possible within that area. However, the nature of Turn 2, because of literally the nature of the corner, it's very hard to find a one-size fits all solution. So we'll continue looking at it, and see what we can do."