Feature
Who were the Winners and Losers of the 2020 Russian Grand Prix?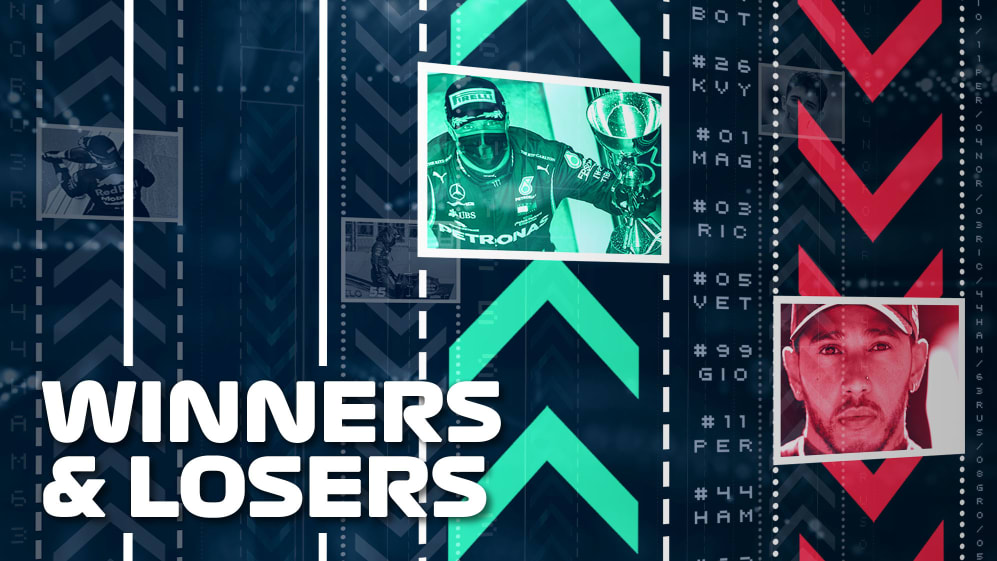 Sochi has been a happy hunting ground for Valtteri Bottas since it joined the calendar in 2014 – and that trend continued this year as the Mercedes driver secured his second victory of the season. And while there were other standout performances, it wasn't such a memorable weekend for everyone. It's time to pick out the winners and losers of the Russian GP...
Winner: Valtteri Bottas
Never give up. That's Valtteri Bottas' mantra. The Finn has failed to put a clean weekend together since clinching victory in the opening race of the season in Austria, but finally had things go his way at a place he seems to feel very at home.
READ MORE: 'I will never give up' – Bottas elated to answer critics with Russian Grand Prix victory
Starting on the medium, a good launch cleared the potentially troublesome Max Verstappen and from there, he bided his time until Lewis Hamilton was forced to pit, necessitated by him qualifying on the softer tyre. From there, Bottas controlled the race beautifully, clinching the fastest lap to boot.
That ends an eight-race run without a victory and makes Sochi only the second circuit – the Red Bull Ring is the other – where he has scored more than one win. It's also his ninth victory for Mercedes, surpassing the great Juan Manuel Fangio's record with the Silver Arrows.
Loser: Lewis Hamilton
Third was the best Lewis Hamilton could manage on his scrappiest weekend of the year. He put himself on the backfoot in Q2 when he exceeded track limits and had his first time deleted. That forced him to switch to softs just to get through to Q3, which in turn had a negative impact on his race strategy.
He then made his life even harder by picking up not one but two five-second time penalties for doing illegal practice starts on the laps to the grid before battling his way to third.
READ MORE: Hamilton says 'it feels like we're fighting uphill' as he lashes out at 'ridiculous' penalties
It was his 159th career podium and maintains his record of having finished in the top four at every race Sochi has ever held. But Hamilton expects far better, so high is his bar, and he was clearly frustrated for a plethora of reasons this weekend.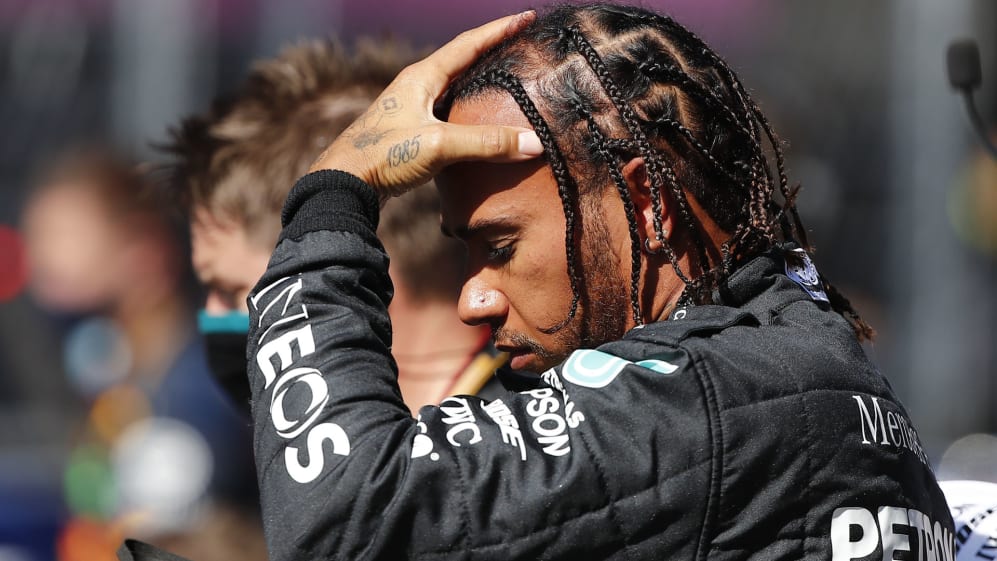 Winner: Max Verstappen
Should anyone ask why Max Verstappen is heralded as a future champion, the 2020 Russian GP will be among a long list of examples to back up that claim.
Red Bull had never previously scored a podium in Sochi, with their car simply not suited to the track.
But Verstappen found a way to outperform the RB16's capabilities once more, first qualifying a brilliant second – 1.1s clear of team mate Alex Albon – and then taking a sublime P2 in the race, splitting the two Mercedes. Brilliant.
READ MORE: 'That's how it should be every weekend' says Verstappen, as he breaks point-less run with P2 in Sochi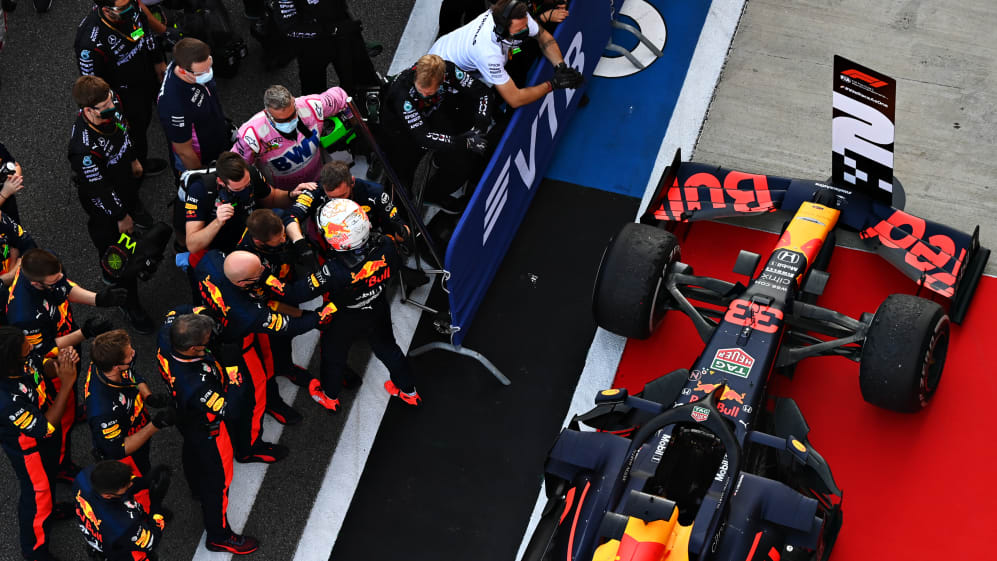 Losers: McLaren
McLaren have executed their races with ruthless efficiency this year, but that stellar run finally came to an end as they ended up point-less for the first time in 2020.
Carlos Sainz got it all wrong when he ran off track and clipped the wall on Lap 1, ending his race instantly – he's completed just five laps in the last two races combined. His team mate Lando Norris lost ground as the pack bunched up and appeared to suffer damage from the debris. It was then a long afternoon trying to salvage something.
They retain third in the constructors' championship, but only have a slender two-point lead over Racing Point, with Renault only five further behind. They have a real fight on their hands.
WATCH: Sainz blames 'misjudgement' for race-ending opening lap crash in Russia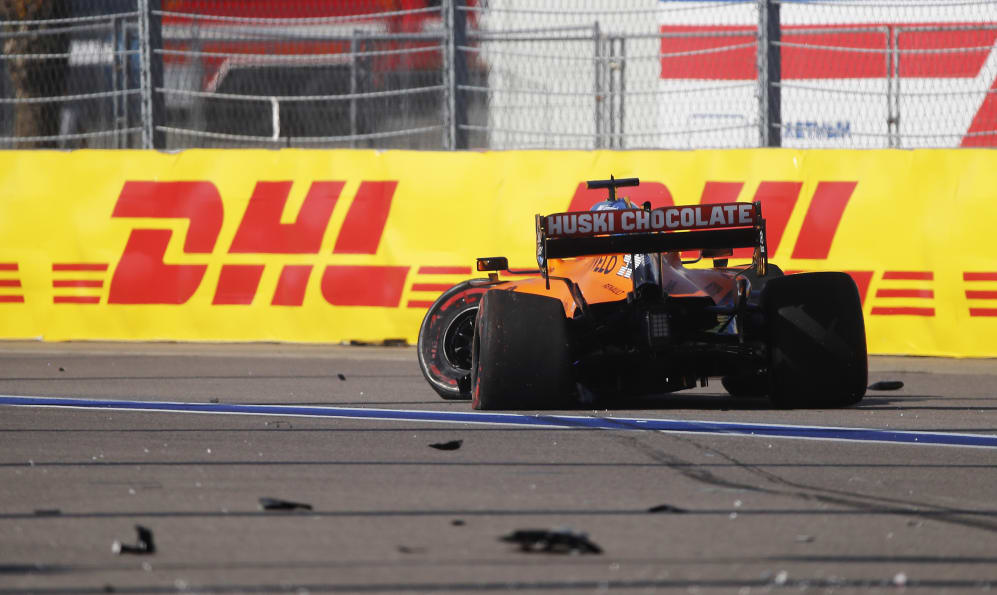 Winner: Charles Leclerc
Charles Leclerc may not have a car capable of fighting at the front right now, but he's doing the next best thing in comfortably beating his more decorated team mate across a weekend.
The Ferrari driver ended up four tenths of a second quicker than Sebastian Vettel in qualifying and then managed to make progress up the order from 10th to take an impressive sixth, crossing the line more than 40s clear of Vettel.
That was Ferrari's best result since the 70th Anniversary Grand Prix five races ago, helping them move further clear of rival Italian team AlphaTauri in the fight for sixth in the constructors' championship.
READ MORE: Leclerc says Ferrari have taken 'good step forward' after best result in five races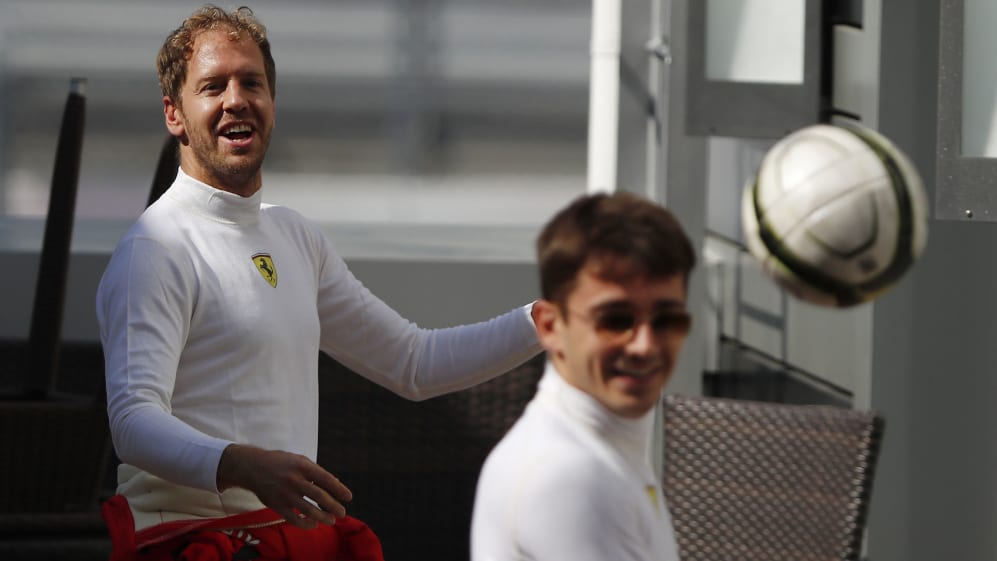 Winners: Renault
Renault appear to have unlocked something with the R.S.20 since Belgium, the French manufacturer able to build performance across a weekend, as well as show speed at four different tracks in succession.
Daniel Ricciardo is on a run of four consecutive top-six finishes, with fifth on Sunday his best-ever result in Sochi, while Esteban Ocon's seventh ties his best Russian GP result as he scored points for the sixth time this year.
Their current trajectory has them on course to snatch third place in the constructors' championship. In-bound Fernando Alonso will be pretty pleased with what he's seeing.
READ MORE: Ocon concedes 'Ricciardo had better pace' after Renault swap drivers on track in Russia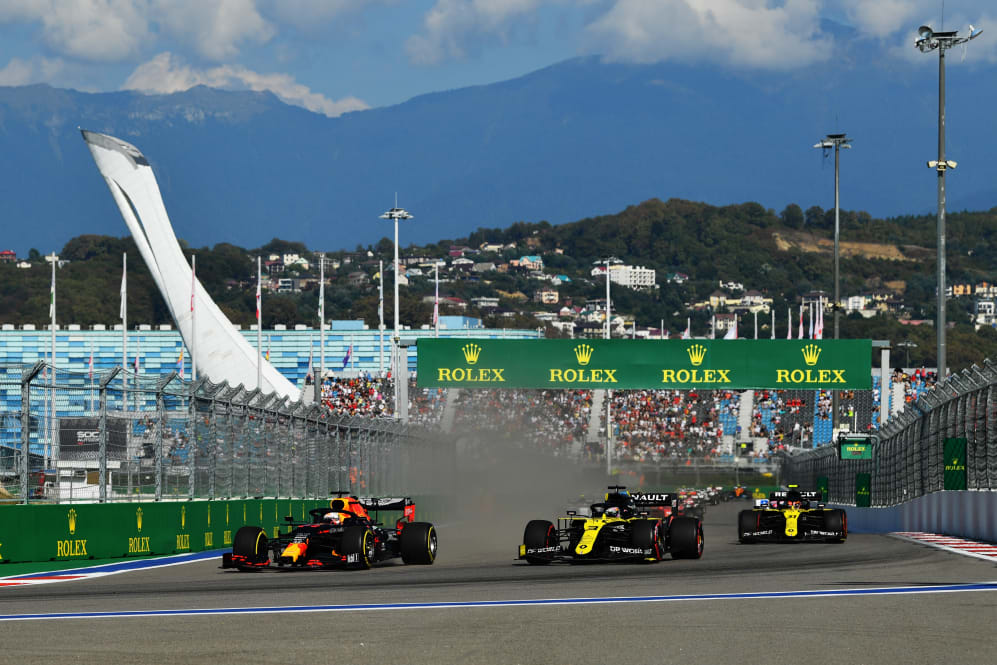 Loser: Alex Albon
Alex Albon cut a disconsolate figure in the TV pen after the race on Sunday, having battled to a solitary point while his team mate starred at the front with second.
His Mugello podium must already feel like a long time ago, with his points tally of 64 exactly half that of Verstappen's after nine races.
His Red Bull team have backed him again and Albon will hope that his problems this weekend were track-specific and that he can bounce straight back at the upcoming Nurburgring race.
HIGHLIGHTS: Watch all the action as Bottas takes victory in the Russian GP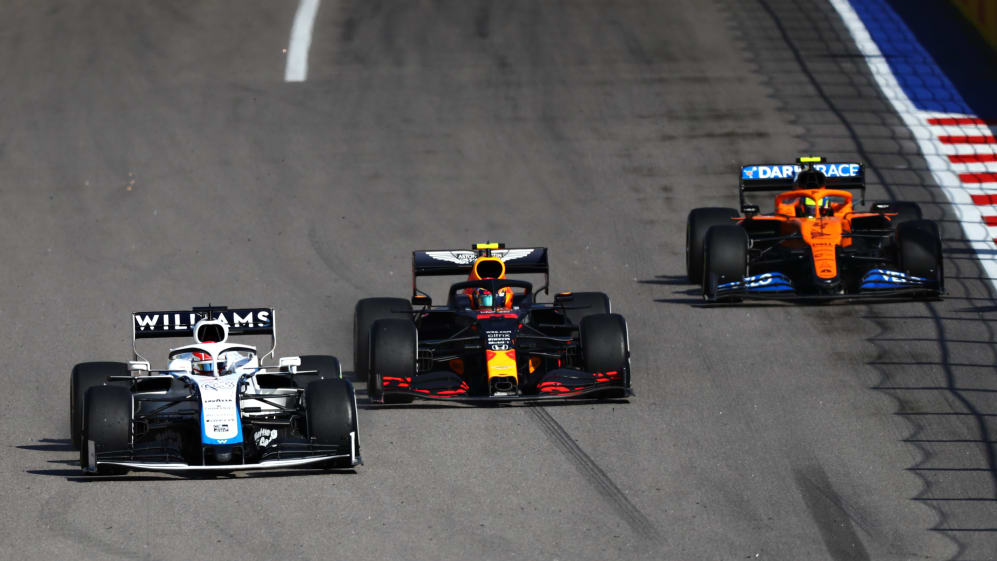 Winners: Fans
Fans were once more a feature of Formula 1 for the second successive race in Russia, with several thousand more permitted into Sochi's impressive and expansive Winter Olympic venue.
You could hear cheering in the grandstands during the Formula 2 and Formula 1 races, and there was something of a festival atmosphere in the fan zone, albeit it on a far, far smaller scale than usual.
The closed-door events have lacked atmosphere, and felt a little like testing days, so fans being permitted in Russia – with safety protocols in place – was hugely positive.
READ MORE: FIA refute Hamilton's 'they are trying to stop me' suggestion after Russia penalties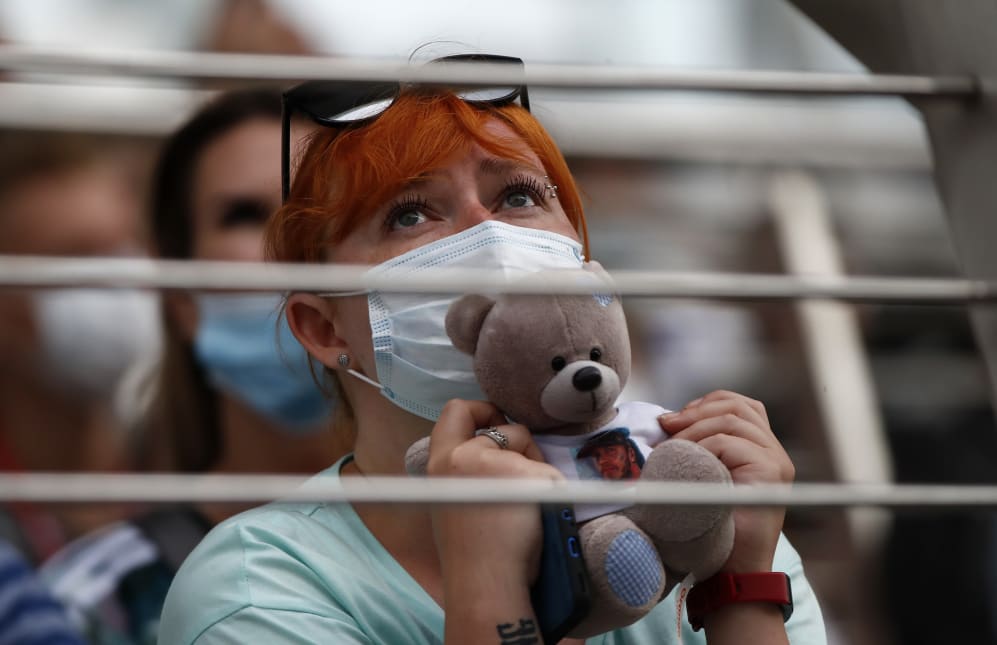 Loser: Kimi Raikkonen
Kimi Raikkonen may have matched Rubens Barrichello's long-held record of most starts at 322 in Sochi, but the weekend will not go down as a memorable one.
He spun in Q1 to end up slowest of all – despite the car appearing to be capable of beating the Williams and Haas cars – and while he went deep into the race on his first set of tyres, much of that hard work was undone by a sticking front-left tyre that led to a slow pit stop.
The veteran Finn will be hoping for better fortune at his record-breaking 323rd Grand Prix in a fortnight.