Sainz praises Verstappen for 'evolving in every single area' en route to successive F1 world titles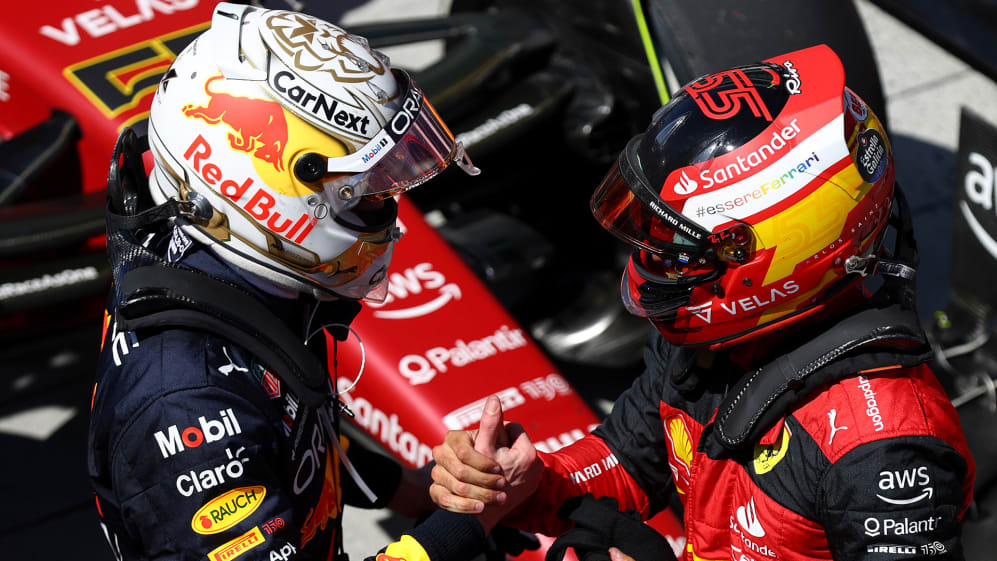 Carlos Sainz has added to the words of praise sent in Max Verstappen's direction after the Dutchman secured his second F1 title, noting how much he believes his former team mate has improved over the years.
Verstappen made his F1 debut alongside Sainz at Toro Rosso back in 2015, the two drivers spending just over a season together before the Dutchman secured promotion to the senior Red Bull team and embarked on a winning journey.
Since then, Verstappen has racked up 19 pole positions, 34 victories and his aforementioned back-to-back championships, while Sainz has found a new home at Ferrari – leading to plenty more battles between the pair, this time at the front of the F1 field.
READ MORE: 'He's been perfect' – Horner full of praise after Verstappen's record-breaking victory
Asked for his take on Verstappen's success, which includes a record 14 wins in 2022 so far, Sainz said: "I don't think I need to [give] any more [praise] to Max for what he's done this year, because I think it's pretty obvious that he's done a very good job.
"Everyone can see how good he has performed and how well he's executed this season, especially after not an easy start of the season with a couple of DNFs, how they managed to recover and put together a lot of wins, a lot of good moments through the year.
"[They kept] it consistent and strong in the areas where we haven't been able to be to be that strong – congratulations to him, congratulations to Red Bull, because they fully deserve it."
Pushed if he feels Verstappen has evolved as a driver since they were team mates, Sainz added: "For sure. I think eight years in Formula 1 is a lot of years in Formula 1. And since day one of Formula 1 to year eight you evolve massively.
F1 NATION: A record-breaking 14th win of the season for Max Verstappen – it's our Mexico City GP review
"For sure he's evolved in every single area. There is not one area where you haven't evolved and the way that he's managed to keep doing step by step, improving everything… because there's nothing that we cannot improve in eight years.
"It's fair play to him and now he's maximising also having a competitive car, which is something that you need in Formula 1 in order to win. If not, you're never going to win."