Sainz says it's 'difficult to take positives' from Ferrari's Saudi Arabian weekend
Carlos Sainz came home sixth in the Saudi Arabian Grand Prix ahead of team mate Charles Leclerc, as Ferrari left Jeddah fourth in the constructors' standings, with the Spaniard having little to smile about on Sunday evening.
Sainz qualified fifth on Saturday but was promoted to fourth on the grid for the race as team mate Leclerc had to contend with a 10-place grid penalty. On Sunday, Sainz fell to sixth ahead of his team mate while Red Bull took a one-two finish and Ferrari were outscored by Mercedes.
READ MORE: 'There wasn't much more in the car' – Leclerc calls on Ferrari to improve 'a lot' after distant P7 finish in Jeddah
"I think going into the race we expected better race pace; I think looking at the race pace on Friday, we thought we could be on the pace of the Aston Martin and the Mercedes," admitted Sainz.
"It's difficult to take positives when you are P6 and P7, especially the last stint when you are all fair and square in pace… and they [the top three drivers] all pulled away. So it's difficult to take a positive. Yeah, at least we got the reliability and the double points, but [this is] not where we want to be right now."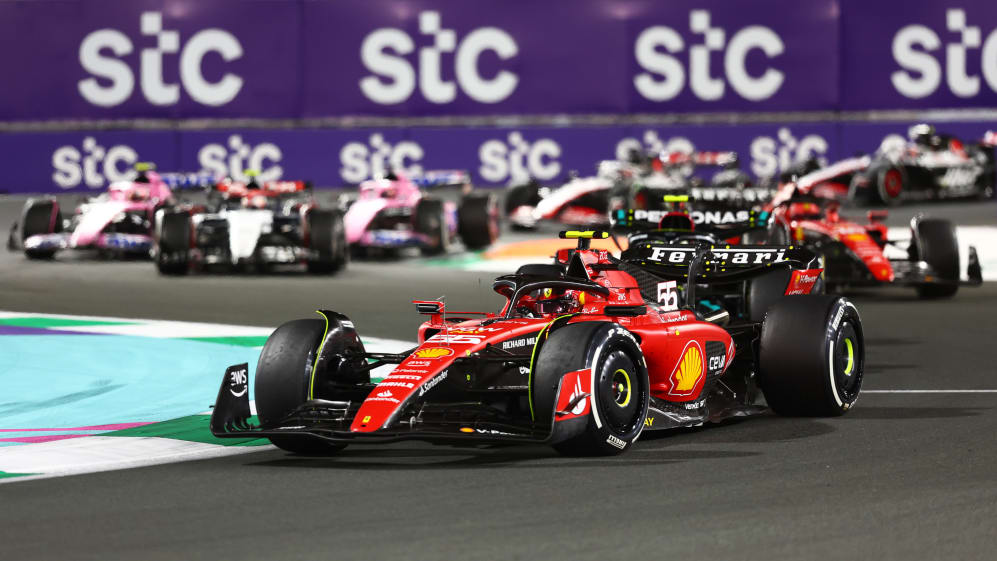 Not only did Sainz have to contend with an uncompetitive car, he added that he was nursing a sore throat – which only made his Grand Prix more difficult.
"Yeah, I still [have] a bit of a sore throat," he said after the race.
"It's been a bit of a tough weekend in that regard, yeah, probably not feeling 100% physically all weekend, but apart from that it was a tough race anyway, regardless."
EXPLAINED: Why did Fernando Alonso get a penalty – and lose his 100th F1 podium – in Jeddah?
Heading to Australia, Sainz is fifth in the drivers' standings and Ferrari are fourth in the constructors' championship, nine points behind Aston Martin.
"Post-race, obviously it looks like we still have some work to do – especially race pace towards the second half of the stints, we just [wear our tyres] a bit too much, we cannot keep the pace of the front-runners. We need to keep the heads down: we know the car at the moment is not where we want it to be, and [we need to] start improving it as the season goes on," he concluded.