Sainz says lack of Friday running led to qualifying 'struggle' in updated McLaren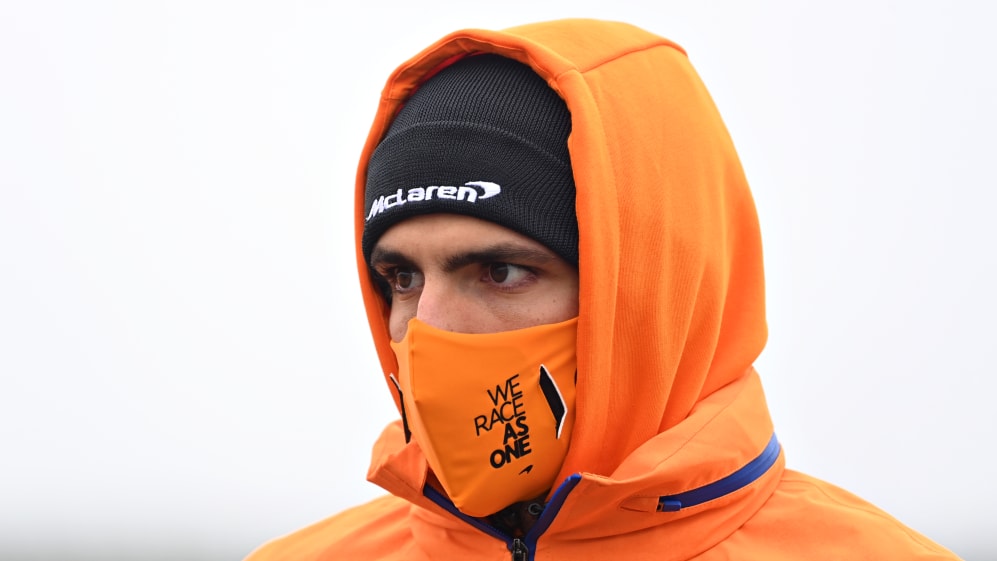 Carlos Sainz was the McLaren driver given the nod to run an upgraded aerodynamic package on his car at the Eifel Grand Prix weekend. But having lost the whole of Friday practice due to bad weather, Sainz called qualifying at the Nurburgring "a struggle", as he ended up in P10 – and a disappointing two places down on team mate Lando Norris in the old-spec package…
In what was both Sainz and Norris' first day in an F1 car around the Nurburgring, the McLaren pair made it to Q3 but couldn't get in amongst the likes of Ferrari's fourth-placed Charles Leclerc or Red Bull's Alex Albon in P5, Norris ending up eighth behind the two Renaults, and 1.189s off the pace of polesitter Bottas – while Sainz ended up a further 0.251s off Norris in P10, in an MCL35 seen to feature an updated bargeboard design.
READ MORE: Bottas beats Hamilton to Eifel GP pole as Hulkenberg makes surprise qualifying return
"It was a struggle, honestly," said Sainz afterwards. "When you put a lot of new bits and pieces on the car, you need your Friday, you need your time to put the car together, and to put it in the optimal set-up window, but we didn't have that Friday, so it was a struggle.
"On the other hand, Lando with the old package looks to be happier, so some things to analyse there and to double check because it hasn't been a good Saturday for us."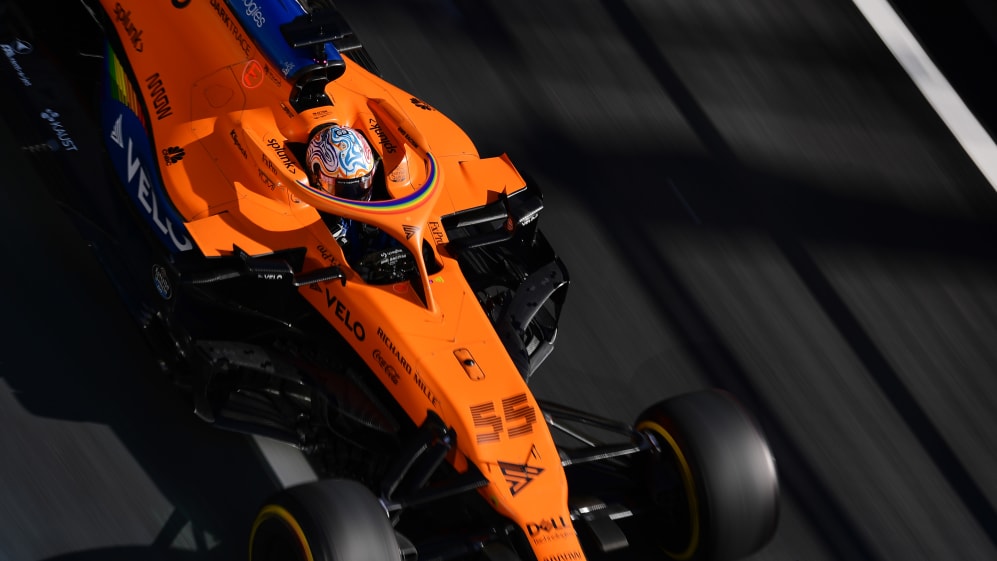 Sainz wasn't much more optimistic for the race, meanwhile, having not managed to do any high fuel running so far this weekend.
"It's a trip into the unknown," said Sainz, "with the extra unknowns of the new package and not knowing very well how it's working, or where is it good or bad. So let's see. We need to double check everything and try to put together a good plan for tomorrow, but today I guess it's been a bit of a struggle."
READ MORE: Leclerc 'very happy but quite surprised' as Ferrari upgrades help him to shock P4 at the Nurburgring
On the other side of the garage, Norris was at least happier with his Saturday, even if he admitted that he'd hoped to finish higher than eighth in qualifying…
"I'm happy with what we did as a team, it's just P8 – eight just sounds like a big number for my liking!" he said. "We were expecting maybe a little bit more coming into qualifying.
"I think we had a very good start to the weekend – well, it's only been today! – but P3 was pretty good and we started with a good balance and I was feeling a lot more confident than what I was in Sochi, which was the whole aim of today. I was trying to get myself in a better position, feel better with the car and I think we did that.
"[For the race] we need to see what the weather does," Norris added, "if the heavens open up, if it rains, whatever it is. But it's going to be tricky with the temperature, with the cold conditions and so on. So we'll see what we can do, but I'm sure either way it's going to be a fun race."
Meanwhile, both McLarens qualified either side of the ninth-placed Racing Point of Sergio Perez – with just two points separating the two teams in the constructors' standings, where McLaren currently hold third – while Perez's drafted-in team mate Nico Hulkenberg will start the Eifel Grand Prix in last place, having only been called up to replace an ill Lance Stroll earlier on Saturday.