Report
Sainz takes pole for the 2022 United States Grand Prix ahead of Verstappen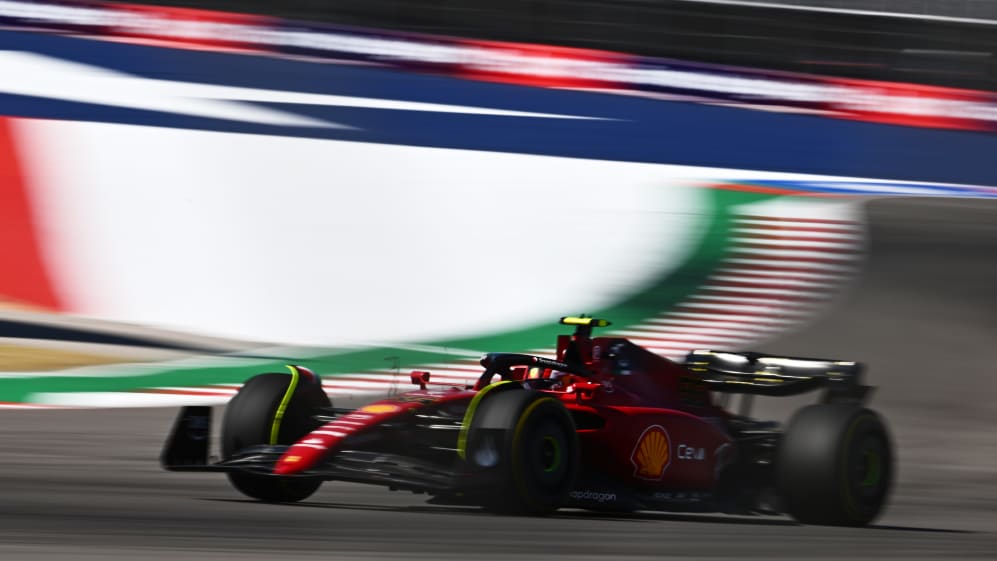 Carlos Sainz stormed to pole position in qualifying for the 2022 United States Grand Prix, where grid penalties will see Max Verstappen join him on the front row and the Mercedes start on the second row.
Dietrich Mateschitz's passing cast a shadow over the paddock ahead of qualifying, with the likes of Red Bull Team Principal Christian Horner, Mercedes Team Principal Toto Wolff, and Formula 1 President and CEO Stefano Domenicali paying tribute to the influential Red Bull energy drinks co-founder.
Red Bull vowed to continue on for qualifying, the team this weekend hoping to secure their first constructors' championship victory since 2013.
Sainz topped Q1 and Leclerc Q2, leaving Ferrari front-runners when it came to the top-10 shootout. The Monegasque driver set a provisional pole lap early in Q3, but had a10-place grid penalty incoming for engine changes, while Sergio Perez and Fernando Alonso would be demoted five places apiece.
Sainz's second flying lap however saw him eclipse his team mate with a time of 1m 34.356s, taking Ferrari's first pole in Austin, with Leclerc 0.065s off in P2 before his penalty kicked in. Max Verstappen finished third in qualifying but will start on the front row, while Perez finished fourth before his penalty.
FORMULA 1 ARAMCO UNITED STATES GRAND PRIX 2022
United States
2022
Qualifying results
POSITION
TIME

1

Carlos

Sainz SAI

Ferrari

1:34.356

2

Charles

Leclerc LEC

Ferrari

1:34.421

3

Max

Verstappen VER

Red Bull Racing

1:34.448

4

Sergio

Perez PER

Red Bull Racing

1:34.645

5

Lewis

Hamilton HAM

Mercedes

1:34.947
Lewis Hamilton rounded out the top five but is set for a second row start, while team mate George Russell is set to join him, having qualified sixth.
Also shuffling forward will be P7 qualifier Lance Stroll, ahead of McLaren's Lando Norris. Alonso will drop five places after qualifying ninth on the grid, which will further promote 10th-place qualifier Valtteri Bottas.
Alex Albon qualified 11th for Williams ahead of Aston Martin's Sebastian Vettel, while Pierre Gasly was frustrated with a lack of braking performance as he locked up on the way to P13. Zhou Guanyu seemed safe for Q3 but had his final lap deleted and qualified 14th – which will become 19th once his five-place penalty kicks in. Yuki Tsunoda qualified 15th but is set to be promoted at Zhou's expense.
Also to be promoted a place will be Kevin Magnussen, who lost out on a spot in Q2 by 0.018s, while Daniel Ricciardo and Esteban Ocon struggled to P17 and P18, respectively. Mick Schumacher spun on his final Q1 lap and qualified 19th, while Nicholas Latifi qualified last and is set to start 20th for Williams.
AS IT HAPPENED
Q1 – Ferrari on top while Ricciardo and Ocon bow out early
Leclerc set the early pace in Q1 with a 1m 35.795s, putting Verstappen – who encountered a Haas on the racing line on his flying lap – second by 0.069s. Once Sainz came round to finish his flying lap, the Spaniard found half a second and jumped both his team mate and the reigning champion by setting the benchmark of 1m 35.297s.
In the drop zone with three and a half minutes remaining was Albon – who is provisionally set to have Logan Sargeant as his Williams team mate in 2023 – Ricciardo, Magnussen, Tsunoda, and Zhou, who was bumped down to P20 having had his flyer deleted.
The Ferraris and Red Bulls stayed in their garages while the rest of the field scrambled to improve on their existing benchmarks.
Hamilton had his final time deleted but stayed fourth overall ahead of Red Bull's Perez, with Russell staying sixth in the other Mercedes. Alonso was next on the board in P7 ahead of an improving Norris, who finished ahead of AlphaTauri's Gasly. Zhou also improved, rounding out the top 10 for Alfa Romeo.
Vettel was up next in P11, ahead of Alfa Romeo driver Bottas, with Tsunoda improving to P13 ahead of Stroll and, making it to Q2, Williams's Albon.
Magnussen implored his team to look at possible track limits infringements for rivals, as he missed out on the next session by 0.017s. Ricciardo was unable to progress in P17 and Ocon was a shock elimination in P18. Schumacher spun and aborted his flying lap, and while Latifi improved, he was out in P20.
Knocked out: Magnussen, Ricciardo, Ocon, Schumacher, Latifi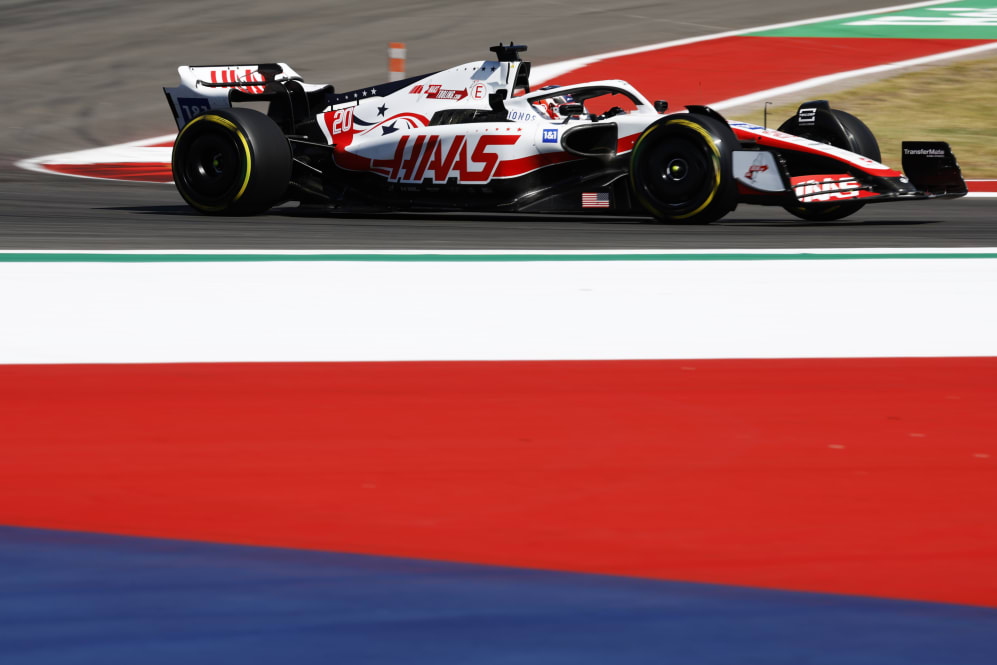 Q2 – Leclerc leads Verstappen as Norris handed lifeline
Opening salvos saw Leclerc set the fastest time of 1m 35.246s, Verstappen just 0.048s off in P2 while Q1 leader Sainz was 0.344s off the pace in P3, leaving Russell fourth and Hamilton sixth – with Perez splitting the Mercedes in P5.
Gasly and Vettel were 14th and 15th with three minutes left, the former driver having aborted his first effort after a lock-up and the latter having had his time deleted for track limits. Joining them in the provisional drop zone was 11th-placed Albon, 12th-placed Tsunoda and 13th-placed Stroll, with Norris on the bubble in P10.
The Ferraris, Red Bulls and Russell remained in their garages, but Hamilton emerged (albeit on used soft compounds) for a second run along with the rest of the field. The top three remained the same but Hamilton improved to P5 to drop Perez to sixth. Alonso improved but took P7 in Q2, ahead of Stroll and Bottas.
As for Norris, he couldn't improve but was bumped back into P10 when Zhou's final lap was deleted. The Alfa Romeo driver qualified 14th but will be demoted five places thanks to an engine penalty. Tsunoda qualified 15th in Q2, but will start 14th.
Albon missed out on Q3 in P11, but out-qualified Aston Martin's Vettel and a furious Gasly in P13, the AlphaTauri driver struggling with his brakes throughout qualifying.
Knocked out: Albon, Vettel, Gasly, Zhou, Tsunoda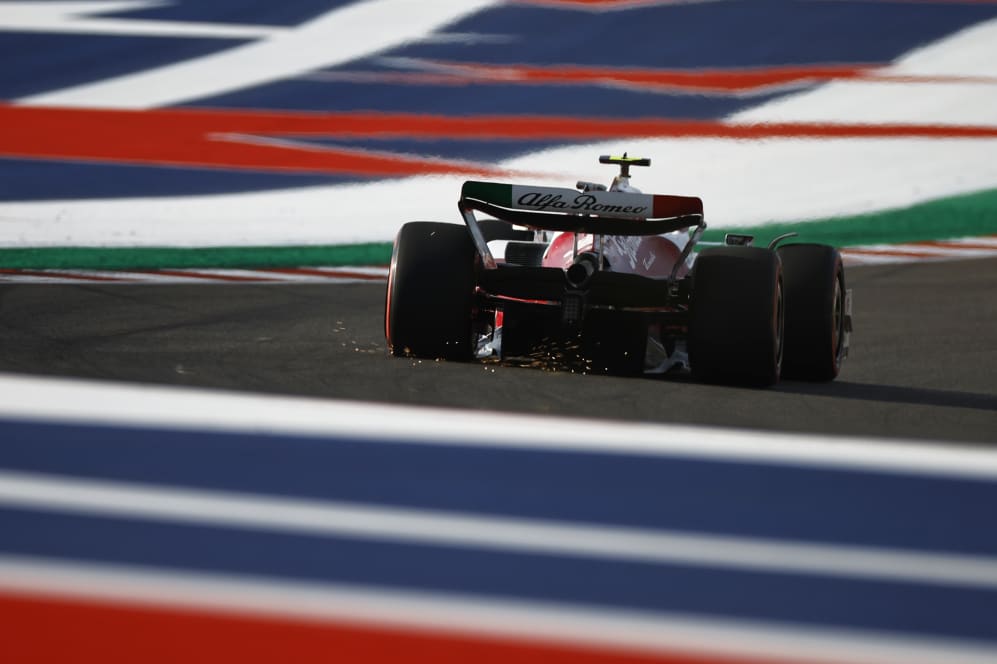 Q3 – Sainz takes pole ahead of Leclerc before grid penalties kick in
On used softs, Verstappen set the time to beat with a 1m 35.044s but Leclerc – facing a 10-place grid penalty for an engine change – took that challenge and set the sectors purple for a time of 1m 34.624s, Sainz going 0.159s off his team mate in P2.
Hamilton then eclipsed the Red Bulls by putting his Mercedes third on the timesheets and 0.323s off the pace, leaving Verstappen fourth and Perez fifth. Russell jumped to sixth after a couple of warm-up laps, Stroll taking a provisional seventh with a later effort, Alonso eighth, Norris ninth and Bottas 10th. Perez and Alonso were however set to be demoted five places apiece thanks to their respective grid penalties.
With the sun glowing at the cusp of the horizon, it was Sainz who secured Ferrari's first pole position at the Circuit of The Americas, with team mate Leclerc second by 0.065s. Verstappen improved after two warm-up laps but qualified 0.092s off the pace in P3, which is set to become P2 on the grid when Leclerc drops down.
Perez managed fourth, 0.289s off the pace, but anticipating a five-place grid penalty that would promote fifth-place qualifier Hamilton and sixth-place Russell to the second row.
Stroll remained seventh after his stunning effort in the middle of Q3, which would, on Sunday, amount to Aston Martin's best start of the season. Norris ended up eighth (before penalties) ahead of penalised driver Alonso in P9, and the Alfa Romeo of Bottas in P10.
After the session, Verstappen led Leclerc and Sainz in paying respects to late Red Bull co-founder Dietrich Mateschitz, who on Saturday passed away at the age of 78.
Key quote
"It was fun, a lot of fun. Very tricky out there with these winds that we have… but I managed to put together a good lap without mistakes and pole position that was a long time coming after a few qualis in the dry getting very close to it but not getting there.
"I'm not going to lie, for tomorrow Red Bull are still favourites, I think they normally have the better race pace. They normally get us in the race because Max does a good job and Red Bull have a very good car in race trim. But we are going to do everything we can to try and stay ahead tomorrow and win the race, which would be an amazing way to start these last four races" – Carlos Sainz
What's next
The 2022 United States Grand Prix is set to begin at 1400 local time on Sunday with Red Bull on the verge of securing their first constructors' championship since 2013 – but Sainz holding the cards in pole position. Head to the RACE HUB to find out how and when you can catch the action from the Circuit of The Americas.