Schumacher and Giovinazzi to fulfil Ferrari reserve role in 2022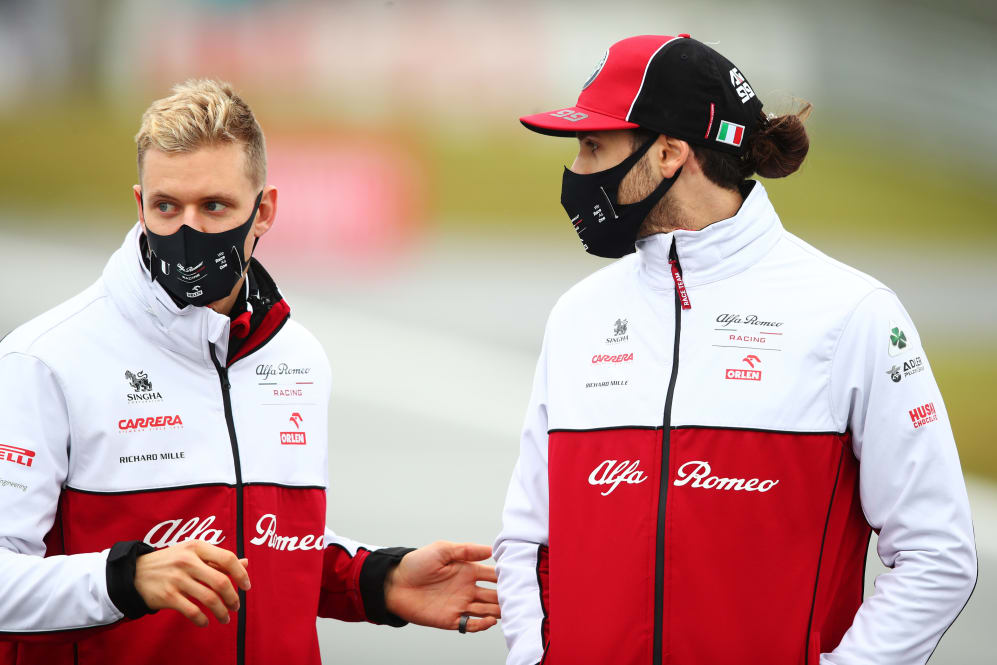 Mick Schumacher could find himself driving a Ferrari Formula 1 car in 2022 as Team Principal Mattia Binotto revealed the Haas race driver will share the reserve role with fellow Ferrari Driver Academy racer Antonio Giovinazzi…
Giovinazzi was left without a drive after Alfa Romeo opted to replace him with Zhou Guanyu for next season, after three campaigns with the team, and subsequently announced he would compete full-time in Formula E next year.
READ MORE: Alfa Romeo confirm Giovinazzi will leave the team at the end of the season, as Italian announces Formula E switch
However, he was keen to keep one foot in F1 with a view of trying to find a race seat in 2023 – and will do so by extending his Ferrari relationship into a fifth year.
Speaking to selected media at Ferrari's annual Christmas event, Team Principal Binotto said Giovinazzi will attend 12 races and fulfil the role of reserve, with Schumacher – who will be racing in his second season with Haas – available to stand in for the remaining 11.
Should Ferrari call on Schumacher, Haas would run their reserve Pietro Fittipaldi to drive alongside Nikita Mazepin. Binotto added that Giovinazzi will be available to stand-in for Ferrari's customers Haas and Alfa Romeo if required.
Explaining the reasoning behind giving Schumacher, son of seven-time world champion Michael, the role of reserve, Binotto said: "He's a Ferrari driver, we should not forget that. He has been part of our Ferrari Driver Academy. The reason we have the Ferrari Driver Academy is to identify the next Ferrari driver for the future.
"Being part of it, if you are doing well, no doubt you may have opportunities. He's had already one season in F1, which is important. Mick through the season did well, he improved himself not only in terms of consistency, but as well in terms of speed.
READ MORE: Why Alfa Romeo went for Zhou, how the deal came together – and who else was in contention for the seat
"If you look at the last races, he was a lot closer to the cars ahead, and Haas didn't develop the car at all. The fact he was closer proved he had a good improvement on the speed itself.
"He will be driving 2022 cars next year, they will be a lot different to the current one in terms of driving style. It will be important to have one driver who knows those cars being reserve.
"I can count still on Antonio because he's a good driver, he has proved to be a good driver. Antonio will have a full programme of simulator, in terms of bringing him up to speed in terms of 2022 driving style."
I think it's important for him to still be part of our F1 programme as reserve, still doing activities in the simulator and keeping him up to speed with 2022 cars
Schumacher will continue to be supported by Ferrari engineers in 2022, with Ferrari making their simulator – which has been substantially upgraded – available to him, too.
Giovinazzi has said he is keen to return to F1 and Binotto believes continuing with Ferrari will be helpful in achieving that ambition – especially given the formula will change dramatically next year.
"With Antonio, no doubt there can be some more opportunities for him to find a seat [in 2023]," he said. "There are 11 seats I think which will be free in 2023. I'm not saying all of them will be free, but if I look at contracts of drivers, 11 are finishing by the end of 2022, including Carlos – so that's the situation.
"This is why I think it's important for him to still be part of our F1 programme as reserve, still doing activities in the simulator and keeping him up to speed with 2022 cars."