Schumacher brushes off 'painful' Belgian Grand Prix as Haas duo eye Zandvoort points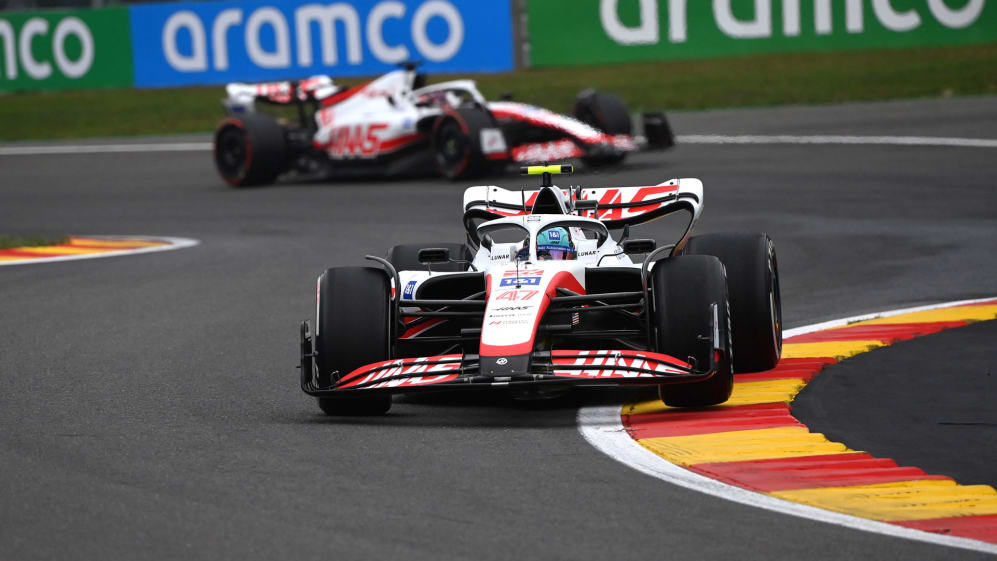 Haas were uncompetitive in Belgium as neither Mick Schumacher nor Kevin Magnussen finished in the top 10, and that left both hoping for a trip back into the points in this weekend's Dutch Grand Prix at Zandvoort.
Schumacher, running Haas's upgrade package for the first time, took new engine components – and the accompanying grid penalties – and started 19th in Belgium. He finished 17th, behind team mate Magnussen and ahead of Nicholas Latifi, after Valtteri Bottas and Lewis Hamilton retired from Sunday's race at Spa-Francorchamps.
READ MORE: How Red Bull engineered the RB18 to dominate at Spa
"Tell me about it," he replied when asked if his VF-22 was challenging to drive in Belgium. "It was tough, yes, especially after the Safety car restart, to just see those cars driving back, it felt kind of frustrating to be fair.
"I mean, not having any top speed compared to the cars around us was painful but on the other hand, it's great to be here, great to be driving in front of so many people – some German people too, which is good."
The 23-year-old added that Haas's problems were "circuit-specific" as he aimed to return to the top 10 this weekend at the Dutch Grand Prix.
"Yeah, I guess it was circuit-specific that we struggled this weekend," said Schumacher. "Hopefully with Zandvoort coming up, we should be in a better position where we then should be able to fight for the points again, and also in terms of upgrades we should have a better read in Zandvoort because it's just more comparable to Budapest…
"I expect us to go a bit forwards and hopefully it will give us some points."
READ MORE: Max Verstappen pays tribute to father Jos with special Dutch Grand Prix helmet design
Meanwhile Magnussen, who took P16 having started 12th at Spa, added that Haas predicted the low-downforce Belgian circuit would be a tough one for them.
"I mean, I think we had an idea that probably this wasn't going to be such a strong weekend. This track, it's not really our track, this type of track, so yes, we tried what we could, but didn't really have the pace today.
READ MORE: Wolff concedes Verstappen 'in a league of his own' as he urges Mercedes to recover from Spa 'depression'
"All in all, it's not been the best weekend, but we've got more running, collated more data, and that will be useful going forward, but looking forward to the next race," said Magnussen.
Haas last scored points in Austria, and in the Netherlands they are aiming to end a three-race point-less streak that began in France.