Schumacher revels in first F1 points finish, as Magnussen says Haas couldn't have hoped for more at British GP
The 2022 British Grand Prix marked the end of Haas' five-race point-less streak, but it will also be remembered as the day that Mick Schumacher scored his first points in Formula 1. And the delighted German driver – who finished eighth in the race – admitted his relief at not having to answer questions anymore about his wait for a top-10 finish.
Schumacher started the race in P19 after suffering from a steering issue in qualifying. But the Haas driver said he felt that there was pace in his car, which he showed in the race as he methodically made his way through the field, even overtaking his team mate Kevin Magnussen for 11th place by Lap 15.
Schumacher then made his way up into the top-10 by overtaking Nicholas Latifi in the Williams on Lap 32, gaining a place due to Esteban Ocon's retirement, before making his way past compatriot Sebastian Vettel for P8. And the Haas driver – who has been close to scoring points in a number of races this season – was relieved to have finally got the monkey of his back.
READ MORE: 6 Winners and 5 Losers from the British Grand Prix – Who shone at Silverstone?
"Yeah, it's great for the team to have a double score in the points," he said. "So that's obviously very helpful in the constructors but also for me it's great to just get those questions for the media away and focus on what's really important and that's the racing and the driving itself.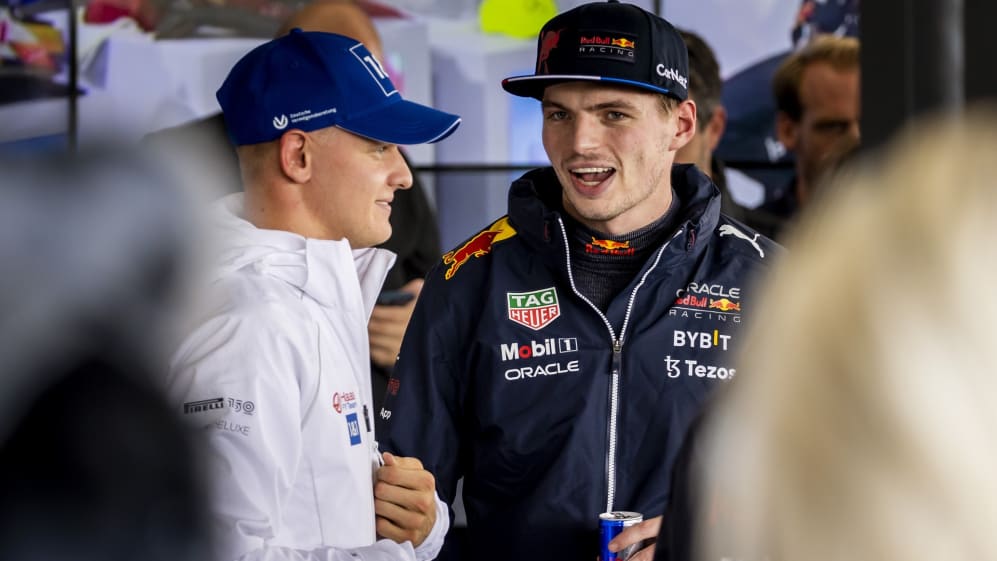 Schumacher also attempted to make his way past the damaged Red Bull of Max Verstappen late in the race for P7. But, with Verstappen stubborn in defence, Schumacher had to settle for eighth, and although the stewards chose not to take any action regarding their battle, the Haas driver felt it should have been looked at.
"Definitely something to have a look at because I think he pushed me off twice there so maybe there will be a bit more points in it," he said. "But I think overall we are really happy, coming back from P19, I said we had the speed to go forwards and definitely showed that today."
READ MORE: Binotto says there was 'no way' for Leclerc to win the British GP after the Safety Car – but is he right?
Magnussen in the other Haas finished in 10th – after starting in 17th – and the Danish racer believes that the team achieved their maximum possible result this weekend, and hopes to carry the momentum forward into the next few races – starting with the Austrian Grand Prix next weekend.
"I don't think we could have hoped for any more," said Magnussen. "The first stint I don't think I had great pace, at least compared to the second stint.
"My pace picked up a lot, I lost a few positions in that first stint – that was a bit annoying because then we got the Safety Car towards the end and we were advised to pit both of us by the team, which I took the decision to stay out. I don't know if it was right or wrong – at least if it was wrong I'm going to say it was my decision.
"So, two cars in the points – [we've] got to be super happy with that to get a decent amount of points at this stage of the year, it's very good. We go away from here from here with a big smile on our face full of motivation for the next race."