Seb Vettel made a very big claim in his parting note to Charles Leclerc – but do you agree with him?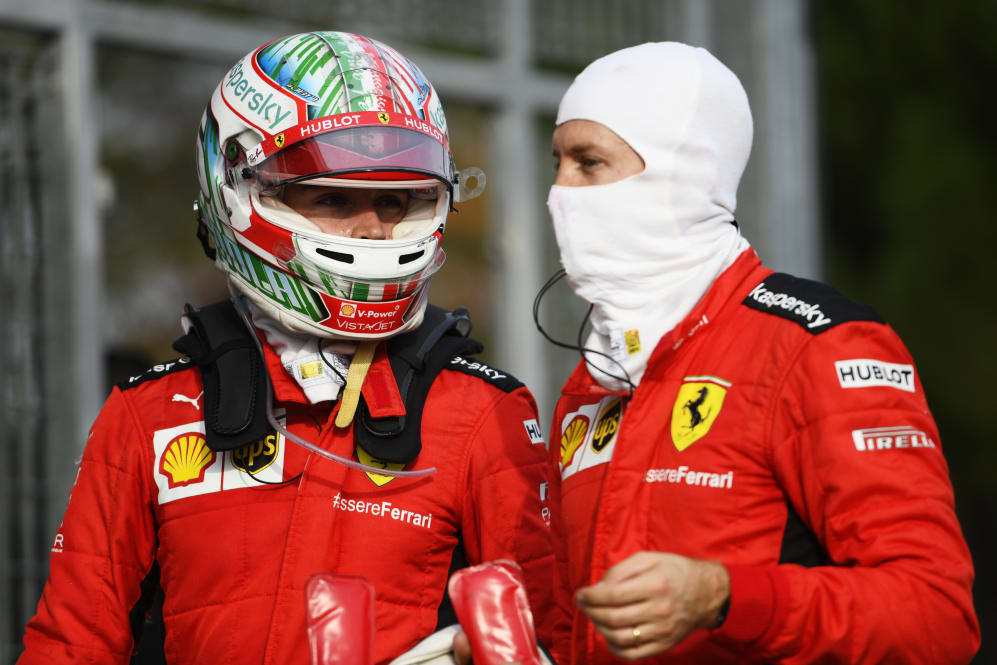 Their time together at Ferrari wasn't always plain sailing – remember the run-ins in Brazil and Styria? – but there was never any doubt as to the respect between Charles Leclerc and Sebastian Vettel.
And on the weekend when Vettel said farewell to the Italian team after six seasons, both drivers showed their admiration for each other.
Leclerc wore a special 'Danke Seb' tribute helmet for the Abu Dhabi finale, with the colour scheme based on the German's iconic white design, while Vettel returned the favour with his own helmet-related tribute, gifting the 23-year-old one of his lids, complete with a very personal message.
Oops! Error retrieving Twitter post
"To Charles, you are the most talented driver I came across in 15 years of F1," Vettel wrote. "Don't waste it. But be sure whatever you do to be happy and smile. Thanks for everything!"
In response, Leclerc posted a picture of the duo swapping helmets, with the message: "I learnt so much from you as a person and as a driver in these last two years together. Thanks for pushing me to improve all the time, it's been a honor (sic) to be your teammate, and I honestly wish you the very best. Top driver and a Top Man."
Oops! Error retrieving Twitter post
Both drivers get a new team mate next year. Leclerc welcomes Carlos Sainz to Ferrari from McLaren, while Vettel moves over to Racing Point, as they morph into Aston Martin, to partner Lance Stroll.