Report
Dominant Verstappen comfortably holds off Mercedes to seal victory in Abu Dhabi season finale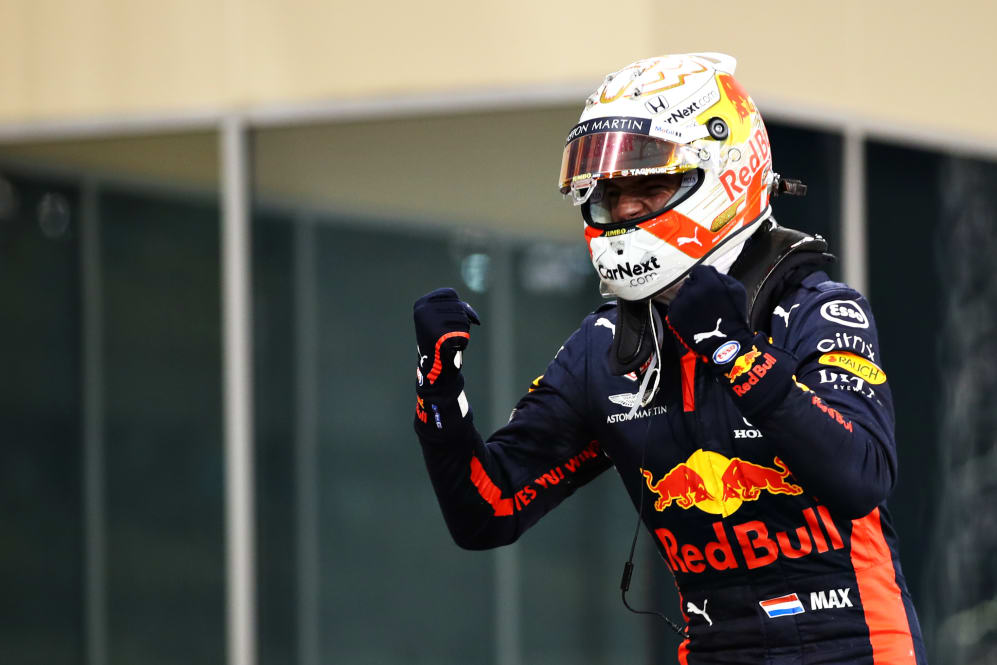 An imperious display from Max Verstappen saw him breeze to his second victory of 2020 at the Abu Dhabi Grand Prix season finale, leading home the Mercedes duo of Valtteri Bottas and Lewis Hamilton, who had no answer to the Red Bull's pace around the Yas Marina Circuit.
With Mercedes having taken every pole and race win in Abu Dhabi since 2014, Verstappen reversed that trend with pole on Saturday, before converting it with a dominant performance under the floodlights, as he led home Bottas by 15 seconds, with Hamilton coming home just behind his team mate on his first race back since contracting Covid-19.
AS IT HAPPENED - Formula 1 Etihad Airways Abu Dhabi Grand Prix 2020
Verstappen's team mate Alex Albon supported Red Bull's cause by coming home P4, although having lacked the pace to really challenge the Mercedes in front of him.
Meanwhile, in a fantastic evening for McLaren, Lando Norris and Carlos Sainz finished P5 and P6 to claim third in the constructors', leap-frogging Racing Point who scored just one point.
FORMULA 1 ETIHAD AIRWAYS ABU DHABI GRAND PRIX 2020
Abu Dhabi
2020
Race results
POSITION
TIME
POINTS

1

Max

Verstappen VER

Red Bull Racing

1:36:28.645

25

2

Valtteri

Bottas BOT

Mercedes

+15.976s

18

3

Lewis

Hamilton HAM

Mercedes

+18.415s

15

4

Alexander

Albon ALB

Red Bull Racing

+19.987s

12

5

Lando

Norris NOR

McLaren

+60.729s

10
That was partly due to Sergio Perez retiring with a suspected transmission issue on Lap 10 of the race, an unfortunate end to the Racing Point career of last week's race winner..
Daniel Ricciardo came home seventh on his final outing for Renault, ahead of the AlphaTauri of Pierre Gasly, while behind Esteban Ocon, Lance Stroll took the final points-paying position in P10 having been passed on the final lap, Ocon cementing Renault's fifth in the constructors'.
READ MORE: 'Bromance' with Sainz key to McLaren winning fight for P3 in constructors' standings, says Norris
Meanwhile, on his final race for Ferrari, Sebastian Vettel finished P14, behind team mate Charles Leclerc, while in what looks to be his last race in F1, Kevin Magnussen finished P18 for Haas.
But as a dominant season for Mercedes draws to a close, it's Verstappen with the advantage heading into the winter, after a fantastic race for the Dutchman - and at the end of a fast and furious 2020.
AS IT HAPPENED
Max Verstappen may not have started on pole so far this season, but he nailed his start from P1 like a seasoned poleista, easing over to cover off the swift start of Valtteri Bottas alongside him and hold P1, as Bottas got a touch squirrelly on the exit of Turn 1, but doing enough to stay in front of Lewis Hamilton behind.
There were no 'last day of school' vibes for the rest of the pack behind, who were all well behaved as they weaved through the first sequence of corners bar Kevin Magnussen, who had a wild lock-up into Turn 1 and was lucky to avoid getting collected by Perez – while the Dane was ultimately Lap 1's biggest gainer, jumping from P20 to P17, partly thanks to a lovely move around the outside of Nicholas Latifi's Williams at Turn 8.
ONBOARD: Magnussen gets off to a flier at Abu Dhabi Grand Prix
Sebastian Vettel nipped past team mate Charles Leclerc for P12, while Ocon briefly got ahead of AlphaTauri's Pierre Gasly for P10 – although Gasly would fight back a lap later to reclaim the position.
Start done, and Verstappen was quickly into a rhythm, opening a sufficient gap that when DRS came into effect, he was out of range of Bottas, quickly opening the gap to 2s. His team mate Alex Albon was on the move too, making an important move past the McLaren of Lando Norris – who'd pipped him to P4 in qualifying – on Lap 6.
Sergio Perez had started P19 but was up to P14 by Lap 10 when he appeared to suffer a transmission issue going into Turn 17 – a cruel end to the Mexican's final race with Racing Point, and perhaps final race in F1 altogether. A Virtual Safety Car was called, with Verstappen, Bottas, Hamilton and Albon diving into the pits, along with a number of the midfield runners – while with marshals struggling to move the stricken Racing Point of last week's race winner Perez, a full Safety Car was pulled on Lap 11.
With the order rejigged slightly thanks to those pit stops, at the Lap 14 restart the top 10 was Verstappen, Bottas, Hamilton, Albon, Ricciardo (who'd started on the hard tyre and not pitted), Norris, Vettel, Leclerc (both Ferraris not pitting, with Vettel having started on hard tyres to Leclerc's mediums), Sainz and Stroll – with all the drivers who'd pitted taking on hard tyres. Sainz, meanwhile, was set to be investigated after the race for driving unnecessarily slowly in the pit lane.
WATCH: Devastated Pérez forced to retire with mechanical issue
Verstappen now had it all to do again, but wasn't flustered, putting in a perfect restart and banging in his fastest lap of the race at that point to be 1.5s clear of Bottas by the end of the lap, while Hamilton was 2s back from Bottas – the seven-time champion unhappy with his car balance at this stage, while he also questioned whether Mercedes had made the right call to bring him in under the VSC at all.
Leclerc was thinking the opposite at Ferrari, meanwhile, and having been passed on his old medium tyres in quick succession by Sainz, Stroll, Gasly and Ocon, came in from P12 to put on hard tyres on Lap 22, emerging P19 and last.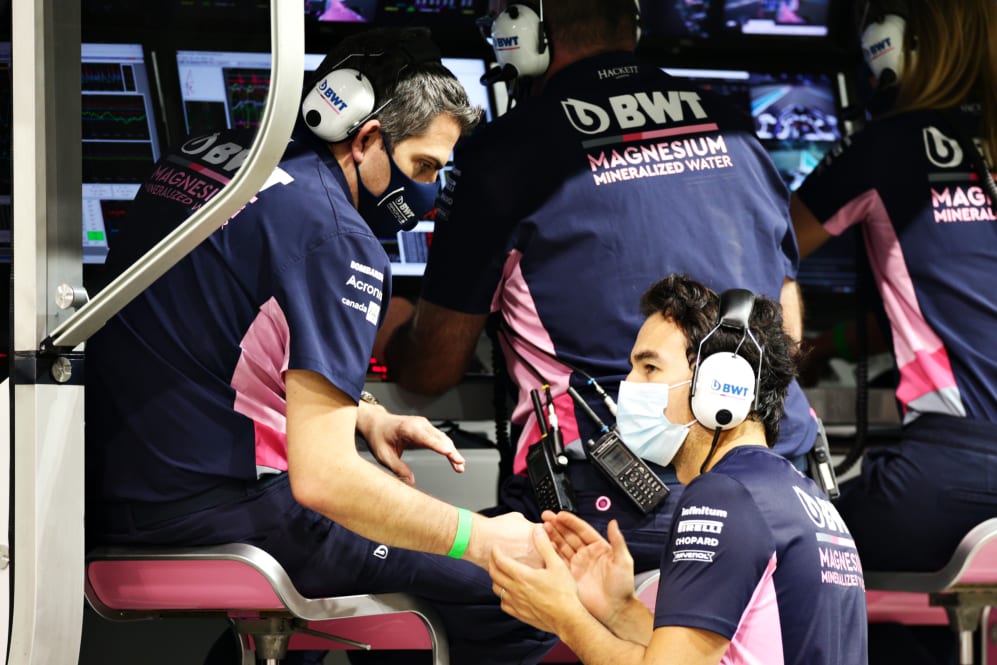 With the halfway point reached by Lap 28 of 55, Verstappen was 5.5s clear of Bottas, who himself was 2.6s clear of Hamilton – the Mercedes reportedly using their MGU-K at a sub-optimal level in order to preserve them.
Albon was just about clinging on in P4, five seconds adrift of Hamilton, the Thai driver then 15s up the road from the fight for P5 between Daniel Ricciardo and Lando Norris – while Sainz's pace had been strong since the Safety Car restart, allowing him to climb from ninth to seventh behind his team mate. Vettel, meanwhile, was holding onto eighth, helped by the chasing Stroll having overshot his braking at Turn 11 on Lap 25.
Vettel's hard tyres had had enough by Lap 35, however, the German pitting for mediums and releasing the train of cars he'd been holding up, consisting of Stroll, Gasly, Ocon and Kvyat, as Vettel rejoined in P15.
Vettel bottling up that pack had been a blessing for Daniel Ricciardo, meanwhile, who finally made his first stop from P5 on Lap 39 for mediums, and was able to slot back in ahead of Gasly (who'd passed Stroll) in P7, with Ricciardo setting off after the McLaren duo who were now around 20s up the road from him.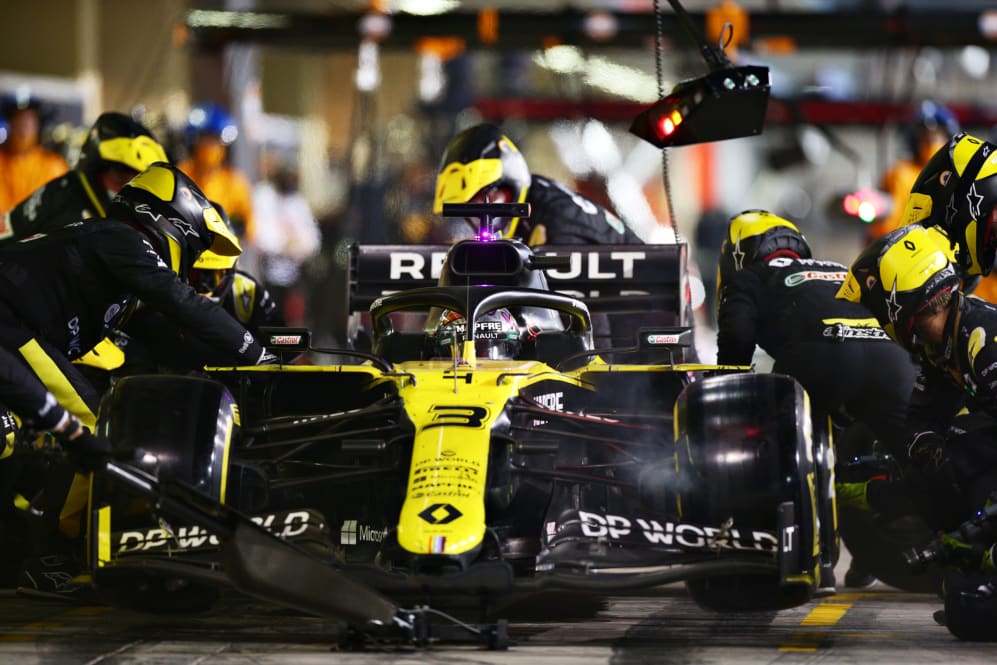 Ten laps to go, and Verstappen had eked out his lead to 9.6s over Bottas, who was still three seconds ahead of Hamilton, with Albon now seven seconds off the Mercedes – with Verstappen starting to sound edgy on team radio, as he complained of vibrations, with the focus now on whether any of the top three would need – or want – to pit before the end of the race.
Ultimately, despite the lead four's advantage, all of them opted against making a second stop. That just left Verstappen to let the laps tick down before crossing the line to a volley of fireworks to take the 10th victory of his career, and second of a season in which he's so often been frustrated by the just-too-fast Mercedes.
READ MORE: Verstappen calls on Red Bull to be 'stronger at the beginning of the season' in 2021 after Abu Dhabi win
Today, though, it was his turn to do the frustrating, as he ended a dominant 15.976s clear of Bottas – and ended Mercedes' six-year unbeaten run at Yas Marina.
After a difficult race last time out, Bottas at least had the comfort of beating five-time Abu Dhabi winner Hamilton here, the seven-time champion ending up 2.4s behind his team mate, having admitted to being "massively" affected during the race by the after-effects of his bout of Covid-19. Albon, meanwhile, had been given the hurry up late in the race by engineer Simon Rennie, turning his pace up in the final few laps to end up an impressive 1.572s behind Hamilton.
A great evening under the lights for McLaren, meanwhile saw them provisionally claim P3 in the constructors' standings with fifth and sixth – although the stewards' enquiry on Sainz was pending.
On his final outing for Renault, Ricciardo took a strong P7 plus an extra point for fastest lap, finishing 8s off Sainz, having brilliantly extended his opening stint on the hard tyres. Gasly capped off a fine season with P8 – the Frenchman ending 2020, like Perez, as an F1 race winner – while a last-lap dive from Ocon on Stroll saw the Renault driver claim ninth, Stroll capping off an underwhelming performance from Racing Point, who will take fourth in the constructors' – with Renault taking fifth.
READ MORE: Ricciardo 'proud' of final year with Renault as team claim fifth in constructors' in season finale
Vettel had looked strong early on in the race after his long first stint on the hards, but ultimately had to settle for P14 behind his team mate on his final outing with Ferrari, at the end of a season he'll be keen to forget after finishing a distant P13 in the drivers' standings – and in a year where sixth-placed Ferrari took their lowest constructors' finishing position since 1980.
Meanwhile, on what it seems will be Kevin Magnussen's final race in the sport, the Dane could do no better than P18 on a tough evening for Haas – in a race that was almost certainly watched by the absent Romain Grosjean, still recovering from his Bahrain Grand Prix burns, and also seemingly with his F1 career now at an end.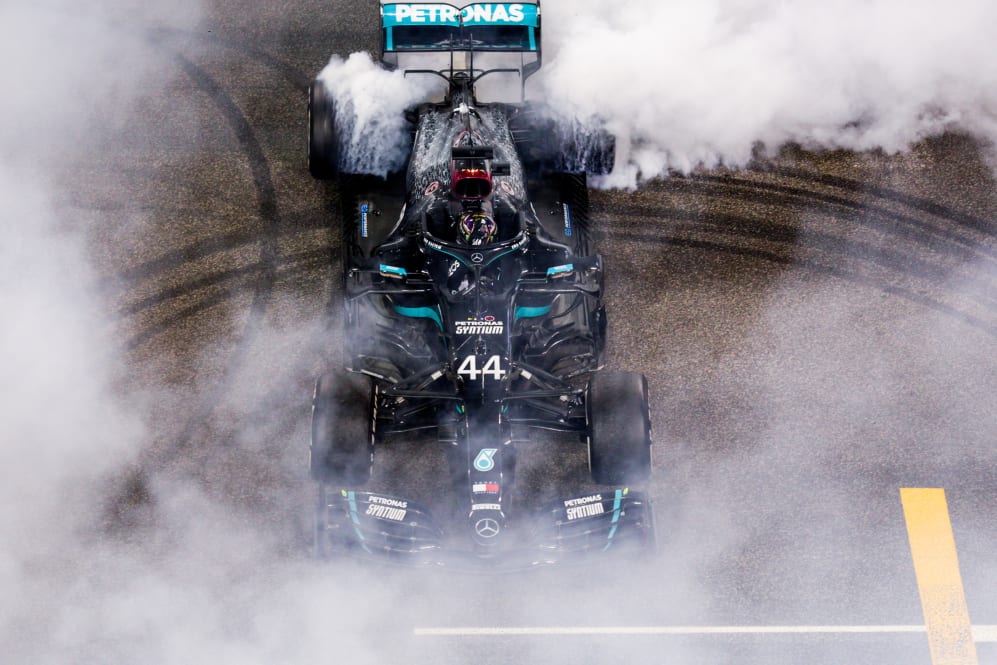 Mercedes rightly feted a dominant season with some celebratory donuts for Hamilton and Bottas on the Yas Marina pit straight, the team having taken their seventh straight double championship this year. But tonight was the night of Max Verstappen, who'll be hoping for more of the same in 2021, as he looks to properly take the fight to the Silver Arrows next season. For now, though, that's 2020 done and dusted.
WATCH: Mercedes donuts mark end of Formula 1 season
The key quote
"It was really enjoyable. Yesterday of course, but today we had a good start and from then on of course you look after the tyres, but the car was having a really good balance and it was really enjoyable out there today. We did everything basically alright. Once you start up front you can control the pace a bit more and it makes your life a bit easier.
"Also I saw that [the Mercedes] were dropping off behind me so I could take it a bit easier. I had to go through a bit of traffic, the backmarkers, but overall, it was a very strong race for the team" – Max Verstappen, Red Bull.
What's next?
That, as they say, is a wrap for F1 in 2020 – and what a 2020 it's been, with all the teams and drivers having contributed a fast-paced Formula 1 season that will live long in the memory. For some of those drivers, it looks to be the end of the road in F1, while others will return next year with new teams. Let's see how the field's shaping up when Formula 1 returns for pre-season testing in 2021.