Feature
As it happened: Day 1 of second 2017 test from Spain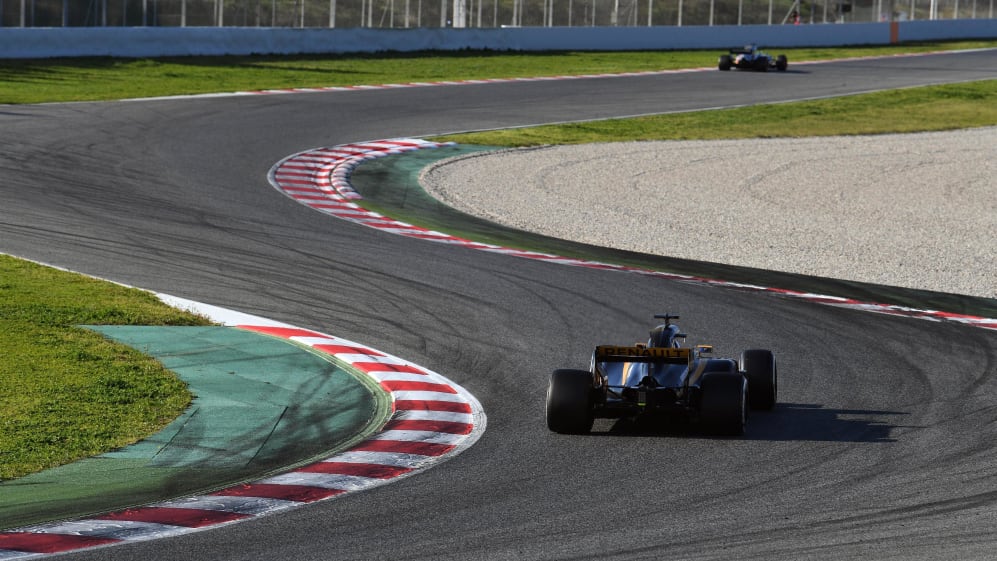 Last week's opening test gave us our first glimpse of 2017's faster F1 cars running in anger. This week we get our final chance to assess the pecking order before the teams head to the season-opening 2017 Formula 1 Rolex Australian Grand Prix on March 26.
This page - updated throughout the day, with newest posts at the top - brings you the key news and information from the second test session of the year at the Circuit de Barcelona-Catalunya...
RECAP
- Massa puts Williams on top in final day
- Brazilian also clocks up 168 laps - as does Vettel
- McLaren and Renault change engines in morning, but bounce back in afternoon
- Wehrlein gets first taste of 2017 machinery after returning from injury with Sauber
Day one at a glance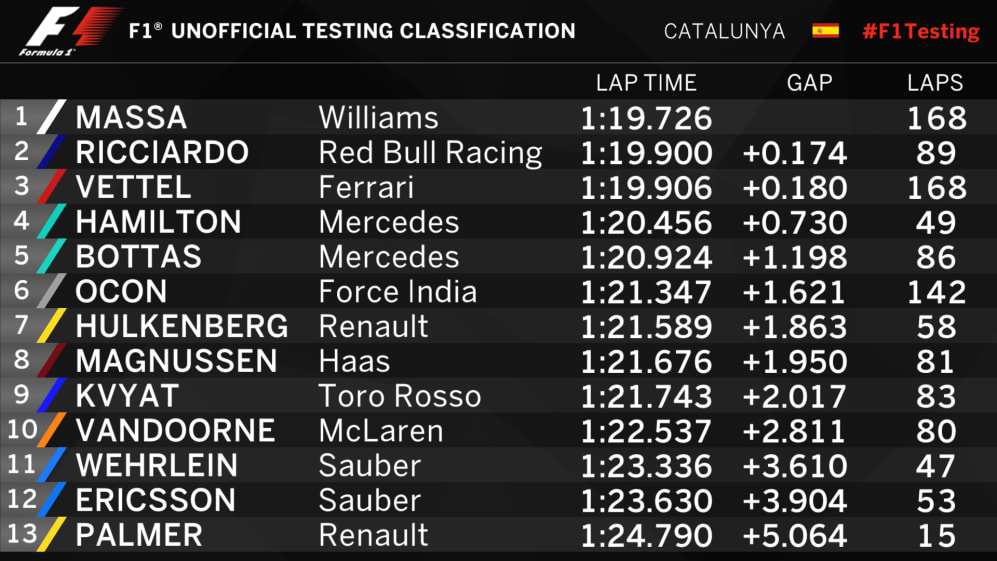 Frustration for McLaren then, and an engine change too at Renault - but a step forward for Toro Rosso, and a first taste of 2017 for Pascal Wehrlein, who sat out the first test due to injury.
More than anything else, the first day of the second and final test delivered mileage - 1,119 in total, to be precise.
For a full report on a packed opening day, step this way...
There's undoubtedly plenty more performance to come - and we'll be here all week as teams start to show their hands. Until tomorrow then.
Williams hit the front on day five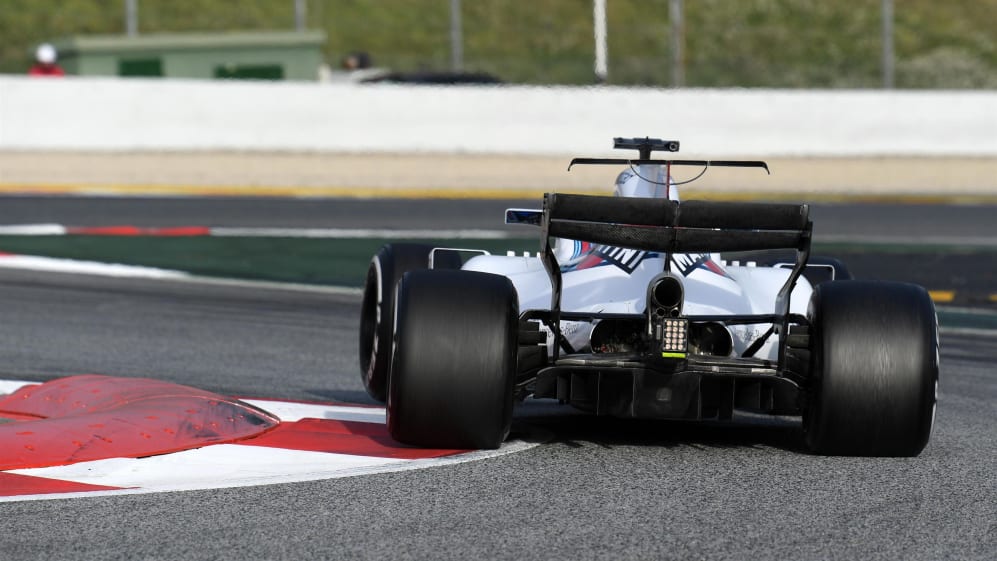 It's not just the lap count that makes happy reading for Williams: they also head the timesheets for the first time in 2017 pre-season testing. Massa's lap of 1m 19.726s - set on the supersoft - leaves him one tenth clear of the ultrasoft-shod Red Bull of Daniel Ricciardo - the perfect tonic after a disrupted first four days.
Sebastian Vettel was the only other man to break the 1m 20s mark, while Mercedes' duo Lewis Hamilton and Valtteri Bottas rounded out the top five.
Elsewhere McLaren suffered more engine woes in the morning, but bounced back to record 80 laps in total - their best tally over the first five days. Even so, racing director Eric Boullier admits the relationship with Honda is at 'maximum pressure'.
Record breakers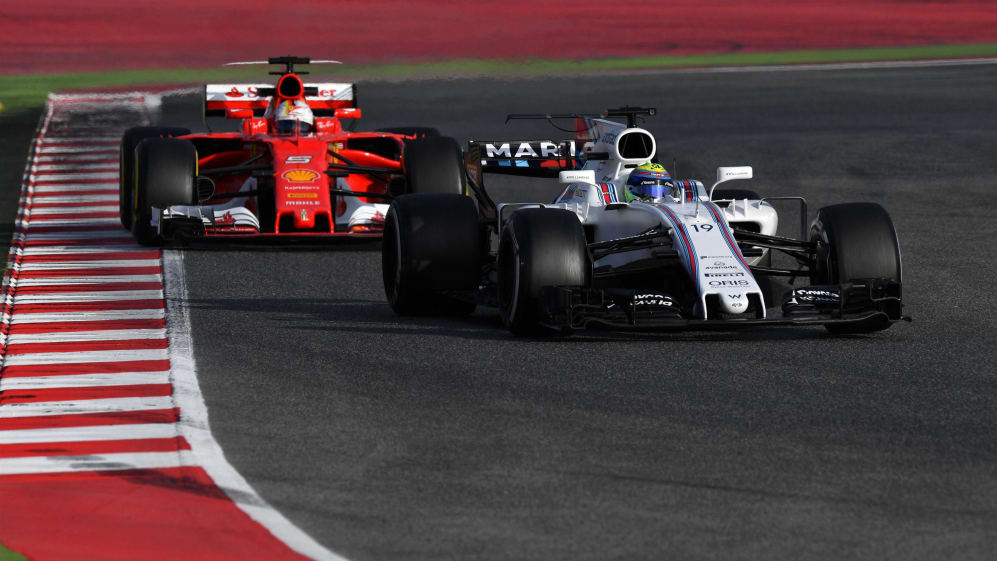 For once it's not just the top of the timesheets that has drawn attention. Felipe Massa and Sebastian Vettel have been going toe-to-toe in the unofficial contest for most completed laps... and the end up in a tie.
An astounding 168 laps for both men, more than anyone else has achieved on a single day of testing at Barcelona since F1's new era came into effect in 2014. It's almost three whole race distances - and also comes close to eclipsing Toro Rosso's entire mileage from the first four days of testing last week.
The contest comes to an end as the red flags fly in the final minute of the day - which probably means it's time for a nice cool drink or two...
Double race distance
Oops! Error retrieving Twitter post
Felipe Massa isn't his feeling his age here. He's up to an astonishing 150 laps for the day - the most any driver has managed over a single day of this pre-season. In fact, it's almost as much as Toro Rosso managed across all four days of the first test!
Last year's race in Spain was fought over 66 laps (and also featured a very famous record-breaking victory for Max Verstappen). Which means Massa is now up to two-and-a-half race distances for the day. Phew.
Last of the late brakers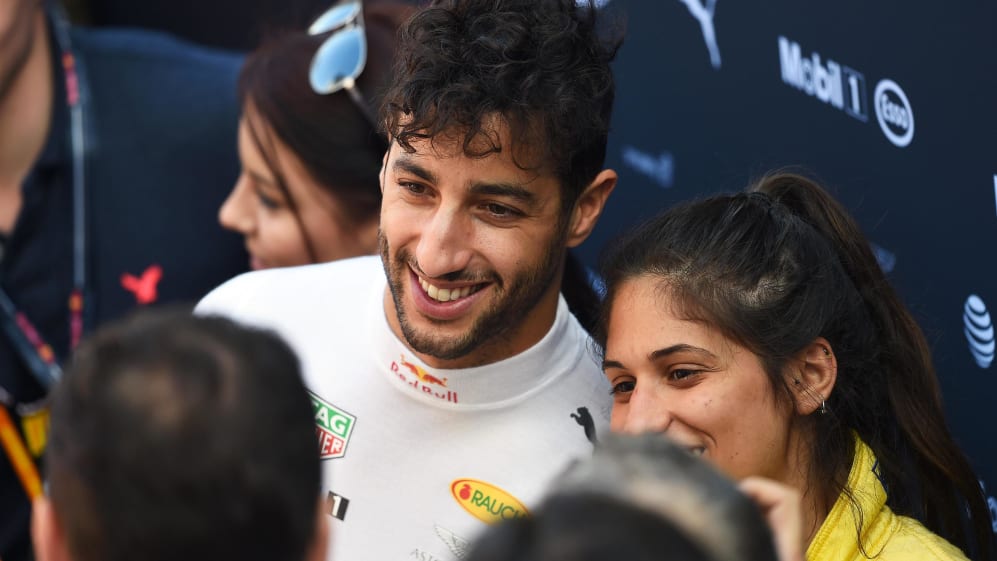 Down into Turn 1, and Ricciardo is hunting Vandoorne. The McLaren man doesn't exactly put up a fight, but even so Ricciardo leaves it late, ducks out of the slipstream and slides up the inside as the pair hit the brakes.
Now where have we seen something like that before...
Fifty up for Vandoorne - and Renault
More mileage for McLaren's highly-rated Belgian, as Vandoorne moves on to 55 laps total. Out on mediums, he's at the head of a four-car train that also includes Williams, Sauber and Red Bull - and he's keeping the gap consistent.
Speaking of Renault, they've also hit a half century after a disrupted morning. Jolyon Palmer had the worst of it clocking up just 15 laps this morning - but Hulkenberg has taken over for the afternoon and nudged the team past 50 laps combined.
Triple centuries
Oops! Error retrieving Twitter post
For only the second time in 2017, we now have three drivers to have broken the 100-lap barrier on the same day. Vettel was the first, but he is quickly followed by Felipe Massa and Esteban Ocon - and indeed Massa has now surpassed Vettel and moved to 125 laps.
Over the opening four days last week, the most one single driver managed in a full day was Sebastian Vettel's day-three total of 139 laps - which is well within touching distance for Massa now.
In terms of lap count, Valtteri Bottas has also moved past team mate Hamilton. The Finn is up to 54 laps and counting; Hamilton ended his day on 49, admitting afterward that he hadn't been blown away by his progress on day one...
McLaren re-emerge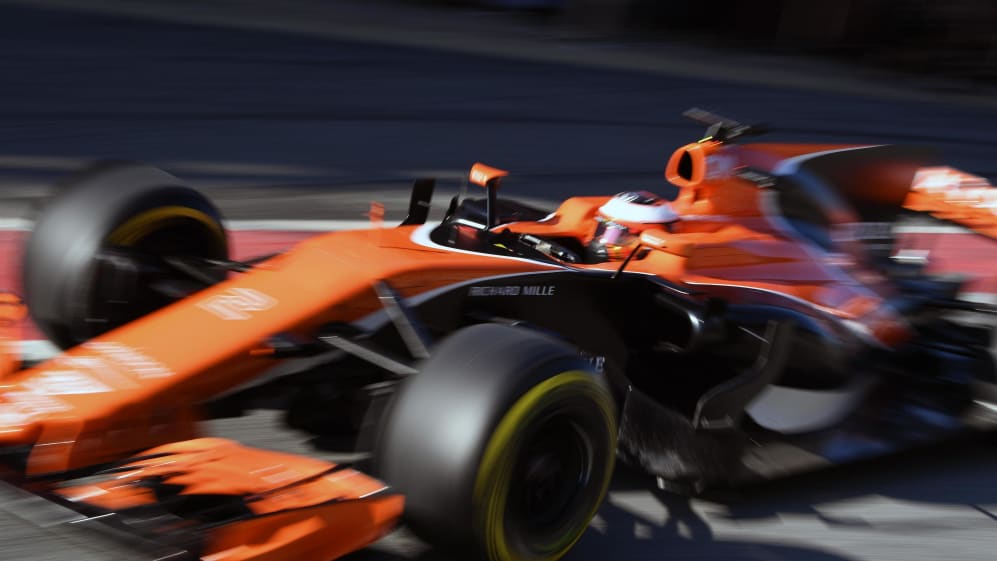 Vandoorne manages to get nine laps on the board as McLaren's engine change bears fruit - that's the first we've seen of the Belgian since mid-way through the morning session. He doesn't trouble the timesheets, but neither he nor McLaren will mind very much. More important for both is the fact they still have two hours of the day left - enough time to salvage something, provided they can run reliably from here to the chequered flag...
Three's company
Oops! Error retrieving Twitter post
Vettel becomes the third man to dip under the 1m 20s barrier on this opening day of the final pre-season test of 2017. The Ferrari man moves into third, fractions behind Red Bull's Daniel Ricciardo. Top three (almost) within a quarter of a second of each other now.
There's further good news for Ferrari fans: Vettel's time came on the soft compound. Pacesetter Felipe Massa set his best on supersofts, while Ricciardo used the purple-marked ultrasofts.
Vettel is also leading the way in terms of overall lap count - he's on 106 for the day, the first man to break into triple digits.
Still no sign of McLaren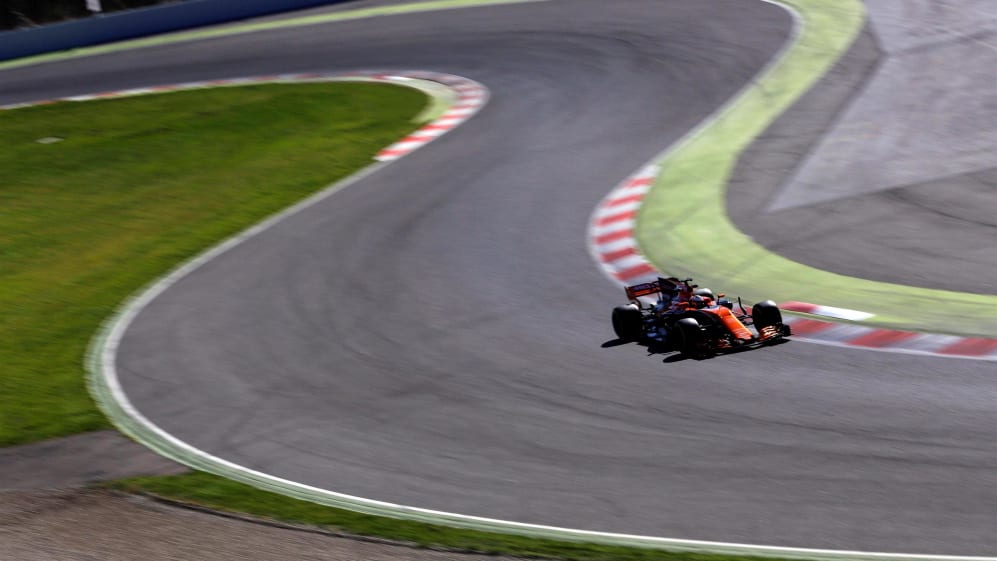 After a relatively smooth first few hours, McLaren hit issues and had to bring their morning to a halt to make an engine change - their third in the opening five days of this pre-season.
Vandoorne still hasn't managed to re-emerge, meaning the team still only have 34 laps to show for their efforts this morning.
Want to know more about the situation? We sat down with Eric Boullier - watch this space for a full debrief...
Bottas hitting his stride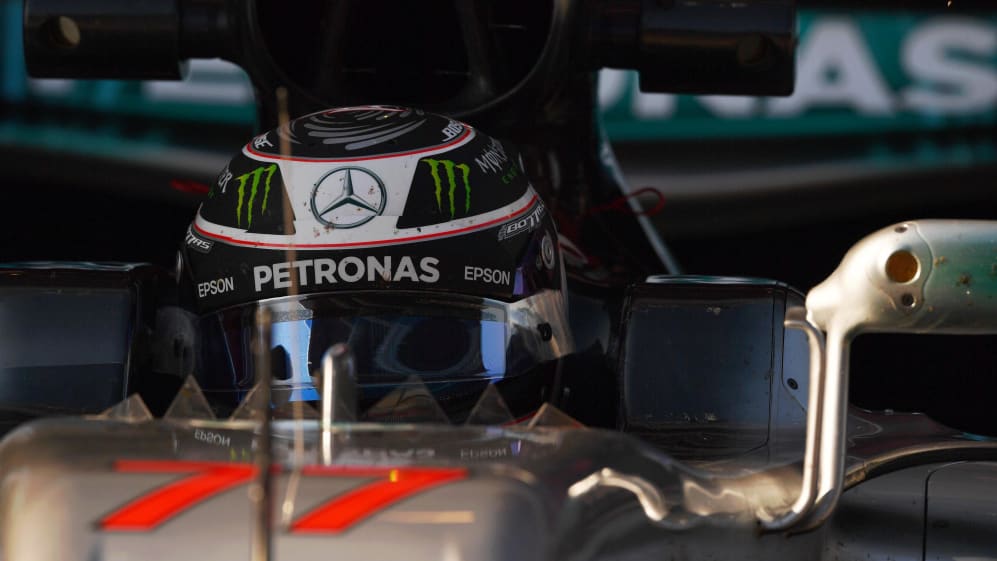 No messing about from Mercedes, as their new Finn has already clocked a quarter of a century of laps. He's on a long run at present, but is hovering firmly around the 1m 22s mark - in fact he's just set his fastest time of the day, a 1m 21.375s.
Into sixth for the Silver Arrows, 1.6s down on Massa.
The Hulk heads out
Oops! Error retrieving Twitter post
Vettel closing on 100 laps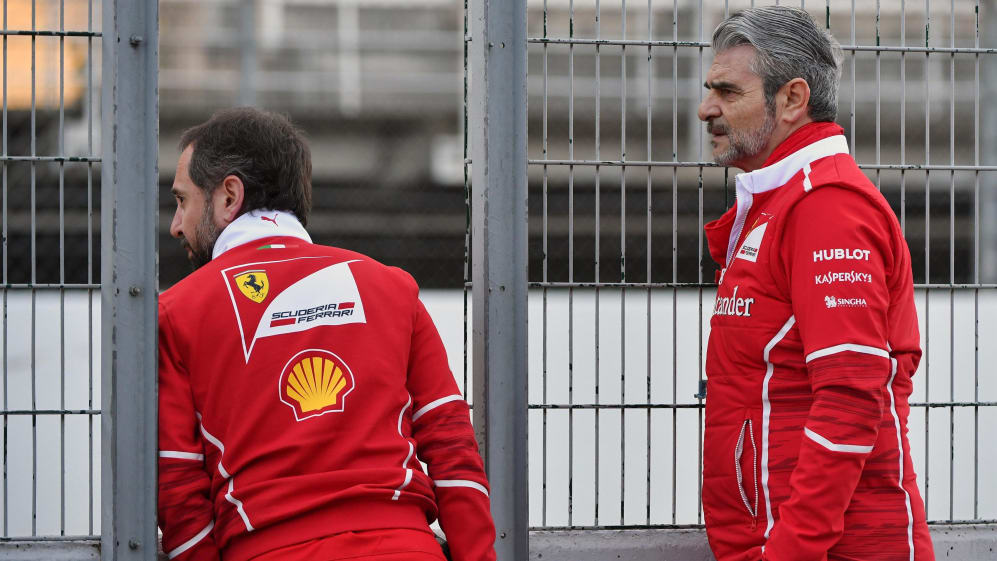 Under the watchful eye of team principal Maurizio Arrivabene (above, right), Ferrari have been enjoying another productive day, with Sebastian Vettel close to completing 100 laps already. The highest lap tally we've seen on a single day so far in testing was the 139 laps completed by Vettel last Wednesday. Will he surpass that today? The odds look in his favour at the moment.
Sauber switching too
Oops! Error retrieving Twitter post
All change at Renault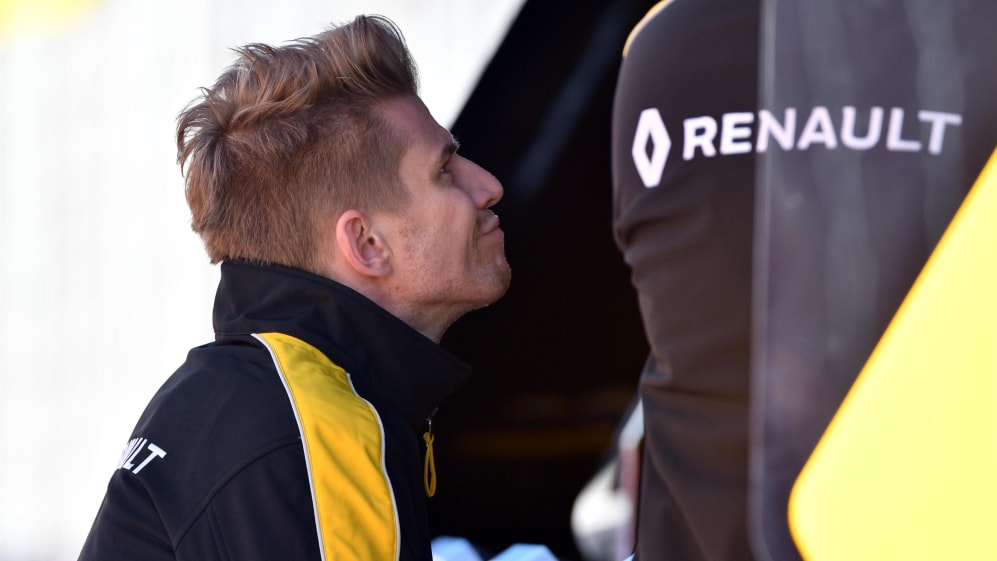 With the afternoon session underway, Renault are not only changing the power unit in their car after their troubled morning, they are also changing driver, as Jolyon Palmer hands over to Nico Hulkenberg. And at Mercedes, Bottas is taking over from Hamilton.
WATCH: Behind the scenes in the Barcelona paddock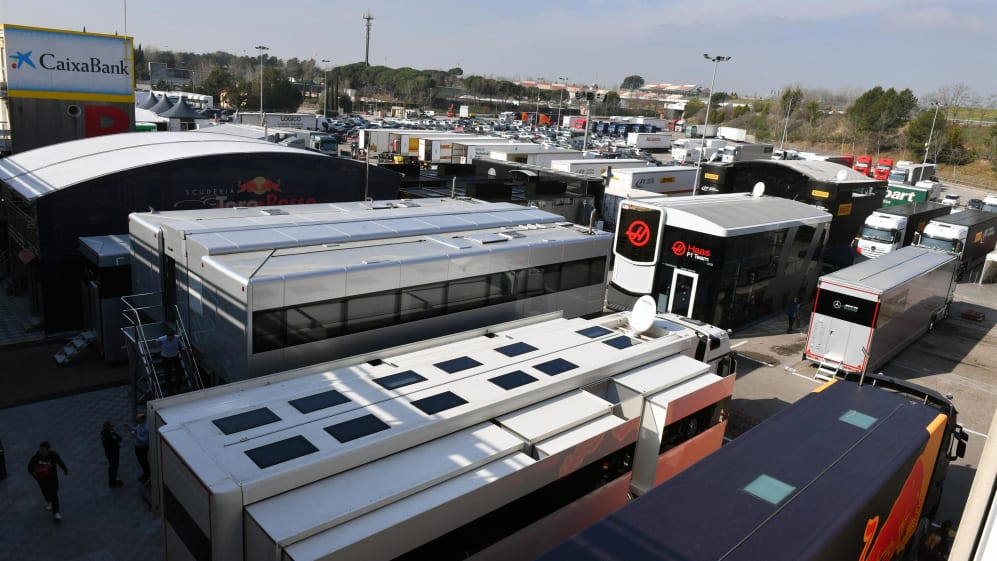 Fancy a look behind the scenes in Barcelona? We've just been Live in the paddock on Facebook, speaking to the likes of Marcus Ericsson, Daniel Ricciardo, Esteban Ocon and McLaren racing director Eric Boullier, who gave us the latest on McLaren's ongoing power unit woes.
You can watch the full video by clicking here.
The lunchtime leaderboard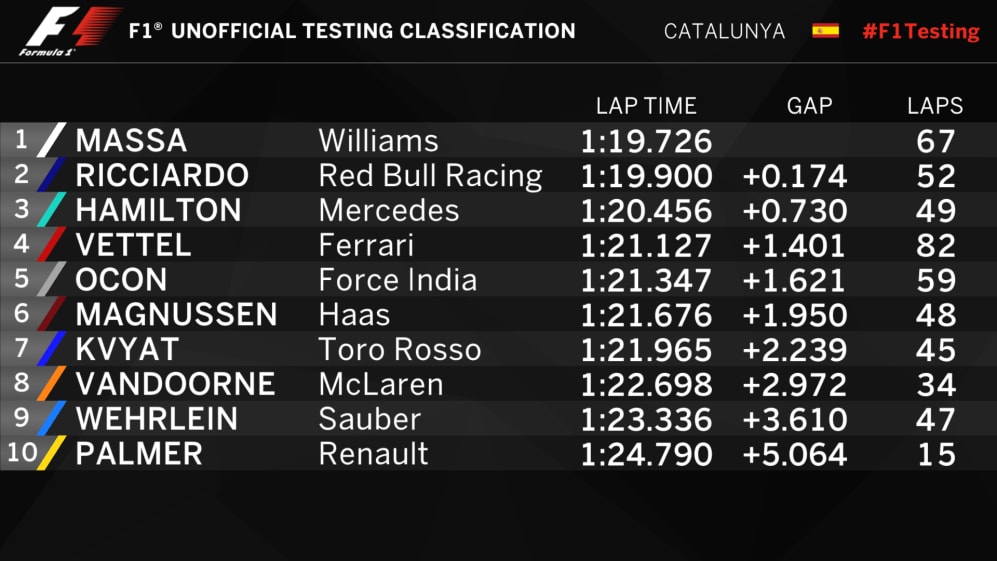 So as the teams break for lunch on day one of the second test, it's Williams who sit atop the pile. Ferrari's Sebastian Vettel, who has focused on medium tyre running, is the only driver to have completed more laps than Felipe Massa, but plenty of other teams have got decent lap tallies under their belts. The exceptions are Renault, who managed just 15 tours before Palmer's car coasted to a halt with an issue, and McLaren who started brightly but then retreated to the garage. The bad news? The MCL32 needs another engine change...
Red Bull join the club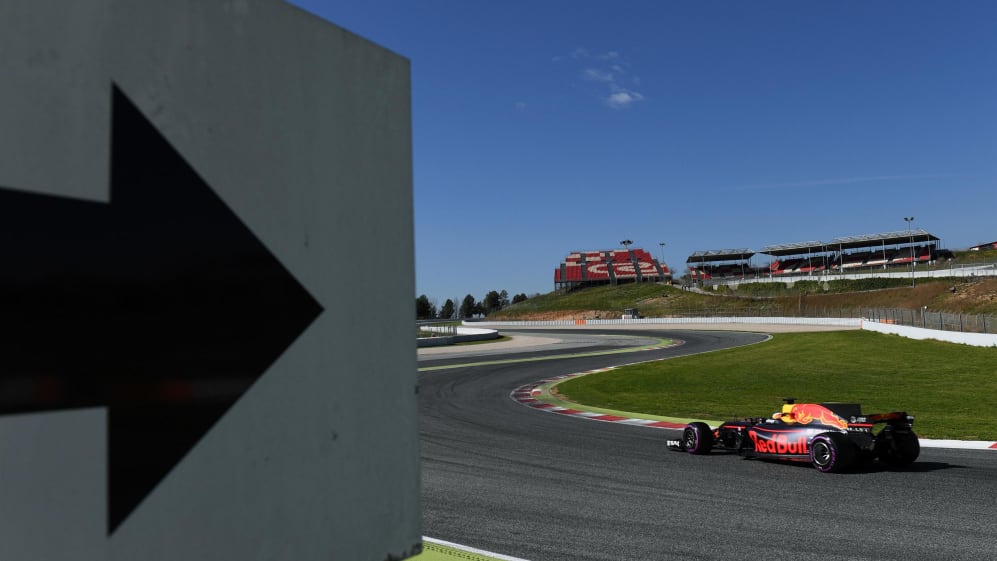 The chequered flag is out, and it's Massa who ends the first morning of the second test at the top of the leaderboard – but only just! Moments before the lunchbreak Daniel Ricciardo bangs in a lap of 1m 19.900s on the purple-marked ultrasofts, making Red Bull the fourth team (after Mercedes, Ferrari and Williams) to dip below 1m 20s since testing began.
Valtteri Bottas' ultrasoft-shod 1m 19.705s lap from the first test remains the outright benchmark for now – but for how much longer?
Massa on the move
Oops! Error retrieving Twitter post
They had a stop-start test last week, but Williams have now become just the third team to dip below the 1m 20s bracket this winter. Felipe Massa's FW40 is fitted with supersoft tyres and the Brazilian duly delivers a lap of 1m 19.726s.
For reference, Valtteri Bottas' week one benchmark was 1m 19.705s. And to think, Massa was due to be enjoying his retirement at this point...
A distinct lack of orange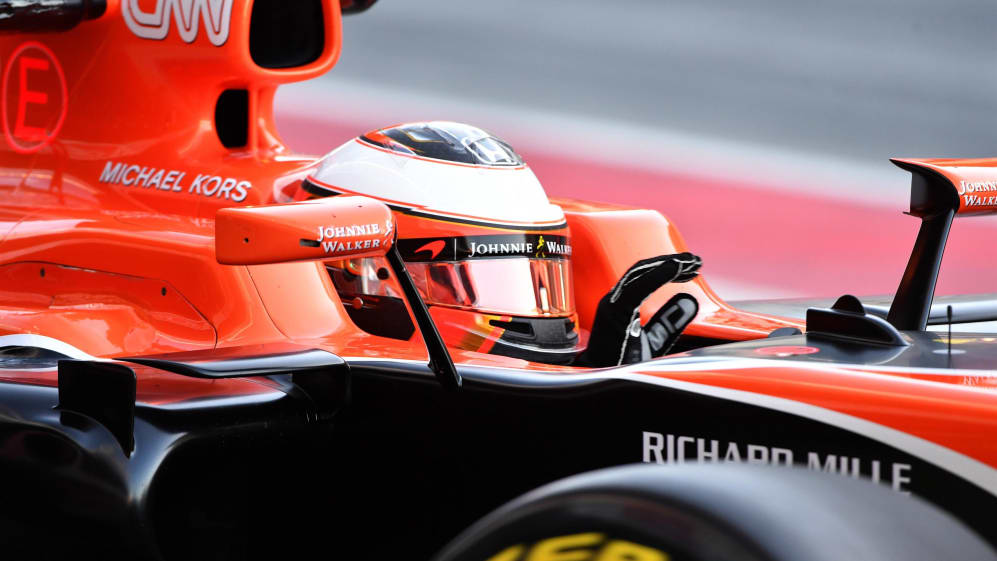 They had an encouraging start to the day, with Stoffel Vandoorne logging 34 laps in the first couple of hours, but we haven't seen any sign of McLaren on track for well over an hour now. More technical issues behind the scenes for the Honda-powered MCL32?
You can view more pictures from testing here.
The current state of play
Oops! Error retrieving Twitter post
Williams in the mix as times continue to tumble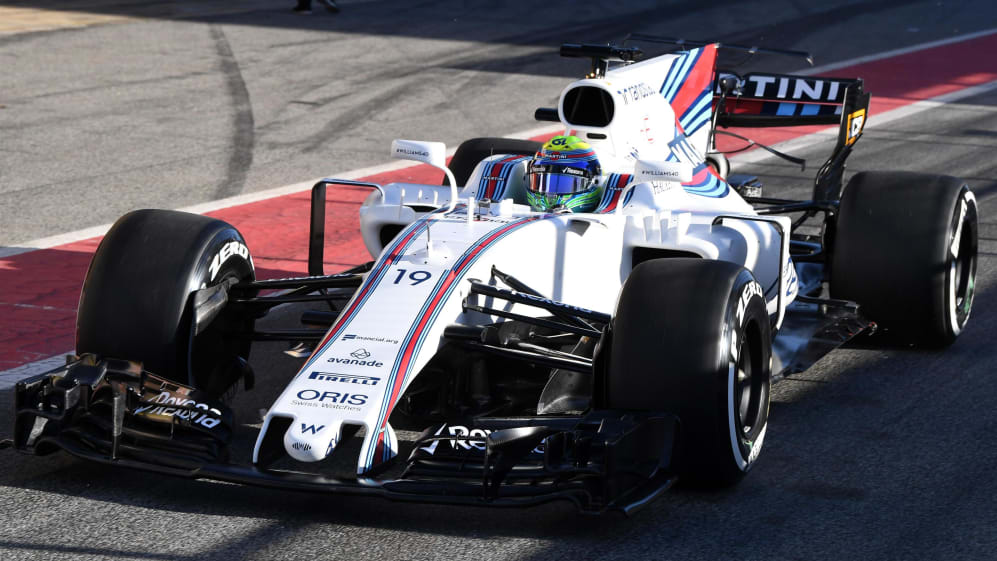 It's hotting up in Barcelona - and we're not just talking about the weather. Felipe Massa (above) is the latest driver to get close to the 1m 20s mark, lapping his Williams just 0.007s slower than Ricciardo over a very short run on soft tyres. Hamilton, too, has dipped down to 1m 20.456s.
So far so good for the bulls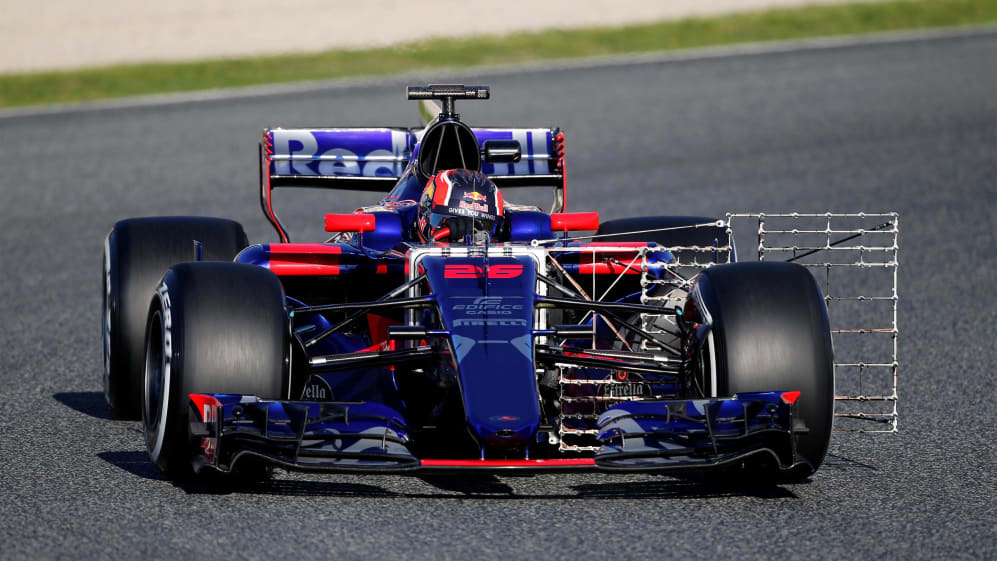 Red Bull's strong start to the second test continues as Daniel Ricciardo slices almost another second off his personal best in the early stages of hour three. The Australian's lap of 1m 20.106s on soft tyres is in the same ballpark as the best efforts from last week.
Stable mates Toro Rosso are having a much better day too. Having clocked just 183 laps over the first four days of testing - the fewest of any team - Daniil Kvyat (above) is already up to 28 laps for the morning.
What better time then to hear the thoughts of Red Bull's motorsport consultant Helmut Marko? Read our exclusive interview here.
Two hours gone...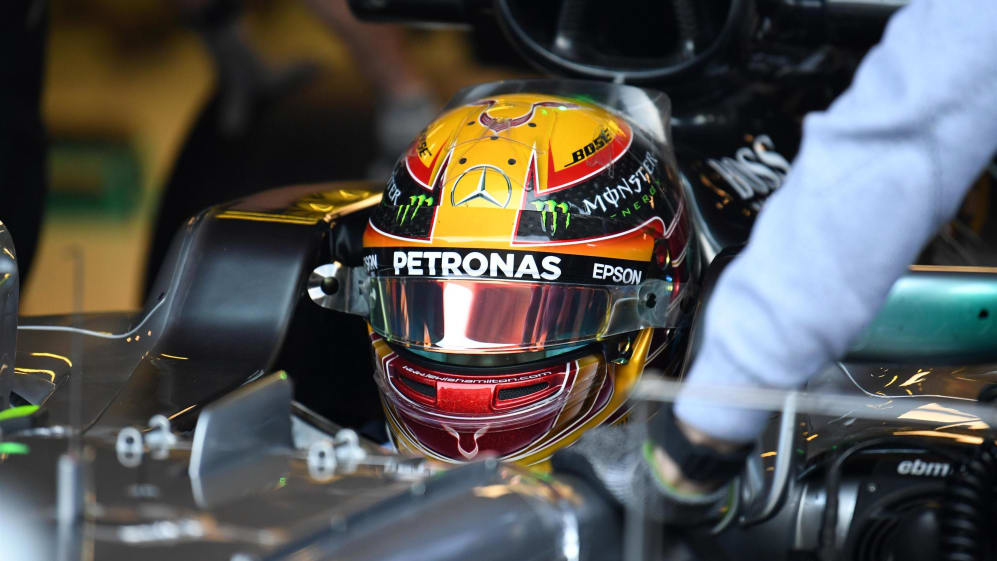 As the second hour comes to an end, Ricciardo still tops the leaderboard having shaved down to 1m 20.790s, but Lewis Hamilton has jumped into second. After a relatively long stay in the garage, the triple world champion (pictured above) was released on a set of soft tyres and went around in 1m 21.080s.
In terms of laps, it's Vettel who leads the way for Ferrari on 37, just ahead of Massa's Williams on 31.
A spot of bother for Renault
Oops! Error retrieving Twitter post
They were first out of the pit lane this morning, but Renault might have struck trouble in the second hour. With 15 laps on the board Jolyon Palmer coasts into the pit lane where his apparently powerless car is collected by his mechanics and quickly recovered to the garage.
Ricciardo ups the pace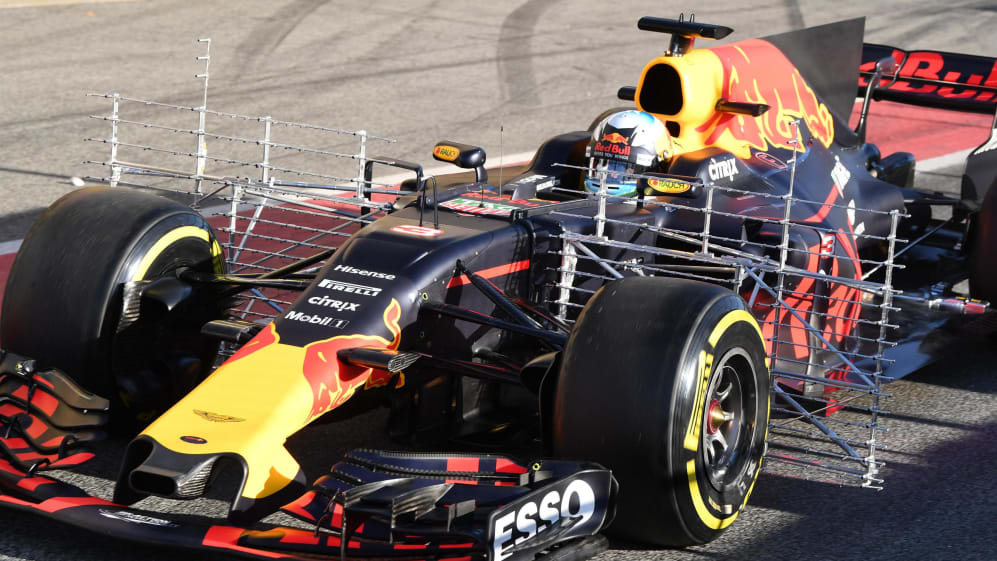 Daniel Ricciardo (pictured here earlier with his car adorned with aero rakes) sends Red Bull to the top of the leaderboard with a 1m 20.964s effort on soft tyres - the RB13's quickest lap in testing so far. The Milton Keynes-based team flew under the radar a little last week - is this a sign of things to come?
And while we're on the topic of best times, Felipe Massa has used the morning to clock Williams' best lap of testing so far with a 1m21.867s on softs.
Vettel the early pacesetter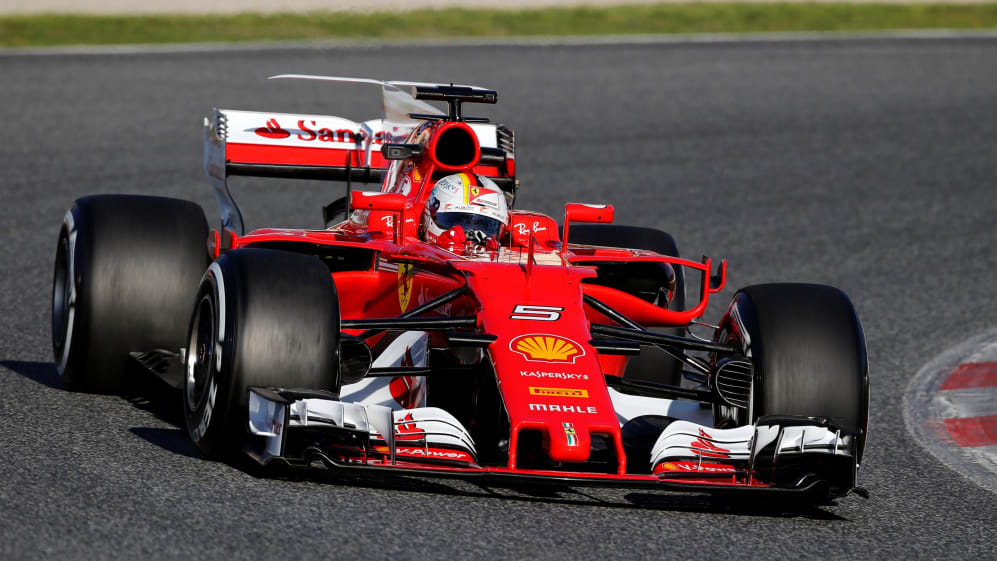 After an encouraging first week in Barcelona in which they topped the timesheet on two of the four days and completed nearly 500 laps, Ferrari have picked up where they left off this morning, with Sebastian Vettel comfortably setting the pace in hour one. The German has clocked 1m 21.912s on the medium tyres to go over a second clear of Williams' Felipe Massa.
For more images from Barcelona, click here to view our regularly updated gallery.
A promising start
Oops! Error retrieving Twitter post
After a tricky first test last week, McLaren have been quick to get into double digits on the lap tally this morning with Stoffel Vandoorne at the wheel. Racing director Eric Boullier insists the team are in a much better position than this time last year, "but to be frank," he told us in an exclusive interview, "it is not good enough for our expectations and the expectations of our fans - after three years."
Back in the saddle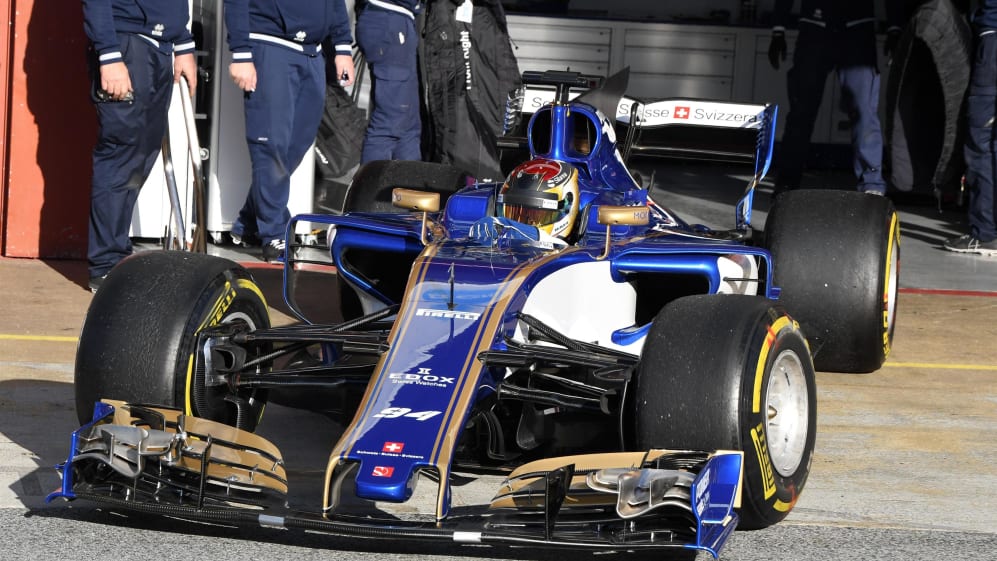 Forced to sit out the first test after his Race of Champions crash in January, Pascal Wehrlein is getting his first taste of 2017 machinery today. The Sauber man, who confirmed he'd been given the green light to test yesterday, quickly gets three laps under his belt.
A busy start
Oops! Error retrieving Twitter post
Renault win the race to be first out on track, but they're swifty followed by the other nine teams, each getting a lap on the board within minutes of the circuit going green.
What we learned from Test 1
Before today's action gets underway, here's a quick video recap of the headline stats from last week...
Tuesday's provisional driver line-up
A round-up of who is due behind the wheel for this week's opening session...
| TEAM | DRIVER |
| --- | --- |
| Mercedes | Lewis Hamilton (am) / Valtteri Bottas (pm) |
| Red Bull | Daniel Ricciardo |
| Ferrari | Sebastian Vettel |
| Force India | Esteban Ocon |
| Williams | Felipe Massa |
| McLaren | Stoffel Vandoorne |
| Toro Rosso | Daniil Kvyat |
| Haas | Kevin Magnussen |
| Renault | Jolyon Palmer (am) / Nico Hulkenberg (pm) |
| Sauber | Pascal Wehrlein |