Feature
Sergio Perez: In conversation with F1's podium snatcher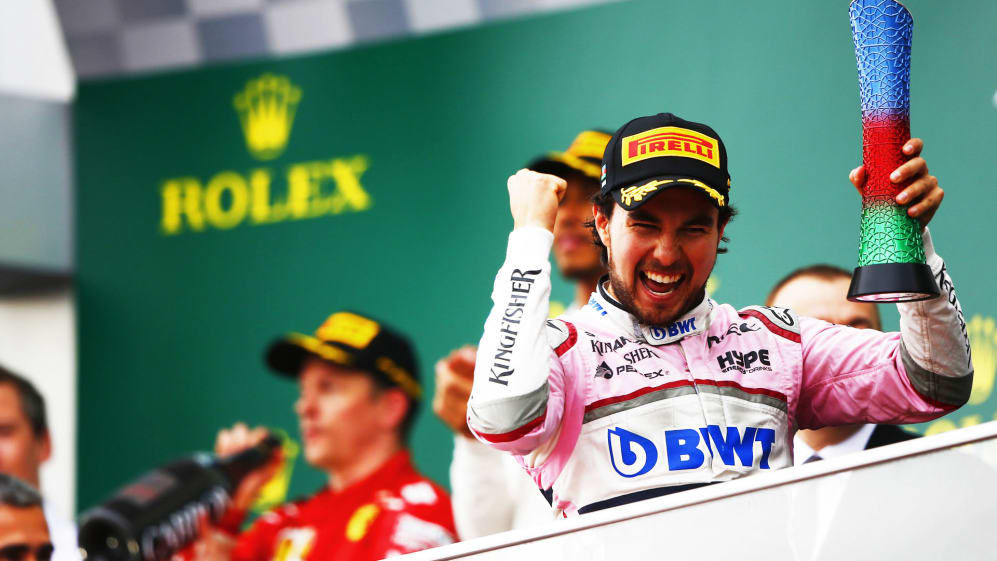 "I've never had a car capable of achieving a podium." Sergio Perez is sitting opposite me in a dark photo studio when he says this, having just stood patiently being snapped for 20 minutes. Post-photo session, he's parked himself on a tattered office chair created sometime in the 1990s, the arms of his lurid pink and dark blue Racing Point overalls tied around his waist.
The facts, suffice it to say, don't bear the 29-year-old Mexican out. Prior to the start of 2019, Perez had driven the machinery at his disposal to eight podiums in as many seasons. And yet when you look at that machinery – a Sauber C31 that in 2012 was fast but far from the class of the field, and then a series of Force Indias that more or less fitted that description – you have to concede that he might have a point.
Without doubt, there have been some brilliant rostrum moments in Perez's career. His surge from 15th on the grid to third in Canada in 2012. Or 12th to second in Monza later that season. And then there was his starring role in the 2016 European Grand Prix in Baku, where he qualified second, took a five-place grid drop for the replacement gearbox he'd had fitted after a free practice crash, before powering back to third come the race end, passing Kimi Raikkonen's Ferrari on the very last lap.
And yet, through wrong turns, false dawns, fate and simply being passed over by the top teams, Perez has yet to drive a Formula 1 car that, he believes, was 100% at his beck and call.
"I've never had that car!" he says, when asked which of the nine cars he's campaigned had really fitted him like a glove. "The 2012 [Sauber] was a good race car. I think we did great things with that car in a couple of races – it was very impressive what that car could do.
"But to be honest, in all my nine years, I've never had a car capable of achieving a podium," he repeats. "Maybe a couple of them, but not all of them. You always aim to have the best possible car on the grid, and unfortunately I haven't had that yet."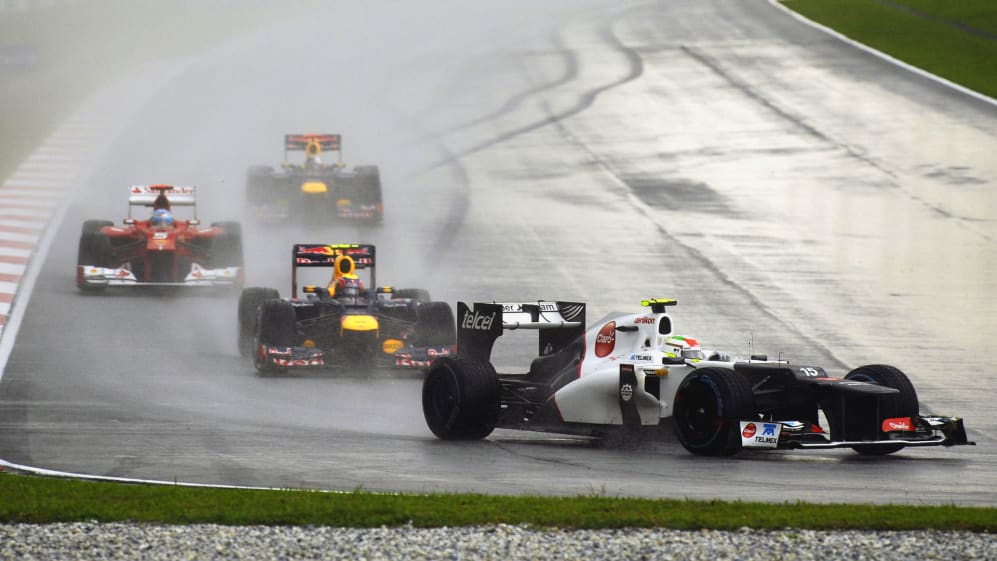 So if he's not had the machinery at his disposal, how has he managed that 'podium-a-year' trick? How is it that, where former team mate Nico Hulkenberg has yet to step onto an F1 rostrum, Perez finds himself tied on eight of them with the respected likes of Jochen Mass, Jean-Pierre Beltoise and Peter Revson?
"My racecraft is the strongest point I have," replies Perez when I put the question to him. "Figuring out a race, and whenever there is an opportunity, making sure that the strategy [works out]. I mean, there is so much as a racing driver you can do with the strategy. But I remember a couple of my podiums came thanks to me managing a bit the strategy and deciding when to pit, when not to pit, so it's important.
"That racecraft and making sure that you always deliver at your best, I think it's what I've been able to do in the last couple of years, very consistent, delivering a lot of points."
Perez's consistent performances behind the wheel of that 2012 Sauber earned him what looked, at the time, to be a career-defining move to McLaren the following year, a team that had rounded off 2012 with a win – their seventh of the season – in Brazil. It certainly was a career-defining move, but for all the wrong reasons, Perez enduring a miserable season alongside Jenson Button (and, ironically, failing to score a podium) as the Woking team began their slide in form, before then suffering the ignominy of being turfed out at the end of the year in favour of Kevin Magnussen.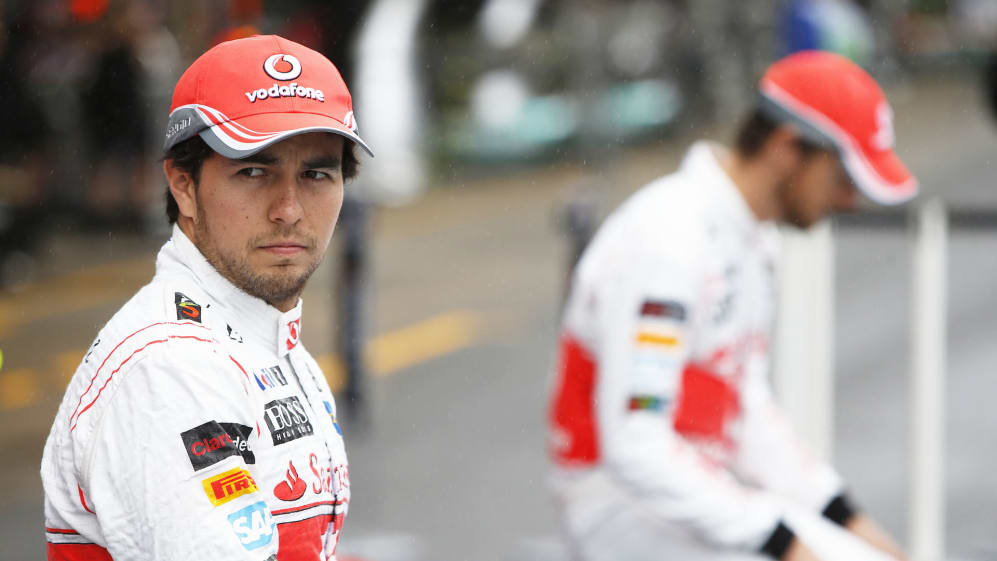 Force India provided the lifeboat that rescued the then 23-year-old's career, with Perez signing up for 2014 after declining to follow up on interest from Lotus and his old colleagues at Sauber. And despite his name to this day getting tossed around in relation to potential top team drives, it's at the Silverstone squad where he's remained through the good, and the bad, ever since.
Having claimed five of his eight career podiums for the outfit – Giancarlo Fisichella's second place in Belgium in 2009 stands as Force India's only other podium – that 'bad' culminated midway through 2018, with Force India slipping into a Perez-initiated administration after that year's Hungarian Grand Prix.
That process – which Perez would later explain was necessary to save the jobs of Force India's workers, as opposed to having the company wound up – would ultimately see colourful-but-controversial Force India figurehead Vijay Mallya pushed out, with the team eventually purchased by a consortium led by Lawrence Stroll, billionaire father of Lance.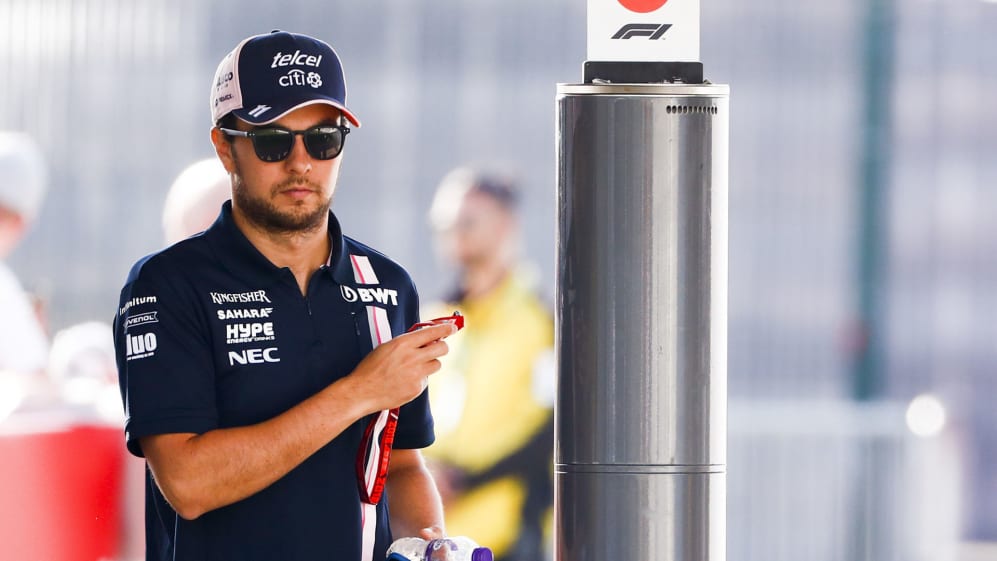 Looking back on the off-track events of 2018, Perez, who became a father late in 2017, admits the pressure of juggling home life with the various legal machinations going on had proved a tough combination to handle.
"It was a very particular year," he recalls, "a very intense year, going through all the process, all the uncertainty, all the pressure I had on my shoulders for more than 400 jobs.
"Looking after the team was not easy. Look after my son wasn't easy either! The personal life was fantastic, a fantastic year, but the professional life was a lot harder. But still, I managed to finish eighth, I managed to get a podium, so it wasn't that bad in the end."
Having financial backing makes a massive difference. You can just focus on being the best racing driver you possibly can
The start of 2019 saw Perez re-signed to drive at the newly christened 'Racing Point' alongside Stroll Jr, as Esteban Ocon – with whom Perez had endured a fractious on-track relationship – was forced to stand aside. So, with Force India having lived a largely hand-to-mouth existence in recent seasons, what was the effect, psychologically, of having the Stroll billions backing the team?
"It makes a massive difference," says Perez, "to be focused on your things and just focus on being the best racing driver you possibly can.
"It's a really exciting beginning, a new era," he adds. "The project, the whole project, going through the administration process and so on just motivates me massively. I want to make this project very successful."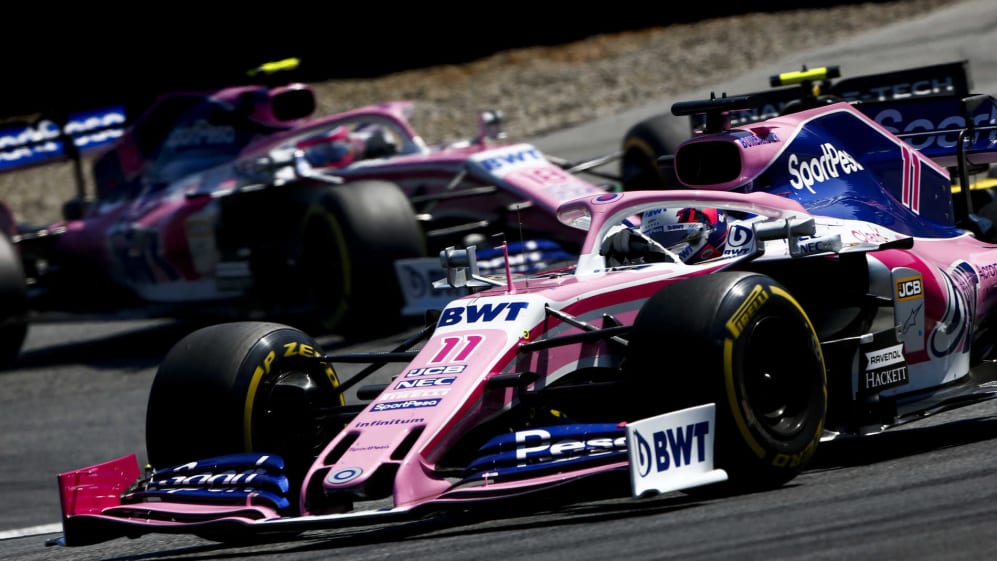 Racing Point's start to life hasn't been the brightest and best so far in 2019. Ahead of the Belgian Grand Prix – which last year saw the debut of the 'stop-gap' Racing Point Force India F1 Team – Racing Point sit eighth in the constructors' standings, 51 points adrift of the fourth place that the squad set out as their target at the start of the year.
But in Perez's Twitter biog is the phrase "the best is yet to come" – and with a new, $30m Racing Point factory set to be completed by 2021, and designed to accommodate the team's planned staffing increase from just over 400 now to around 600 – plus a major, Red Bull-inspired upgrade that appeared on the team's RP19 challenger ahead of the Hungarian Grand Prix – it seems Perez's slogan may yet be borne out.
We're doing everything we possibly can to make Racing Point grow as fast as possible
"You obviously cannot have everything in a short period of time," he says of the Racing Point project's time-scale. "The new ownership came quite late into [2018], so we probably had three or so months to get everything in place [for 2019].
"We're doing everything we possibly can to make this team grow as fast as possible. We know it's going to take time.
"But I can see that it's already a fantastic team," he says, as he taps his Bandera de Mexico-bedecked helmet, a subtle visual clue to me that our interview's at an end and that it's time for him to head off to an engineering debrief. "I see a bright future here."