Feature
Sharpening the attack: How Red Bull emerged as a threat again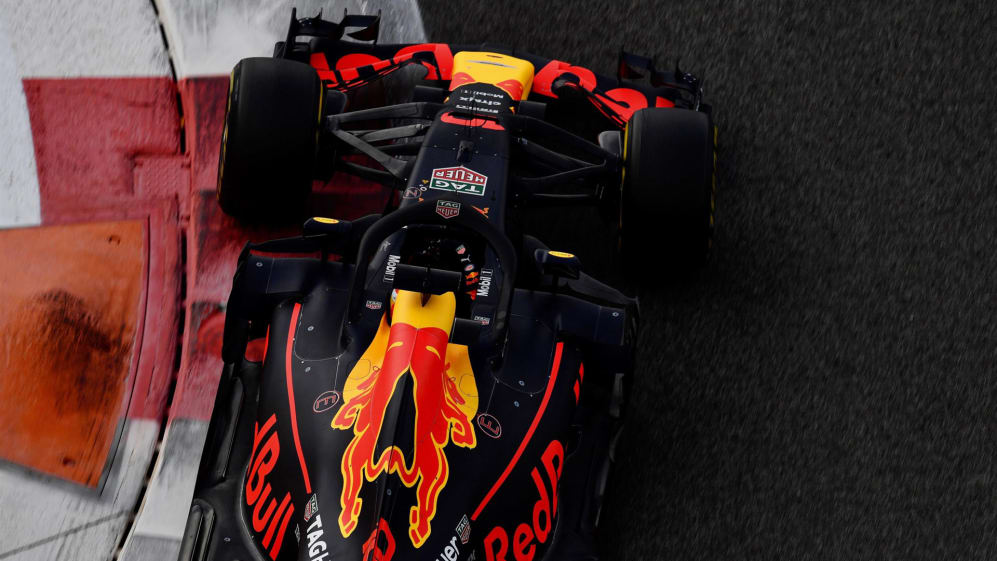 "RB14 has been the strongest chassis in F1 this year." Red Bull Team Principal Christian Horner isn't usually afraid to big up his outfit's performance but he's probably not too far wrong given what they've managed to achieve during the 2018 F1 campaign, despite a lack of grunt and reliability from their Renault engine. Speaking to Formula1.com, Horner looks back at his team's most successful year in the V6 hybrid era and outlines his expectations for next season...
Four wins in 21 races is not championship-contending form. Equally, it's nothing to be sniffed at. Just three teams have clinched victory in the last five seasons and the fact that Red Bull are one of them – Mercedes and Ferrari are the others – is impressive. After the Monaco Grand Prix in May, Daniel Ricciardo had secured two wins in six races (it could have been more – Unreliability struck in Bahrain, Max Verstappen and Ricciardo struck each other in Baku) and despite their Renault engine lacking grunt, Red Bull suddenly looked like an outside contender for the title.
That was, unfortunately, as good as it got, at least for Ricciardo who failed to grace the podium again. But his team mate Verstappen recovered from an error-strewn start to the year to finish strongly with five successive podiums and a total tally of two victories, putting him a best-ever fourth in the drivers' standings. That Red Bull could contend, on pure performance, across a range of tracks, at the end of the year, was evidence they had the potential while also supporting Horner's claim.
"It's clear we have had a fantastic car this year," says Horner. "RB14 has been the strongest chassis in F1 this year. When you consider the power deficiency we have had this year, what we have achieved – four victories – is very impressive. We had a strong car at the beginning of the year, we just weren't able to capitalise. Reliability has been our Achilles' heel this year. We've had too many engine failures and we've had a few issues on our own which have been frustrating. We've been able to optimise the car through the season. We are using the tyres very effectively compared to our competitors. It's a combination of factors."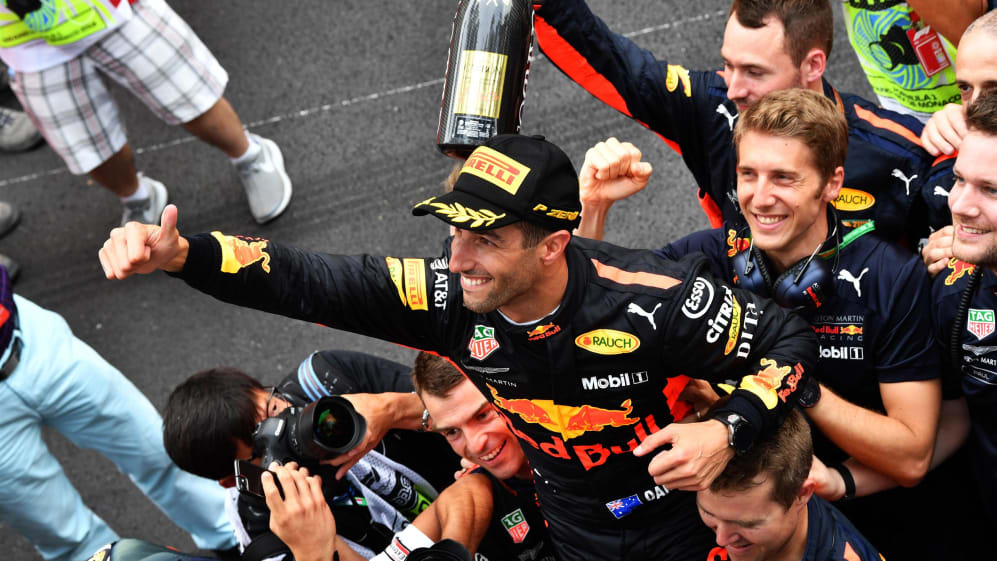 The driver influence
Key to that early run of points was Ricciardo, who has now departed for a fresh chapter at Renault after more than a decade with the Red Bull family. But from June onwards, the Australian didn't have any luck and ended the year with eight mechanical-related retirements.
"It's been a tough season for Daniel, the highlights being the wins in China and Monaco," says Horner. "It's been tough for him. He's seen the other side of the garage getting all of the plaudits. He's had a tough run with reliability, most of which has been inflicted through his future engine supplier, and that's been extremely tough. Daniel is a fantastic racing driver. For us, it hurts as a team not to have both drivers up there. We wish him well for the future."
Those plaudits were certainly coming in left, right and centre for Verstappen in the closing stages of this season, with the Dutchman admitting he realised, after a conversation with his father Jos, that perhaps he was guilty of overdriving on occasions. He learned quickly, winning in Austria. Then after the summer break, he was a man inspired. Only champion Lewis Hamilton scored more points than him in that period.
"Max's second half of the season has been phenomenal," says Horner. "It's part of his own development and evolution. Some moves at the beginning of the year, on another day they would have paid off, like Bahrain with Lewis [when they collided]. He had a similar touch with Kimi [Raikkonen] on first lap in Austria and that was decisive in winning the race. He learned from that difficult experience, took it on-board."
There was a pinch point in Brazil, though, when Verstappen lost certain victory when he collided with Esteban Ocon, who was trying to un-lap himself. An angry post-race confrontation followed, with the Dutchman pushing his rival during a tense exchange in the FIA garage. Horner reckons Verstappen has taken the positives from the incident. "Most definitely he's emerged stronger," he says. "He has got pretty broad shoulders, he's a hard racer, with a phenomenal amount of talent that is continuing to evolve. With experience, he's just getting stronger and stronger."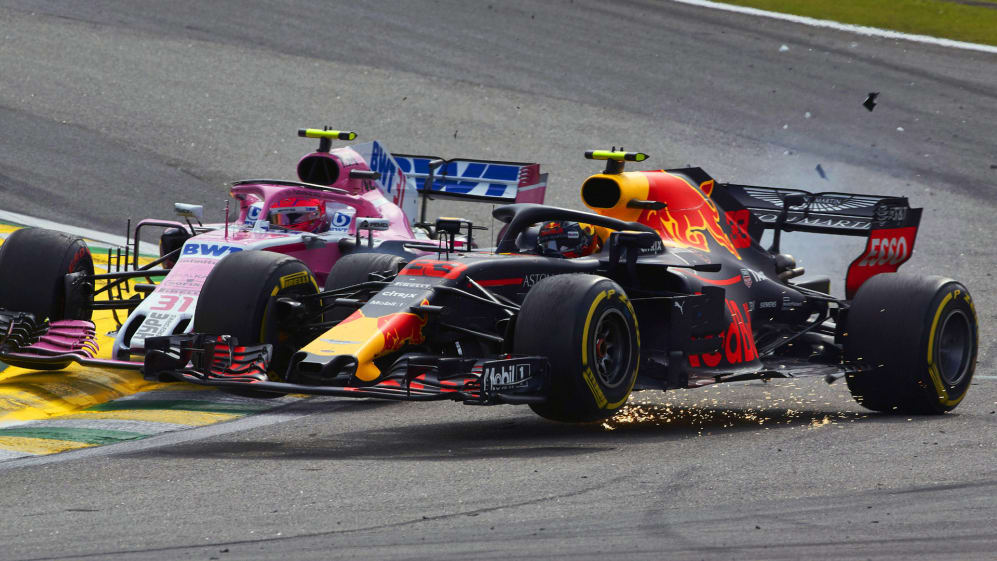 A new era with Honda
Both Hamilton and Sebastian Vettel, with nine world titles between them, have suggested that Verstappen can fight for the title next year – providing, that is, Red Bull give him a package capable of doing so. Much of that will depend on what Honda deliver, with the Japanese manufacturer and Red Bull joining forces next season. "We're excited," says Horner. "It's a new beginning for us and the first time we'll be working in a true engine partnership. That's invigorated the whole factory and we're looking forward to it."
Honda had a tough time with McLaren on their return to F1 in 2015, but bounced back impressively with Red Bull junior team Toro Rosso this year, making gains consistently through the season.
"The trajectory is going in the right way," says Horner of Honda's progress. "Reliability isn't something we've had. We've had 11 or 12 retirements this year – that's our biggest Achilles' heel. If we can achieve the power and reliability – Lewis had one DNF this year, likewise with Sebastian. That's the rate we have to be aiming to achieve.
"It's always easy to say ifs, buts and maybes, but if there would have been another 40KW in the back of the car [from the Renault engine] then the season could have looked quite different. Hats off to everyone at Milton Keynes to arguably producing one of our best-ever chassis. If you look at the other users with the same engine, there's a world of difference."
So what of Red Bull chances next year? Can they become genuine title contenders for the first time since 2013 if Honda delivers an engine on par with Mercedes and Ferrari? "I think we will certainly be a lot closer, yes," says Horner. Maybe, just maybe, a two-way fight will become three next year.