Feature
Six key questions ahead of the race in Russia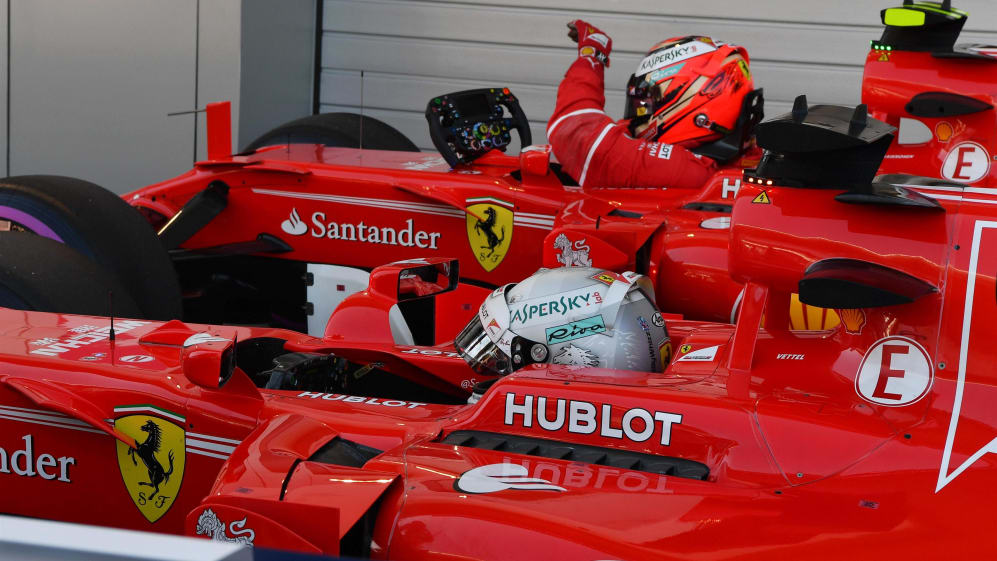 Can Ferrari make it a one-two in the race as well? Will Hamilton bounce back to conquer Bottas? And who will win Ricciardo's Monaco apartment bet? We consider the main talking points ahead of Sunday afternoon's 2017 Formula 1 VTB Russian Grand Prix in Sochi…
Does a first one-two since 2010 beckon for Ferrari?
Sebastian Vettel likes to pretend that he can deadpan his way through press conferences and play things down, as one would expect from a driver who has to manage the expectations of the tifosi. But he is a man who wears his heart on his sleeve. And after qualifying, he was stoked. A man who, after months and months of patience, has finally got just the vehicle he wants.
"The car was phenomenal this afternoon, it really was a pleasure to push it to the limit," he enthused. "If you have the rhythm here, it's fantastic. I'm so glad I got it back. This was an important step, we improved a bit and maybe the circuit came our way at the end.
"It's been a good start to the season; Mercedes have been very, very strong in qualifying, but we are in front and that's a great achievement."
Of course, he made the obligatory effort to play down race expectations, but he and the world knows that Ferrari have an advantage over Mercedes there, too.
"We improved the car a little for this race, but it will be very close for the race. We'll see, but for now we are full of joy, very happy to be back, and we will try and take the momentum into race tomorrow."
Ferrari hadn't claimed a front-row lockout since 2008. Their wait for a race one-two is almost as long – dating back to Hockenheim in 2010, when Fernando Alonso led Felipe Massa home. With their super-competitive race pace, does a second slice of history beckon in Sochi?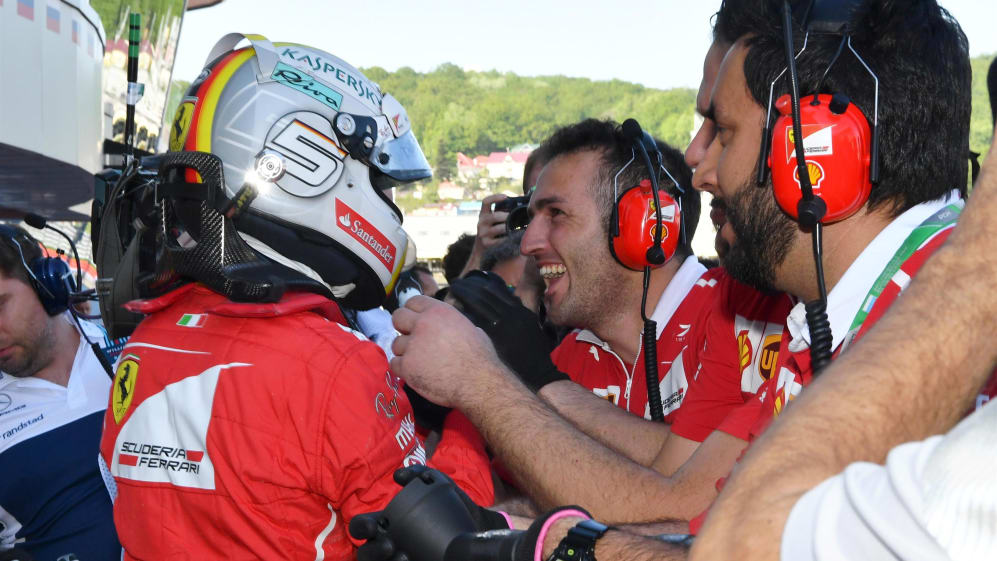 Can Mercedes go on the offensive?
Right from the start here it's been clear that Ferrari have the upper hand. Ferrari know it, and Mercedes know it. So, all things being equal, third and fourth might be the best the Silver Arrows can hope for on Sunday.
In F1 though, things rarely go completely to plan…
"I just wasn't quick enough," Hamilton admitted of his qualifying. "[Sunday] is still all to play for. I'm still up there in the mix.
"Ferrari are quickest here, and generally during race trim, so it'll be interesting to see where we stand tomorrow. This means we have a real race. It's just a shame today I definitely wasn't at my optimum. Normally I'm a lot quicker than I am today, so I need to and work out why and see what I can do.
"It's only a one-stop race, so it's a very simple strategy, so I'm not particularly confident on that, but I'm going to work as hard as I can to do it on track."
In fact, Valtteri Bottas is likely to be Mercedes' better hope, given the way Hamilton has struggled here. The Finn was candid. "I think we can clearly see from the result that Ferrari were quicker today. It was close in the end, but not enough. All weekend they've had the upper hand, they seem to be able to extract more from the softer tyres. We struggled yesterday but improved today, but not enough.
"Race day is what really counts, and a second row start here is not so bad with the long run down to Turn 2…"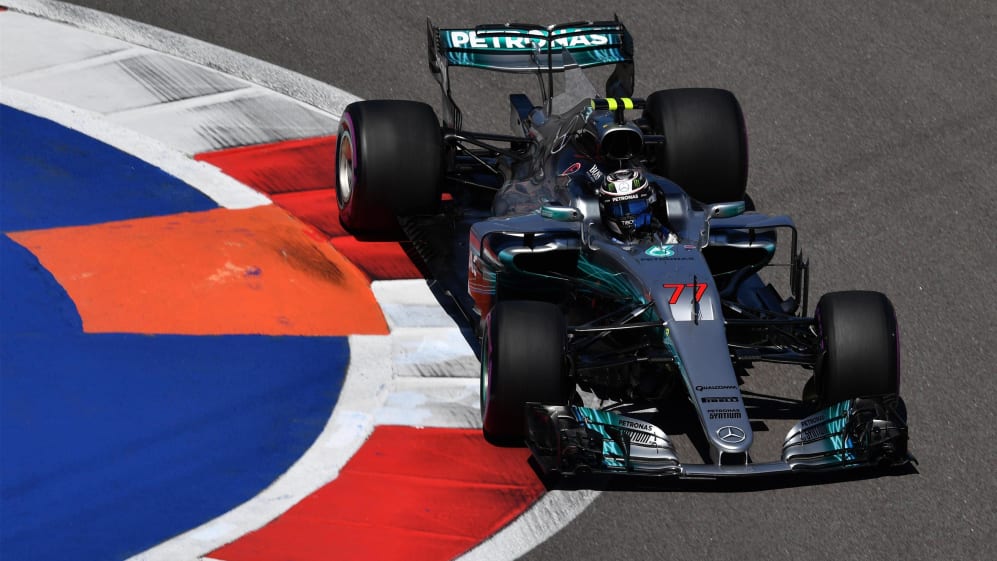 Can Williams mix it with Red Bull?
Just when Red Bull looked as if they were back in the mix in Bahrain, Sochi showed that the RB13 has a long way to go as Daniel Ricciardo and Max Verstappen qualified two seconds off the pace, and were split by Felipe Massa's Williams.
"I don't think the practice session timings were completely representative of our pace and I felt like we were always a bit better than the timing screen showed, but we hadn't quite put it all together," said Ricciardo – who also suggested a cheeky side bet with Verstappen and Massa, with the winner getting a week in the biggest apartment in the Monaco block they all live in.
"I think fifth was all we could ask for today and that's obvious looking at the gap to the front. Fifth is our best qualifying result here in Russia and we have to take the positives for now. I think Ferrari and Mercedes will be battling for the win tomorrow but we will definitely have a good fight for the top five.
"Compared to the Williams I think we have more rear downforce and could be better on the tyres, but they have the straight-line speed and if you compare us to Ferrari and Mercedes they still have a bit of everything on us."
The mood at Williams, meanwhile, was very optimistic.
"It's absolutely fantastic to get sixth place on the grid with Felipe," chief technical officer Paddy Lowe said. "We've split the Red Bulls, which should make things interesting tomorrow, especially since we think our race pace looks competitive."
Massa – the man who retired at the end of 2016 remember – seems to also fancy his chances.
"It was a great qualifying for us. It's so nice to see that we are in the middle of the two Red Bulls. They were better than us in the first three races, on qualifying and race pace, but this is a good track for us and we are fighting with them. I'm happy with the position we're starting, but I'm also happy that maybe tomorrow we can fight with them again. I will try everything I can."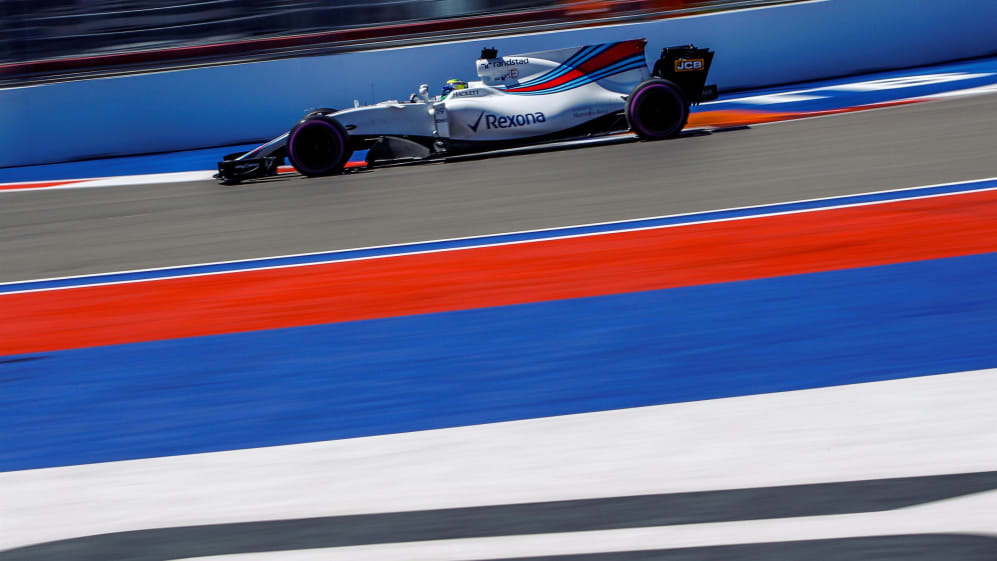 Perez or Ocon on top at Force India?
Force India are aiming for their 14th consecutive points finish tomorrow, and to get both cars home in the points for the fourth time in 2017.
But can the increasingly impressive Frenchman Esteban Ocon get there ahead of Sergio Perez, who is surely the most improved yet under-rated driver on the grid?
Perez believes the key for the race will be having a good start and a clean run into Turn 2. "It's a tricky one and in the past there has been plenty of action there at the start. I'm optimistic, and I think we can aim to make up some positions from where we start."
Ocon was delighted with the first Q3 appearance of his career. "I'm pretty happy with our performance. The team has done an awesome job to improve the car during each session and I felt very comfortable by the time we started qualifying. I made a few small mistakes on my Q3 lap so I'm a little bit frustrated because there was the opportunity to be even higher up the grid.
"If I can make a clean start in the race, there is all to play for. It's important that I make the most of my best qualifying position in Formula One to score some more points."
Perez is very much the man on form right now, but Ocon is improving with every mile he gets under his wheels, so he should not be underestimated.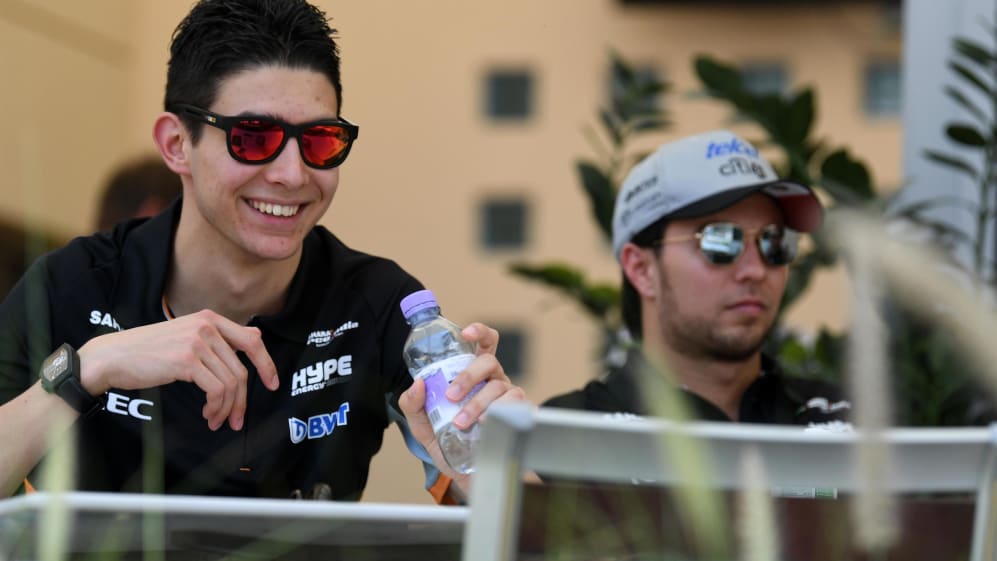 How tight is the midfield battle?
If you look at the times beyond the top 10, from Toro Rosso's Carlos Sainz in 11th (which will be 14th in grid terms when his Bahrain penalty for clobbering Lance Stroll is applied) down to McLaren's Stoffel Vandoorne in 17th (20th when his fifth turbocharger and fifth MGU-H are applied) the gap is only 1.243s. Fractions, in other words…
In that bracket there were seven cars from five marques: both Toro Rossos, Stroll's Williams, Kevin Magnussen's Haas, the two McLarens, and Jolyon Palmer's Renault. You can probably throw Nico Hulkenberg's Renault in there too even though he qualified it eighth, as the team are pessimistic about their ultimate race pace.
If he can keep clear of trouble early on, Stroll theoretically has the strongest package if you look where Massa will start, while the Toro Rossos have reasonable race pace. Besides Renault, there are question marks over Haas after a difficult weekend with balance and performance, with Romain Grosjean in particular struggling. Meanwhile, Alonso reckons that McLaren are losing 2.5s down Sochi's long straights because of the Honda V6's lack of grunt.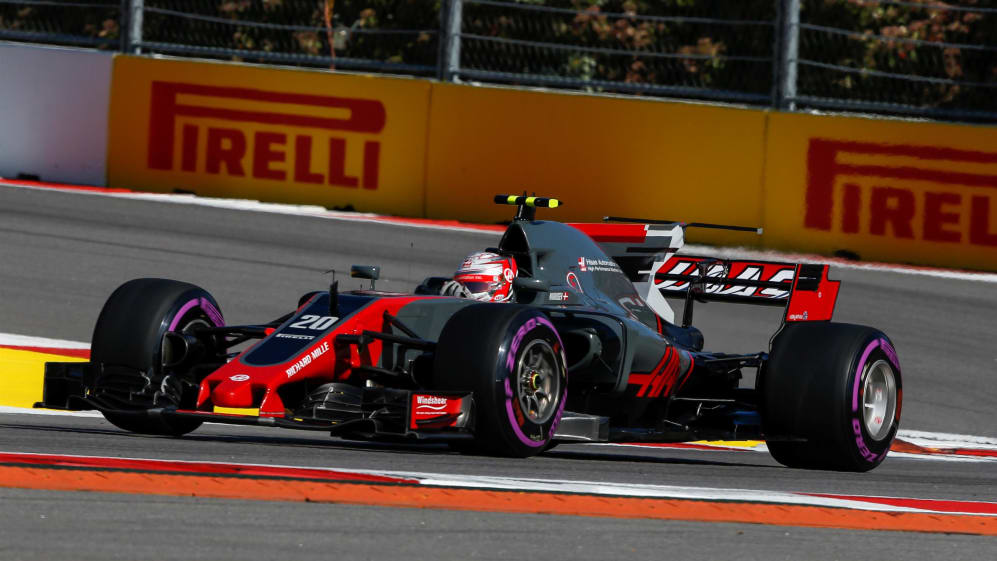 What is the optimal strategy?
The Russian Grand Prix has traditionally been a straightforward affair in terms of strategy due to the nature and surface of Sochi Autodrom. Pirelli say that a single-stop race is the way to go, the quicker option being a 26-lap stint on ultrasofts, followed by 27 laps on supersofts.
A two-stopper is deemed to be possible, but is the slower choice. That would comprise two 18-lap stints on ultrasofts, with the remaining 17 laps on supersofts.
Looking at tyre longevity, Bottas did 16 laps on softs in practice, Kvyat 25 on supersofts and Vettel 32 on ultrasofts. In terms of speed, Vettel was fastest on all three, respectively in 1m 37.726s, 1m 34.493s, and 1m 33.194s.