Feature
Six of the best - Driver superstitions and good luck charms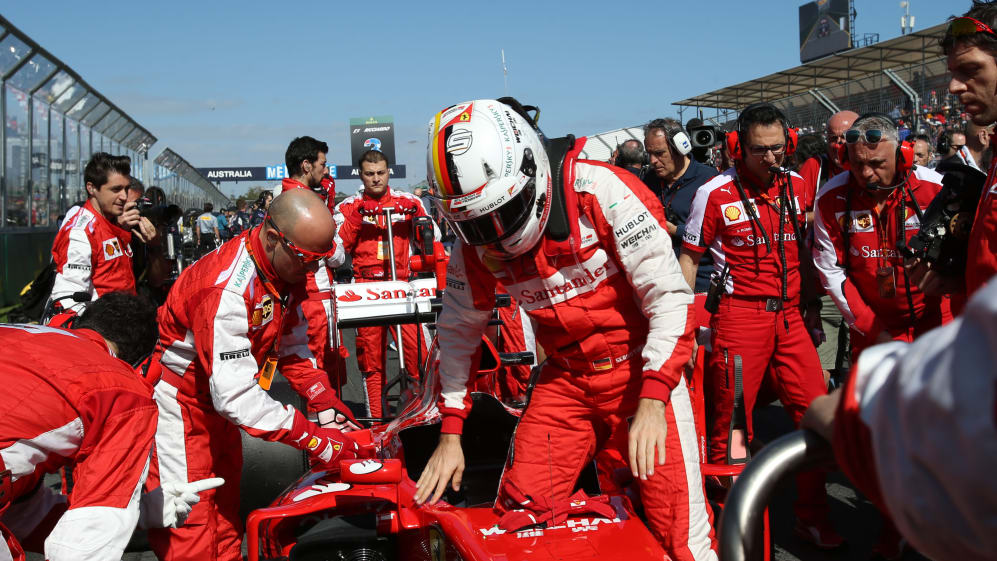 Given the inherent danger of their jobs and their unquenchable thirst for success, it's perhaps unsurprising that many drivers latch onto superstitious behaviours, rituals and good luck charms. We present some of the more memorable cases…
Stefano Modena - not fond of the left-hand side of the garage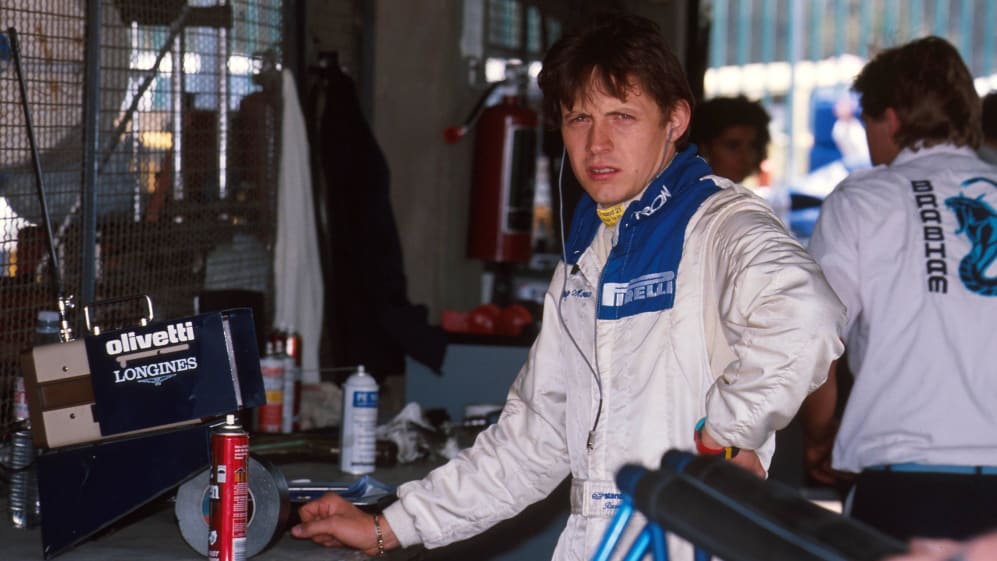 Stefano Modena's unique idiosyncrasies have become the stuff of legend. The Italian, who scored two podium finishes over 70 Grand Prix starts in the late Eighties and early Nineties, was bound by many strange behaviours, but while most were harmless - such as pecularities about how his belts were fastened and always getting into the car from the left - others impacted on those around him.
In his book Working the wheel, Martin Brundle recalled one of his former Brabham team mate's more eccentric moments following pre-qualifying in Brazil in 1989.
"[We] had an hour in which to move the cars and all our equipment into a proper garage, one that was being vacated by a team that had failed to pre-qualify. Sweat was pouring off the mechanics as they humped all the toolboxes and air cylinders and other heavy pieces into the garage and tried to get the cars ready for the start of official practice.
"They had just about completed the job when my team mate Stefano Modena walked in and looked as though he had seen a ghost. 'No! No!,' he said. 'I don't want my car on the left. I'll only have it on the right.' Stefano was a lovely guy, but he was very, very superstitious. He simply would not get into his car if it was on the left side of the garage. There was nothing for it but to move cars and equipment around…"
"I am still very superstitious and always was," Modena told Motor Sport Magazine in 2014. "I didn't care about being different, this was my character and it was my results that mattered, not how much I smiled, not my superstitions."
So what about wearing his gloves inside out? "This was not superstition - it was because the seams on the inside were cutting my fingers, making my skin very sore."
Well that clears up that then...
Alberto Ascari - rued a move away from blue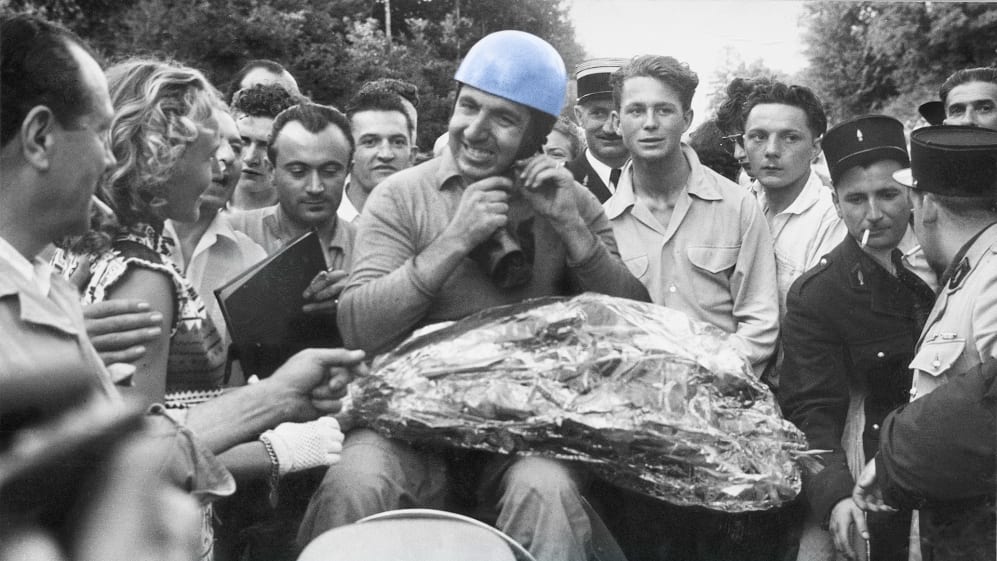 In the early years of the world championship, when danger was lurking around every corner, driver superstitions were commonplace. But even by the standards of the day, Alberto Ascari went to great lengths to avoid tempting fate.
The double world champion's quirks ranged from avoiding black cats and shying away from unlucky numbers to refusing to allow anyone else to handle the case that contained his lucky pale blue helmet.
Given the latter superstition, it was cruelly ironic that when Ascari was killed in an unexplained testing accident at Monza in 1955 - rather eerily at exactly the same age and on exactly the same day of the month as his famous racing father Alberto - he was wearing countryman Eugenio Castellotti's white helmet rather than his own sacred lid.
The pale blue one, rumour had it, was in the process of being repaired, having just days earlier helped save the Italian's life when he crashed and plunged into the harbour at Monaco…
Sergio Perez - has the Pope by his side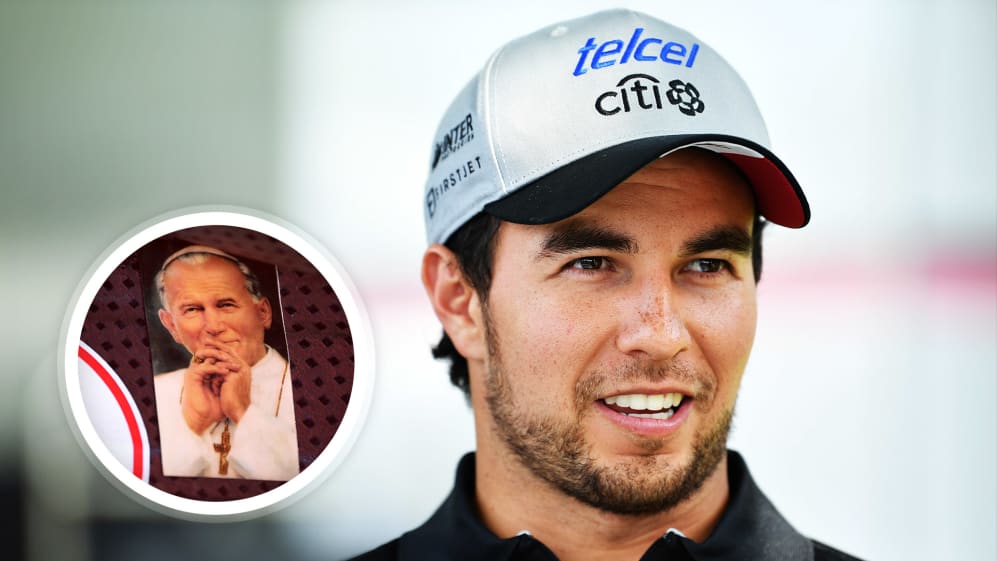 Many drivers carry meaningful images and messages on their helmets, but Force India's Sergio Perez is one of the very few who has chosen to personalise his car in the name of fortune.
A devout catholic, the Mexican has taken to carrying a picture of the late Pope John Paul II on the inside of his cockpit after meeting the former pontiff in Italy several years ago.
"I have it because he touched my hand back in the 2000s," explains Perez. "I really felt a big connection to him. And these days, although he has died, I still feel a big connection to him.
"He's someone who I really trust and feel is on my side all the time. I feel having him in my car is very important - he gives me extra strength."
In contrast, former team mate Nico Hulkenberg used to have an image of mega-quiffed cartoon hero Johnny Bravo taped to the inside of his cockpit, though we suspect one of the German's cheekier mechanics was probably responsible for that…
Alan Jones - saved by his lucky underwear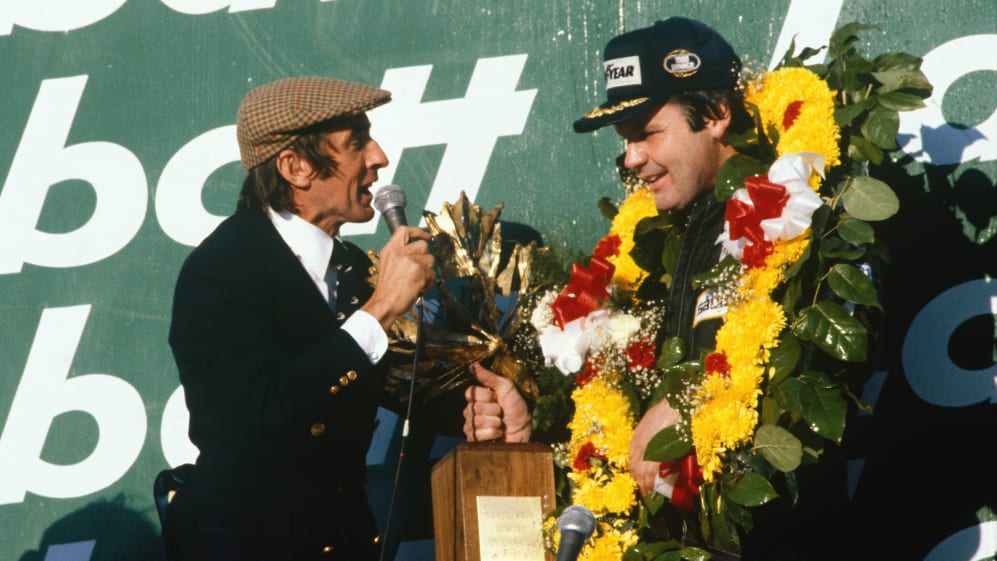 Alan Jones wrapped up the 1980 world drivers' title by winning the penultimate round of the season in Canada, but only after the last-minute delivery of his special lucky charm - a pair of red underpants.
"I'm really superstitious and I felt uneasy because I thought I'd lost them," admitted the Australian after the race. "But Bev [his wife] drove to Brands Hatch where I'd left them in a motorhome and rushed them here [to Montreal] by special express."
Odd as it may seem, Jones isn't the only F1 driver in history to have had a penchant for always racing in the same underwear. In his younger days David Coulthard enjoyed considerable success whilst wearing a pair given to him by his Aunt. By the time the Scot reached F1 the undergarments were, to put it bluntly, no longer in a wearable condition, though DC continued to carry them with him to every Grand Prix for good luck.
"Then one day a McLaren employee was cleaning my things, saw these pants - which in all fairness were by then over a decade old - and threw them away," Coulthard recounted wistfully in his autobiography.
Felipe Massa is another driver who has admitted to getting too attached to his underwear on occasion: "Sometimes when I start the weekend, on the Saturday for example, and things are going well I keep the same underwear," he has said. "We [drivers] are a little bit crazy sometimes – it doesn't change anything by using this underwear or another one, but it just makes you relaxed – you have everything you had yesterday and yesterday was a good day. When it's not a good day you change everything!"
Sebastian Vettel - likes a lucky charm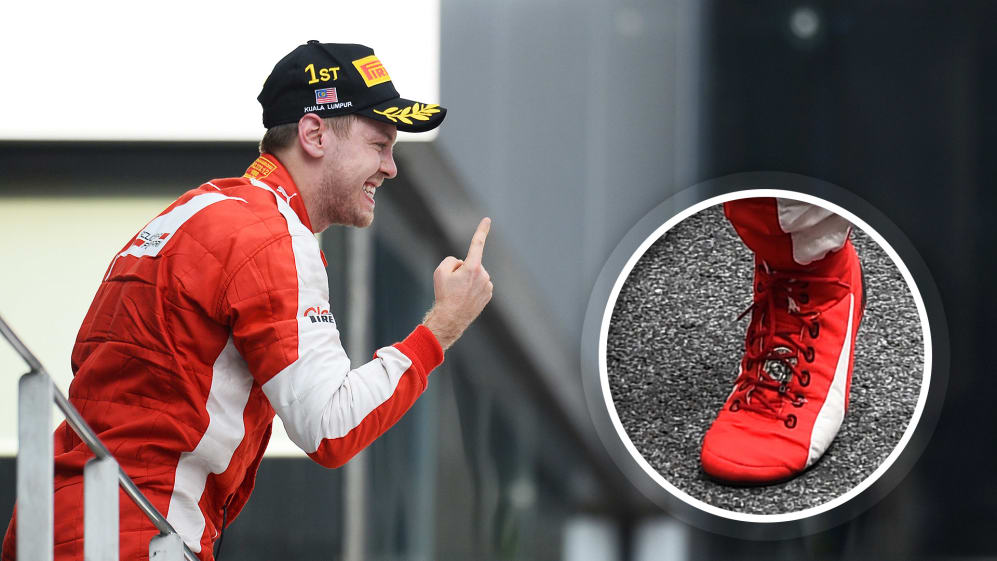 In recent times F1 drivers have been known to go to great lengths to keep their weight down, but such worries haven't prevented Sebastian Vettel from being an avid carrier of good-luck charms.
Over the years the German has filled his race suit pockets with objects as varied as a small metal pig to a one-cent coin that he found on the street in Indianapolis ahead of his F1 race debut in 2007.
But most obvious is the way Vettel personalises his race boots. Catch a glimpse of his footwear just before a race and you might be able to spot two shining pieces of lucky silver given to him by his grandmother - including a medal for St. Christopher, the patron saint of the travellers - which he puts under his laces.
With 46 race wins and four world titles to his credit, the lucky charms certainly seem to have done the trick so far in his career, as has his habit of always getting into the car from the same side - arguably F1's most common superstitious behaviour amongst drivers.
Michael Schumacher - a big fan of odd numbers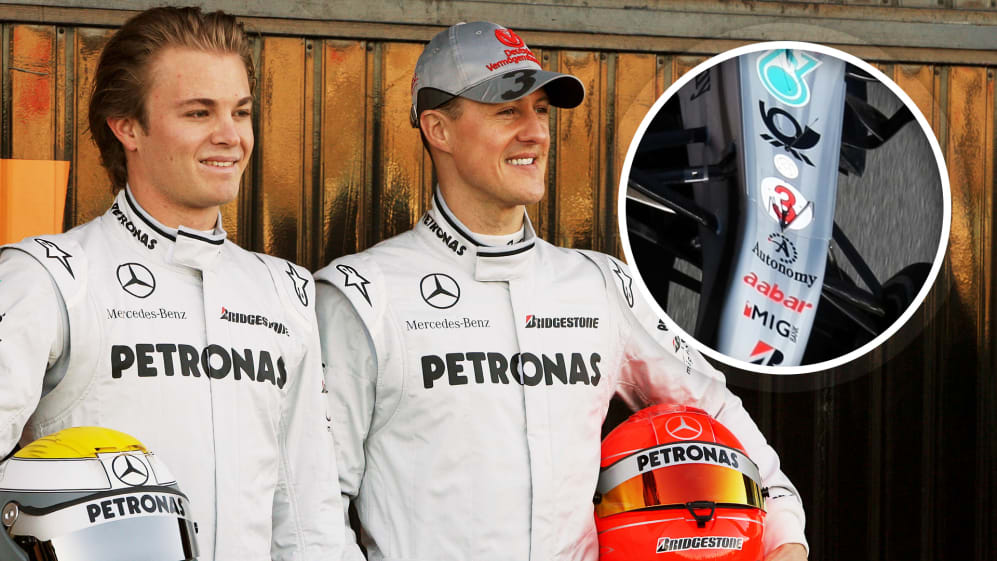 Michael Schumacher's 2010 comeback with Mercedes made headlines across the world, but intriguingly so did the German's request to swap race numbers with new team mate Nico Rosberg.
In asking to change his number four for Rosberg's number three, was the 91-time race winner trying to gain an early advantage in the intra-team battle and establish himself as the squad's de-facto number one driver? No - as it turned out it Schumacher wanted to make the switch on other grounds.
"Michael has a preference for odd numbers," a Mercedes spokesperson confirmed at the time. "He asked if he could be the odd number and we were happy to accept."
Schumacher's desire for a switch probably stemmed from the fact that he won all seven of his world titles in odd-numbered cars (five with the number one and one each with three and five), though it wasn't the only time in his career he showed superstitious tendencies.
Back in 2004 he had a fright before the race in Bahrain when he discovered that he'd left a ceramic amulet, given to him by his wife and featuring the initials of his family members, in his hotel room. The missing item was hastily retrieved by a Ferrari team member and Schumacher went on to win the race, later saying that the amulet had made "perhaps the decisive difference."
Amazingly, Schumacher would mislay it again at Silverstone later that year - but again the item found its way back to the German, this time by way of a kind stranger who found it and returned it.