'Sometimes you can hate this sport' – Verstappen frustrated to miss out on 'easy win' and chance to extend points lead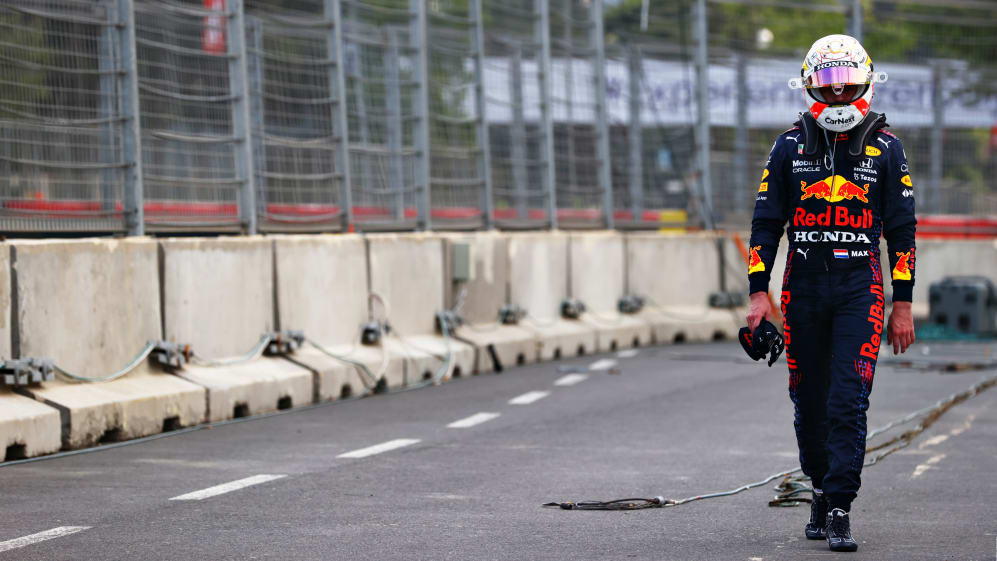 Up until five laps from the end of the Azerbaijan Grand Prix it looked like being a very good day for Max Verstappen. He led Red Bull team mate Sergio Perez in a one-two and was, in his own words, set for an easy victory – a victory that would have seen him extend his points lead over chief title rival Lewis Hamilton. But then disaster struck, in the form of a tyre blowout – a cruel stroke of luck that left Verstappen saying "sometimes you can hate this sport".
Verstappen, frustrated to qualify only P3 after red flags in qualifying, looked in imperious form in the race, passing Charles Leclerc for P2 early on and then comfortably overcutting Hamilton for the lead in the pit stop phase.
REPORT: Perez beats Vettel to Baku victory after Verstappen crashes out from lead late on
He looked almost certain of victory before his left rear tyre suffered a blowout on Baku's 200mph pit straight, sending him into the barriers and out of the race.
A furious Verstappen kicked out at his tyre as he climbed from his car, but had calmed down somewhat when facing the media, perhaps consoled that Hamilton had suffered his own misfortune late on, helping the Dutchman retain his points lead.
"Frustrating and very disappointing so close to the finish to retire with a tyre blowout," said Verstappen. "It's a big shame. Sometimes you can hate this sport – for a few hours, then I'll be fine again.
"Honestly up until that point it was a great day – the car was on fire, I was just matching whatever I needed to do behind me, I was quite comfortably in the lead. It would have, let's say, have been an easy win. But, of course, there are no guarantees in the sport."
Verstappen still leads Hamilton by four points in the standings, but it might have been 14 points had the positions remained as they were when the 23-year-old crashed, with Hamilton in third.
"It's a shame because we missed out on the opportunity to make the gap bigger [in the championship] because we know when we get to normal tracks Mercedes normally are very strong. So it's a bit of a shame not to open the gap a bit more.
"Of course then at the end we got a bit lucky with Lewis going straight at Turn 1, so we are still leading the world championship, but it's not the way we wanted it to be. I wanted to really open up that gap today and win that race because it would have been great for the team."
Despite his obvious disappointment, Verstappen was full of praise for eventual victor Perez, who joined Red Bull as his team mate in 2021.
"I am, of course, very happy for him," Verstappen said. "It should have been a one-two but nevertheless to see him win the race was very nice to see. He's a great team mate and I think he had a great day today as well. He was doing everything that he should be doing as well, so was great to see."
With Mercedes failing to score with either car, Red Bull now lead Mercedes by 26 points in the constructors' standings.