Feature
STATS: Who broke records, went fastest and furthest in 2017?
We've crunched the numbers, sifted through the stats and dug through the data - and here it is, our review of the 2017 season in numbers...
THE RECORD BREAKERS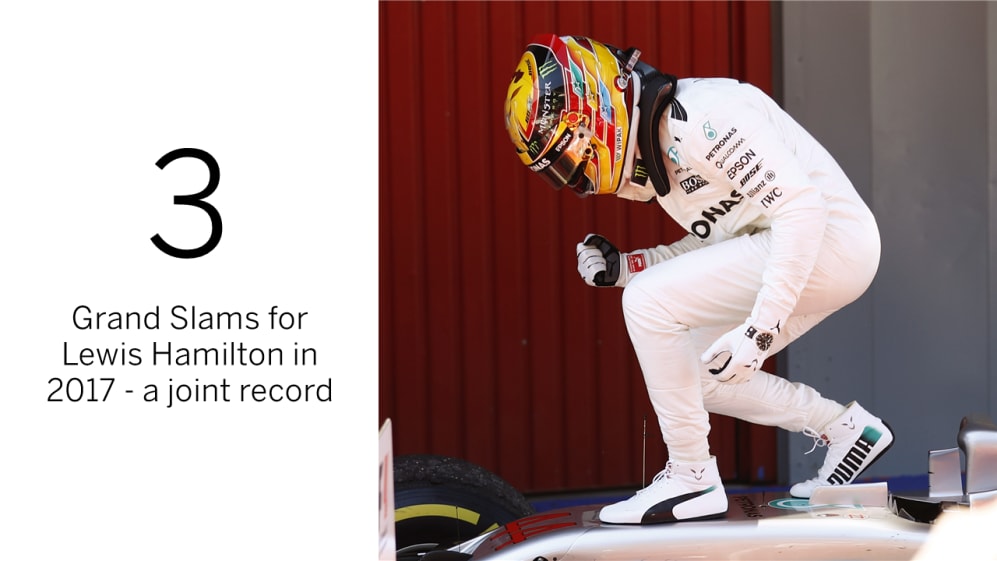 Where to start other than with Lewis Hamilton, who smashed records left, right and centre in 2017. The headline stat is that the Mercedes driver became just the fifth driver in history – and the first Briton – to win four or more world titles.

Hamilton also overhauled Ayrton Senna (in Canada) and Michael Schumacher (in Italy) to claim F1's all-time pole position record, ending the season on 72.

In July, Hamilton matched Jim Clark and Alberto Ascari as being one of only three drivers to have claimed as many as three Grand Slams (pole, fastest lap, win, led every lap) in a single season.

Hamilton finished the season having scored points in every single race, becoming just the third champion (after Juan Manuel Fangio and Michael Schumacher) to achieve that feat. His consecutive points streak actually stands at 25 races, dating back to the 2016 Japanese Grand Prix. That leaves him just two points finishes shy of equalling Kimi Raikkonen's all-time record.

To round up some of Hamilton's other 2017 achievements…
- He surpassed Michael Schumacher's all-time record for front-row starts

      -    He surpassed 3,000 laps led for his career

      -    With pole in Suzuka he has now taken pole at every circuit on the current calendar at least once


Another 2017 record breaker was Lance Stroll, who at 18 years and 239 days became the youngest rookie (and second youngest driver of all time behind Max Verstappen) to stand on an F1 podium with third place in Azerbaijan. That achievement came just one race after the Canadian had become F1's second youngest points scorer on home soil.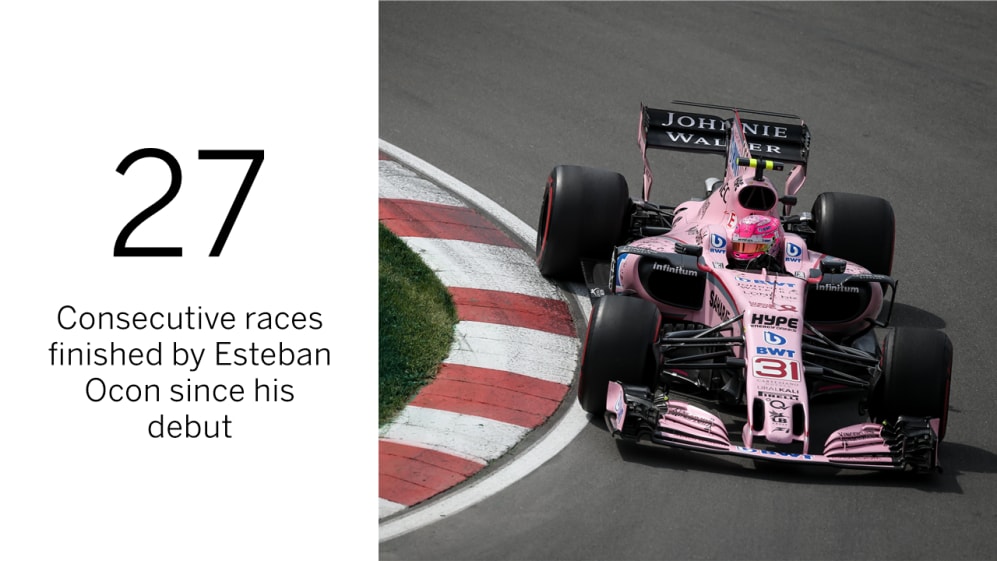 Another young gun to shine in 2017 was Force India's Esteban Ocon whose amazing 'Oconsistency' led to him stretching his remarkable finishing streak from the start of his F1 career (which began in Belgium last year) all the way to Mexico – a staggering 27 races. Not only was that a new record, it was made all the more notable by the fact he finished 17 of those races in the points.

In Singapore Nico Hulkenberg claimed an unwanted record, surpassing Adrian Sutil as the driver with the most Grand Prix starts without a podium finish to his name – 135 by the season's close. Will the Renault star break that barren run in 2018?

Hulkenberg was, of course, joined at Renault by Carlos Sainz midway through the season, the Spaniard having left Toro Rosso as their all-time record points scorer.

On a team front, meanwhile, Mercedes became just the fourth team in F1 history to win four straight constructors' titles. What chance them equalling Ferrari's record of five next year?

And finally, F1 cars hit record-breaking speeds in 2017, with the new breed of wider, faster cars contributing to 11 lap records being obliterated (in Azerbaijan, Monaco, Austria, Great Britain, Belgium, Singapore, Malaysia, Russia, USA, Mexico, Brazil).
THE DRIVERS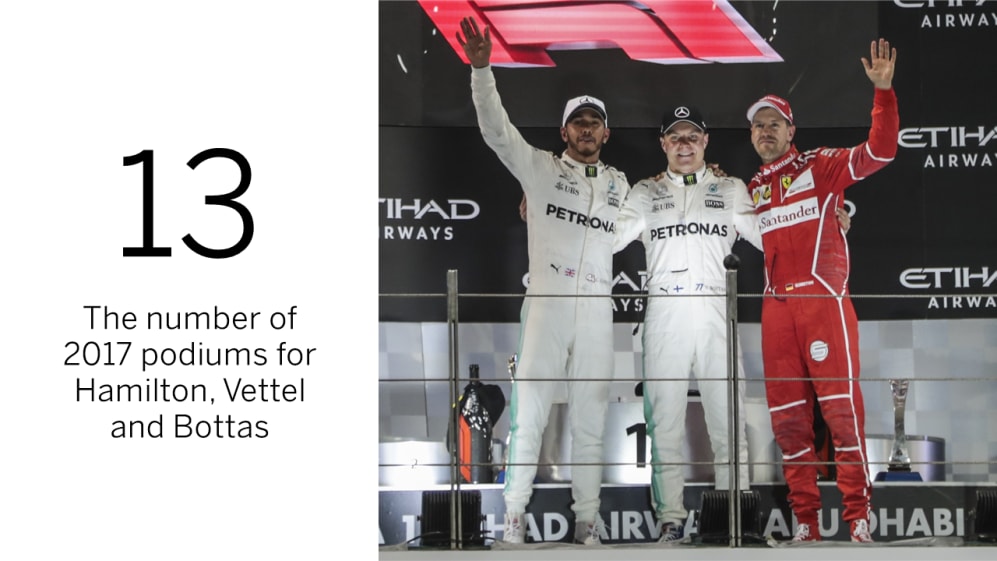 Most wins: 9 - Lewis Hamilton; 5 - Sebastian Vettel; 3 - Valtteri Bottas; 2 - Max Verstappen; 1 - Daniel Ricciardo
Most poles: 11 - Lewis Hamilton; 4 - Sebastian Vettel, Valtteri Bottas; 1 - Kimi Raikkonen*
* Raikkonen's pole, in Monaco, was his first in nine years!
Most podiums: 13 - Lewis Hamilton, Sebastian Vettel, Valtteri Bottas*; 9 - Daniel Ricciardo; 7 - Kimi Raikkonen; 4 - Max Verstappen; 1 - Lance Stroll
* First time since 2010 that three drivers have tied for most podiums in a season
Most fastest laps: 7 - Hamilton; 5 - Sebastian Vettel; 2 - Kimi Raikkonen, Valtteri Bottas; 1 - Sergio Perez, Fernando Alonso. Daniel Ricciardo, Max Verstappen
Laps led: 527 - Lewis Hamilton; 286 - Sebastian Vettel; 187 - Valtteri Bottas; 133 - Max Verstappen; 40 - Kimi Raikkonen; 23 - Daniel Ricciardo
Front-row starts: 14 - Sebastian Vettel; 13 - Lewis Hamilton; 5 - Kimi Raikkonen, Valtteri Bottas; 2 - Max Verstappen; 1 - Lance Stroll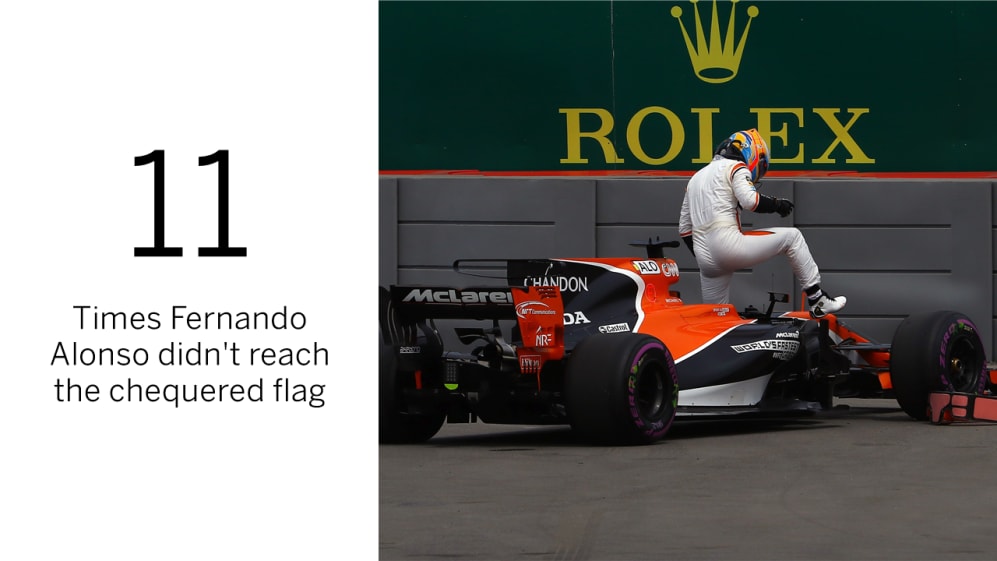 Most laps raced: 1,195 - Lewis Hamilton*; 1,174 - Sergio Perez; 1,168 - Valtteri Bottas; 1,117 - Esteban Ocon; 1,089 -Sebastian Vettel
Hamilton completed all but one racing lap in 2017, having been lapped in Mexico__
Fewest laps completed*: 819 - Max Verstappen; 830 - Fernando Alonso; 881 - Carlos Sainz; 904 - Daniel Ricciardo; 951 -Stoffel Vandoorne
Of drivers who started at least 19 races__
Longest points streak: 20 races - Lewis Hamilton

Longest podium streak: 6 races - Sebastian Vettel (Australia - Monaco)

Most Driver of the Day wins: 7 - Sebastian Vettel

Most places gained on Lap 1: 36 - Lance Stroll
THE TEAMS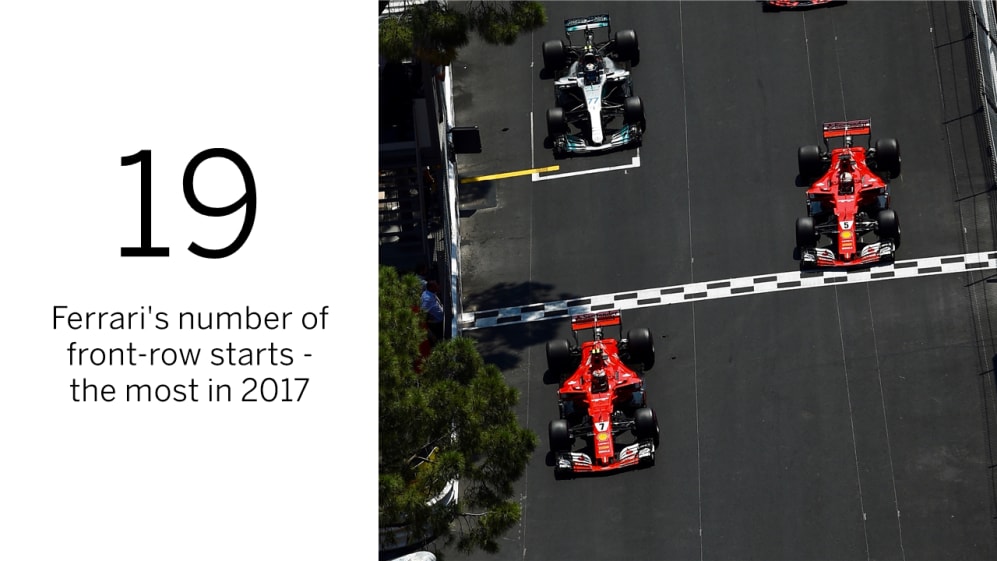 Most wins: 12 - Mercedes; 5 - Ferrari; 3 - Red Bull

Most poles: 15 - Mercedes; 5 - Ferrari

Most podiums: 26 - Mercedes*; 20 - Ferrari; 13 - Red Bull; 1 - Williams
*Mercedes have now scored podiums in 100 different races
Most fastest laps: 9 - Mercedes; 7 - Ferrari; 2 - Red Bull; 1 - Force India, McLaren

Laps led: 714 - Mercedes; 326 - Ferrari; 156 - Red Bull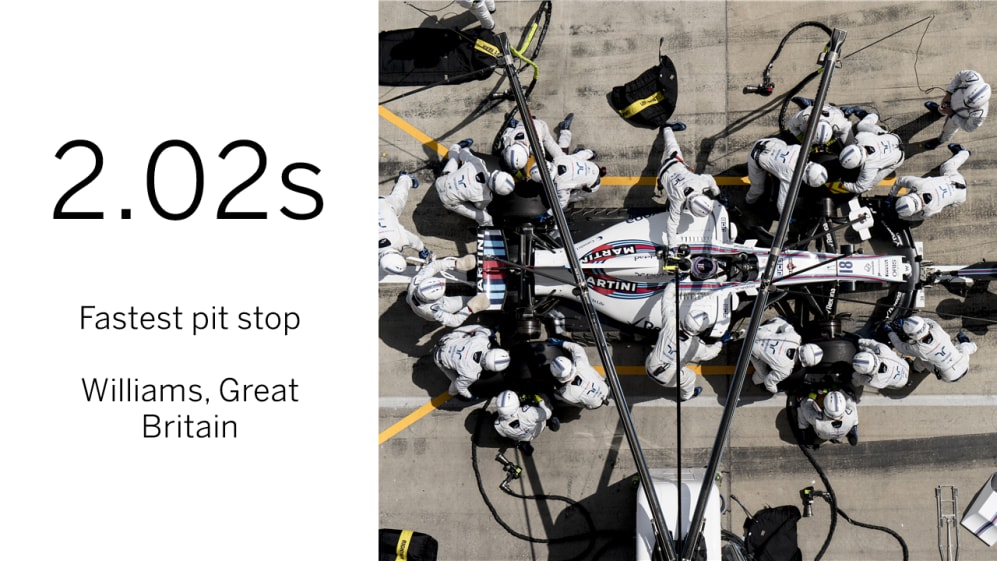 Most laps raced: 2,363 - Mercedes; 2,291 - Force India; 2,129 - Williams; 2,100 - Ferrari; 2,040 - Haas, Sauber

Fewest laps raced: 1,723 - Red Bull; 1,838 - McLaren; 1,873 - Toro Rosso; 1910 - Renault

Most overtakes: 65 - Red Bull (43 - Ricciardo; 22 - Verstappen)

Most fastest pit stops: 8 - Williams
THE RACES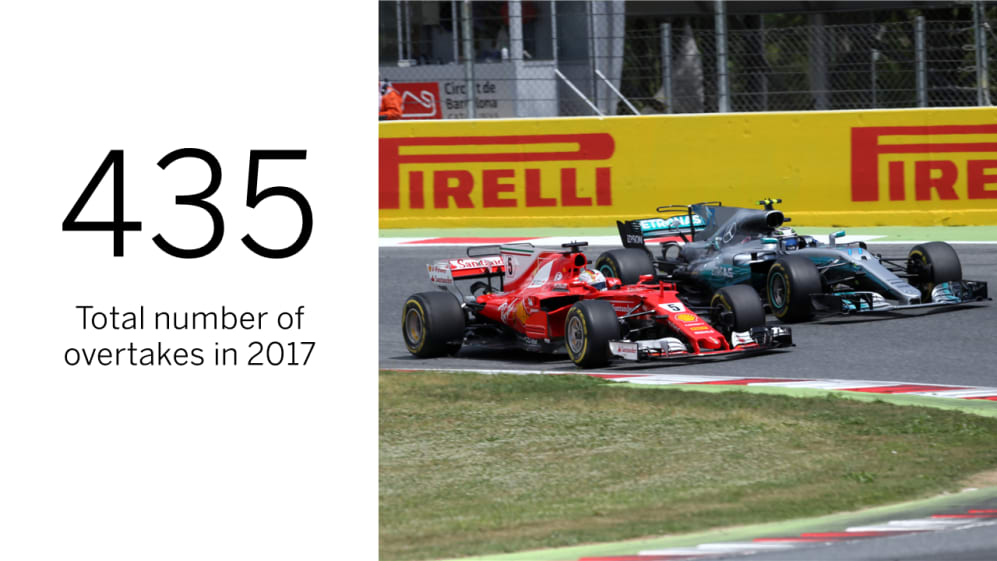 Most overtakes in one race: 42 - Azerbaijan

Most overtakes by a driver in one race: 13 - Daniel Ricciardo, Great Britain

Longest race: Azerbaijan, at 2h 03m 55.753s

Shortest race: Italy, at 1h 15m 32.312s

Highest top speed: 362.4 km/h - Sebastian Vettel, Mexico

Number of wins from pole: 11 from 20 (55%)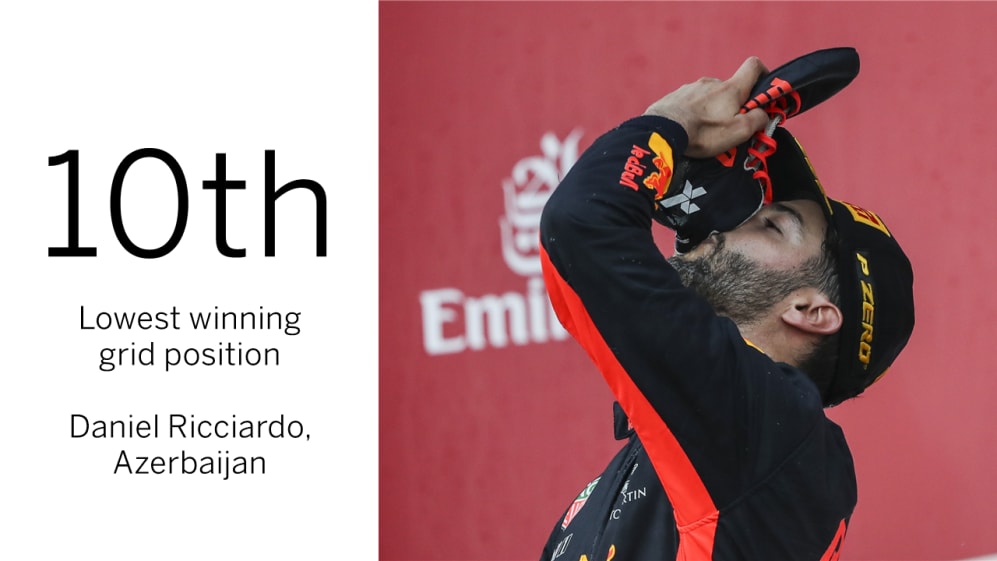 Biggest winning margin: 19.783s - Lewis Hamilton over Valtteri Bottas in Canada

Smallest winning margin: 0.617s - Valtteri Bottas over Sebastian Vettel in Russia

Most classified finishers: 18 - Italy, Malaysia, Abu Dhabi

Fewest classified finishers: 12 - Singapore

Most changes of lead: 5 - Australia, Spain, USA

Most different leaders in one race: 4 - Australia, USA