Steiner says Haas rookies must learn when to take risks with crashes getting 'too frequent and too heavy'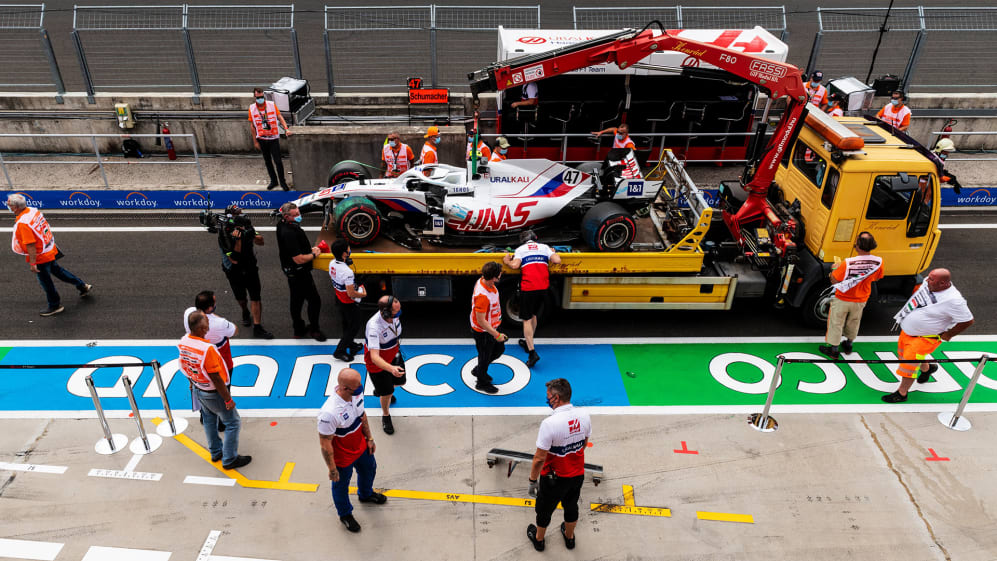 Guenther Steiner has warned his Haas rookies they must learn when to take risks on track and when to play it safer, with the team's repair bill rising after a number of heavy – and expensive – crashes in the first half of the season.
Mick Schumacher crashed in final practice for the Hungarian Grand Prix, which meant he was unable to take part in qualifying – the same exact scenario he suffered in Monaco, while he also crashed in qualifying for the French GP, and during the Emilia Romagna GP at Imola.
READ MORE: The biggest shock, their top three drivers, and a bold prediction – Our writers on the first half of the 2021 season
In the other car Nikita Mazepin has had crashes at Bahrain, Baku and Imola, and speaking after Schumacher's most recent shunt in Hungary, Steiner said it had to stop – not least because of the impact on the team's budget.
"You always plan with accidents, especially with rookie drivers, but we have reached a point now where we have to work on [how] to have less accidents for the rest of the season," Steiner said. "Mick in the last five races had quite a few big ones – you know if you have a spin or something like this then, that happens, but these accidents are quite heavy.
"It's a lot of money for no good reason, so we have to work on it to get better on that one, and obviously the budget is the budget – you need to stick to it. At the moment, we feel it but we can still deal with it, but soon we will be in a position where we need to find new ways to overcome this because they're getting a little bit too frequent and too heavy."
Steiner insists he doesn't want to curb Schumacher and Mazepin's racing instincts, but rather wants them to be more selective about when to push hard.
"What needs to be explained to young people is, you have to make a judgement: is it worthwhile or not? A [worthwhile] risk would be if you have the opportunity to gain a position in the manufacturers' championship," he said.
"Obviously we need to race – I always say, I'm not against racing between the two guys. I'm not telling them not to race, but to minimise the risk of doing damage, which doesn't help anybody. The risk would be worthwhile, but at the moment we have not an opportunity to get better in the standings of the world championship."
Haas are currently bottom of the constructors' standings, three points behind Alfa Romeo, having gone into this season knowing it would be something of a struggle having decided not to develop this year's car, but rather put their resources into an all-new challenger for 2022.
TECH TUESDAY: The most ingenious solutions to the 2021 rules changes we've seen so far