Stewards declare Ferrari-Red Bull clash a racing incident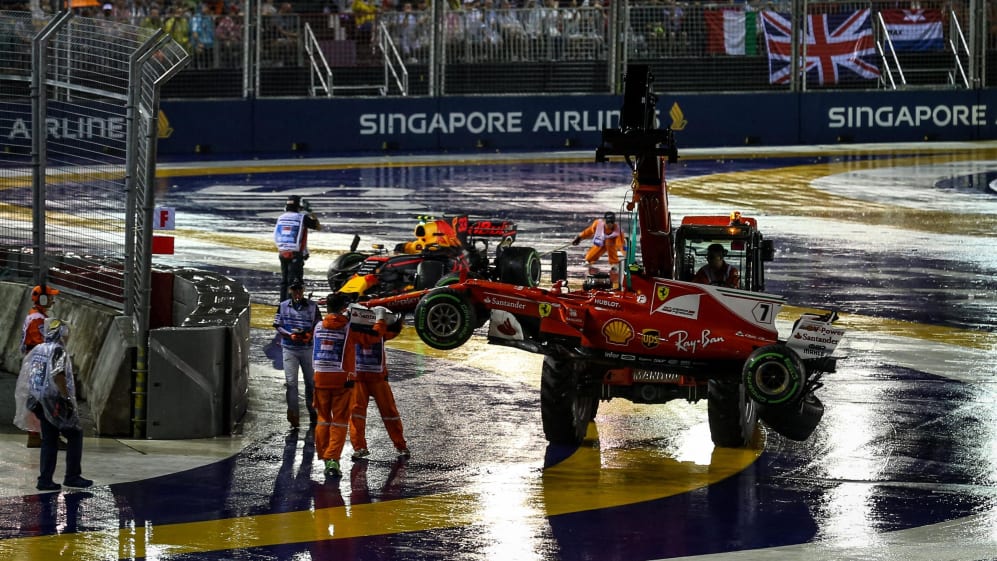 The Singapore stewards have decided to take no further action over the collision which saw both Ferraris plus the Red Bull of Max Verstappen eliminated at the start of Sunday's race at Marina Bay.
Kimi Raikkonen made a strong getaway from fourth on the grid and was drawing alongside Verstappen on the inside as they approached Turn 1. But as polesitter Sebastian Vettel edged left, the Dutchman's Red Bull became the meat in a Ferrari sandwich and all three made contact.
Raikkonen and Verstappen were out on the spot, while Vettel briefly continued to lead the race until spinning his heavily damaged car into retirement before the first lap was complete.
All three men were summoned by the stewards, who having reviewed all the evidence declared it a racing incident, finding no one driver wholly or predominantly to blame.
Ferrari had been quick to lay responsibilty at Verstappen's door via social media following the drama, but in the immediate aftermath the Red Bull driver disagreed, instead pointing the finger clearly at Vettel and insisting he had done all he could to avoid contact.
"He started squeezing me - maybe he didn't see Kimi on the left, but you know, that is not an excuse," said Verstappen. "If you are fighting for the world championship you shouldn't take those risks to squeeze someone that much.
"I tried to back out of it because I could see it coming, but the rear tyres are wider than the front so I couldn't back out of it anymore.
"I don't think it was a racing incident. At the end of the day he takes in total three cars out and I was in the middle without doing anything wrong. I was just trying to have a clean start."
Vettel was more circumspect in his comments, saying: "I didn't see that much. I saw Max and the next thing I see is obviously Kimi hitting the side of me and Max somewhere there."
Raikkonen, meanwhile, was philosophical, maintaining there was little point in allocating blame after the event.
"I don't think I could have really done anything to avoid it," said the Finn. "I had a good start but then obviously got hit and our race was done so it's a shame. Whatever the cause of the accident, the end result doesn't change."
Vettel's retirement - and Lewis Hamilton's subsequent victory - means the German now trails his rival by 28 points in the championship standings with six rounds to go, having arrived in Singapore just three points adrift.