Strategy gamble lost Racing Point chance of podium, says Stroll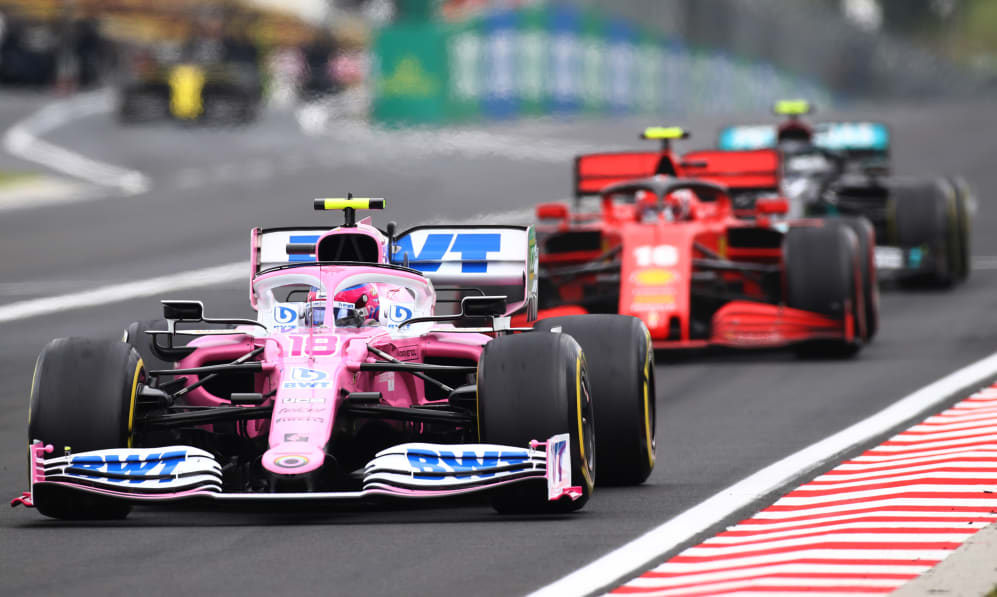 Having outqualified his Racing Point team mate Sergio Perez on Saturday at the Hungaroring, Lance Stroll went on to claim the team's best result of the season with fourth place in the Hungarian Grand Prix, a finish the Canadian praised as a "great result" for the team, even if he felt he could have gone one better and made it on to the podium.
Stroll started P3 on the grid but fell to a distant fourth by the chequered flag, having been passed in the pit stops by the Red Bull of Max Verstappen in the early stages of the race, before the slow-starting Valtteri Bottas managed to undercut his way back past Stroll later on.
READ MORE: Hamilton romps to eighth Hungarian Grand Prix win, as Verstappen recovers to second
Yet despite Racing Point once more failing to convert their eyebrow-raising pace into a podium, Stroll was nonetheless satisfied with his Hungarian Grand Prix.
"All in all a great result for the team, very happy," he said. "I definitely think the podium was possible today. We were staying out a bit longer towards the middle of the race where Valtteri undercut us – he was behind us. He went for the stop and we were expecting some more rain so we were trying to drag out that stint a little bit longer and unfortunately that rain never came so he just managed to simply undercut us.
"By the time we pitted a couple of laps later, he was eight seconds up the road and we were comfortably P4 at that stage. Shame, we definitely had the pace but at the end of the day we've got to be happy with the result, great points for the team. It's been a solid weekend from start to finish and I truly believe we had the second fastest car here this weekend, which gives me a lot of positivity moving forwards this year."
READ MORE: 'Second feels like a win' says Verstappen as he recovers from pre-race crash to podium
Having reported feeling dizzy in qualifying on Saturday, a healthier-looking Perez was forced to overcome a poor start from P4 on the grid – followed by a lairy off-track moment at Turn 11 on Lap 6 after changing from intermediate tyres to slicks – to come home in seventh place, behind the Ferrari of Sebastian Vettel.
"I don't know [why I had a bad start] but it was the same basically as the car ahead [Bottas], I went into a lot of wheelspin throughout the phase, very poor start, very hard to recover afterwards," said Perez.
"Then on the dry, I went off and I nearly put it in the wall. Luckily I manged to survive, but I lost two places, and then with the strategy, we were very close to undercut people – but we just couldn't do it."
Racing Point – who once again had the legality of their RP20s protested by Renault after the race – took an 18-point haul in Hungary, to put them fourth in the constructors' championship, level on 40 points with McLaren, as F1 now heads to the Racing Point's 'home' Silverstone circuit.