'Second feels like a win' says Verstappen as he recovers from pre-race crash to podium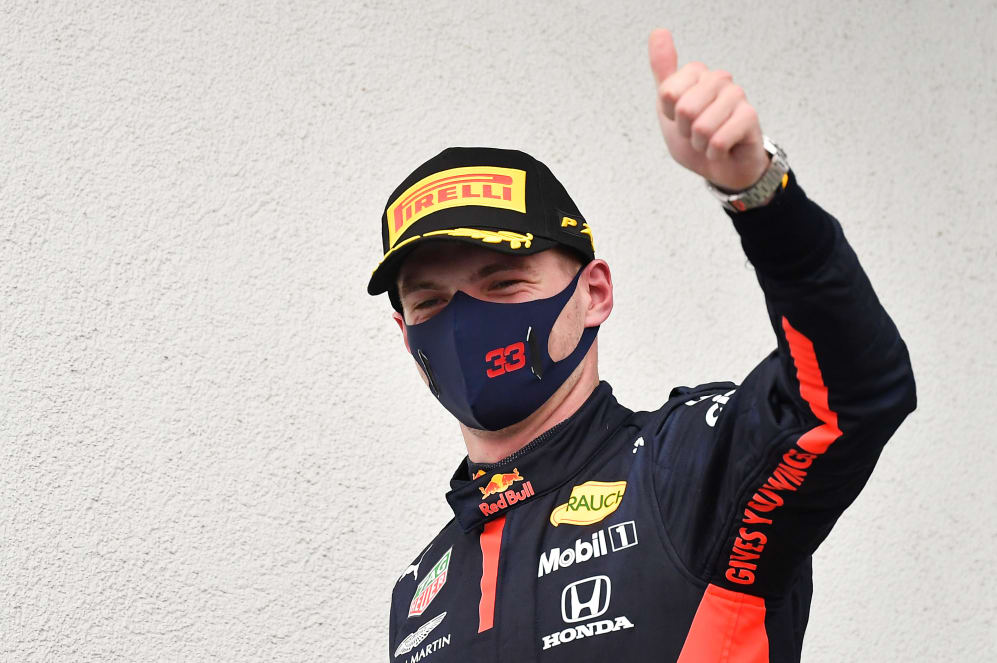 It was a head in hands moment for Red Bull fans before the Hungarian Grand Prix had even begun, as they watched Max Verstappen slide helplessly into the barriers in wet conditions while on his way to the grid. But an extraordinary effort by his crew yielded a rapid-time full repair - and the Dutchman rewarded their efforts with a phenomenal drive to second from seventh on the grid…
This was vintage Verstappen. You could see from his facial expression that he was frustrated to have got caught out on the way to the grid, the Red Bull driver sliding left-front first into the barrier, breaking off his front wing and damaging the suspension. But he recovered to the grid and the team managed to fix the car in just over 20 minutes, finishing with around 30 seconds to go.
READ MORE: Hamilton romps to eighth Hungarian Grand Prix win, as Verstappen recovers to second
"I locked up, came off the brakes, locked up again, and went straight on," said Verstappen of the incident. "I was struggling for grip before that. I thought the race was over, but I managed to reverse the car out of the wall.
"It's a 'never give up mentality' – bring car to grid and see what is possible. The mechanics did an amazing job to repair the car.
"It was not how I wanted it in the beginning ending up in the barriers. But the mechanics did an amazing job to fix the car. I don't know how they did it but incredible. To pay them back with second place, of course I'm very pleased with that."
Despite the heavy impact, Verstappen was pleased with how the RB16 felt when the race got under way.
"[The car felt] good, like new! It was [finshed] just on time but everything was working like normal," he said. "I thought I was not going to race, so to be second is like a victory today."
Verstappen had an electric start, judging the wet conditions perfectly to battle his way up to third, before taking second when Stroll pitted.
"The first lap was very crucial," he said. "From then on we made the right calls and had good pace and kept doing our own thing."
It was no easy feat, mind. Bottas, who moved at the start and then got away slowly, dropping him down the field having started second, was on a recovery mission, hunting Verstappen down in the second half of the race.
The Finn boxed for fresh tyres late on and then set about closing down a 22-second gap to Verstappen. He caught him with a couple of laps to go, but couldn't find a way by.
"I was just trying to do my own pace and I could see he was catching a second a lap but of course following here is quite tricky so when he was within 1.5s it was difficult for him," he said. "On the last lap we had traffic in front which didn't make it easy for me on those old tyres and we're very happy with second."
Verstappen is now third in the drivers' standings after three races, 30 points back of hungary race winner Lewis Hamilton.