Feature F1 Unlocked
STRATEGY UNPACKED: How Alonso and Aston Martin charged their way to the podium in Bahrain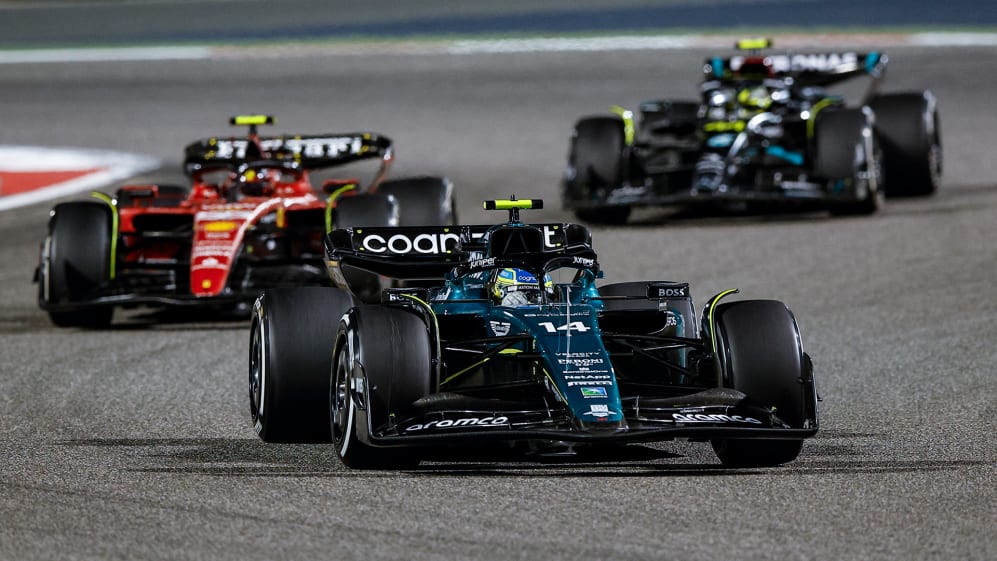 Fernando Alonso secured his first podium with the Aston Martin F1 team in the opening round of the 2023 season in Bahrain. But how did they pull off their spectacular result? Ex-Aston Martin strategist Bernie Collins is here to talk you through all the key moments…
Alonso lined up on the grid in P5 after the strong pace shown by Aston Martin in testing proved to be real and not just due to lighter fuel load or stronger engine modes. With the main competition of Ferrari directly ahead on the grid and Mercedes directly behind, the question was could Alonso hold onto to that position or would the Mercedes race pace seen in previous sessions be too much?
READ MORE: Alonso says Bahrain podium 'a perfect start' to Aston Martin project as he recounts breathtaking moves on Hamilton and Sainz
The race started well and Alonso held positions off the line and through the opening turns. However, he lost a place to Lewis Hamilton at Turn 4 and a nudge from team mate Lance Stroll resulted in losing another position to George Russell. Alonso was now behind both Mercedes cars and both Ferraris, running in P7, with some work to do to fight his way to the podium.
So, how did Alonso retake these four positions to earn himself a trophy?
First on the list to overcome was Russell. During this initial phase of the race, the 22 years of Alonso F1 racing experience came into their own. Alonso knows that a race like Bahrain isn't won or lost in the opening laps. He was also fully aware that dirty air from the car ahead and pushing too much on the soft tyre could ruin the stint.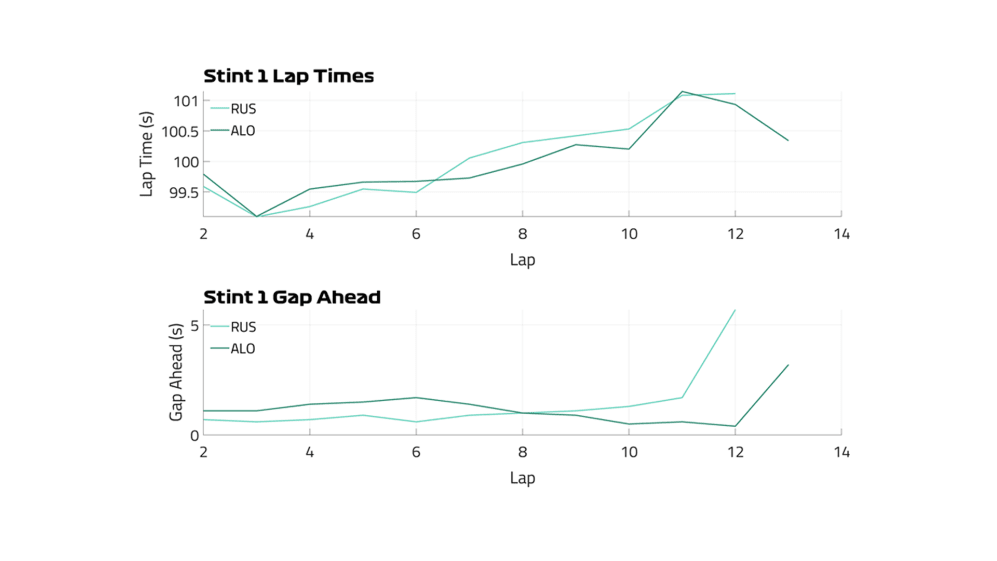 Russell ran the first stint very close to Hamilton and complained on the radio that Hamilton was too slow. These initial laps in traffic resulted in Russell being slower at the end of the stint when he needed pace to defend from Alonso.
Alonso, however, took a different approach and left a gap to Russell ahead initially, only starting to push towards the end of the stint and closing the gap to Russell as he became vulnerable. This allowed Alonso to overtake Russell after a back-and-forth battle for position during Lap 13.
MUST-SEE: How Alonso muscled his way onto the podium in Bahrain – plus his ecstatic reaction
Russell, with ruined tyres, then attempted to undercut Alonso by stopping and getting onto fresh tyres sooner. However, a slow pit stop for Russell allowed Alonso to stop one lap later and defend. So, after the first pit stops, Alonso found himself ahead of Russell, with both Ferraris and Hamilton still to deal with.
Working out optimum strategy is easy; holding your nerve enough to complete it is the challenge…
Bahrain is known for the multiple-stop races it often produces due to high tyre degradation (how much slower a tyre becomes each lap) as a result of the rough track surface and hot conditions. The optimum race time is achieved by balancing the race stints to minimise the time lost to degradation.
In Bahrain, high degradation means it is very important for teams to stick as closely as possible to the optimum stop laps or risk losing too much lap time at the end of each stint. As it is easy to overtake, then others can take advantage of this high degradation and steal position.
The undercut trap
It is difficult to see another team stop with the intention of trying to undercut you – and then to hold your nerve to complete the optimum race. Both Hamilton and Carlos Sainz fell into this trap.
READ MORE: 'We're the fourth fastest team now' – Hamilton offers honest Mercedes assessment as he admits the team are 'going backwards'
The chart below shows the optimum strategy in black versus the strategy completed by Hamilton and Sainz. The chart would show a flat, horizontal line if a driver completed the same lap time every lap.
Moving upwards shows a lap faster than this average lap and the sharp fall downwards represents a pit stop. The chart doesn't show any traffic effects.
The optimum strategy shows that the stints are evenly split. In the cases of both Hamilton and Sainz, they stop early and the total race time is slower than possible. Sainz lost 3.8 seconds of race time and Hamilton lost 5.3s.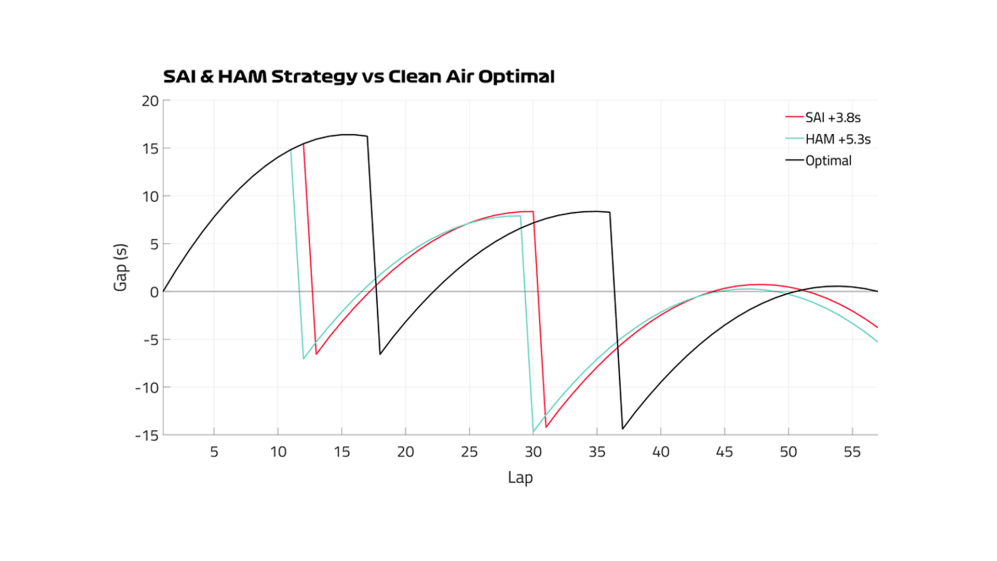 So, how did Hamilton and Sainz find themselves stopping too early?
At the first pit stop on Lap 12, Hamilton actually reacts to Valtteri Bottas, who stops from four positions behind, and this causes Sainz to stop one lap later.
However, when Alonso is told of the Bottas pit stop and is asked how the tyres are, he responds: "They feel okay, I think we should keep going."
READ MORE: 6 Winners and 5 Losers from Bahrain – Who started their season in style in Sakhir?
This message encourages the team to stick to the plan and continue. Alonso then stops to protect from the poor Russell pit stop, but having gained two laps of tyre advantage in the second stint over Hamilton.
During the second stint, Alonso remains behind Hamilton and Sainz. Again, Alonso manages his pace and saves the tyres in the early part of the stint. Alonso then starts to push and close the gap to Hamilton in the later laps, much like he had done earlier with Russell.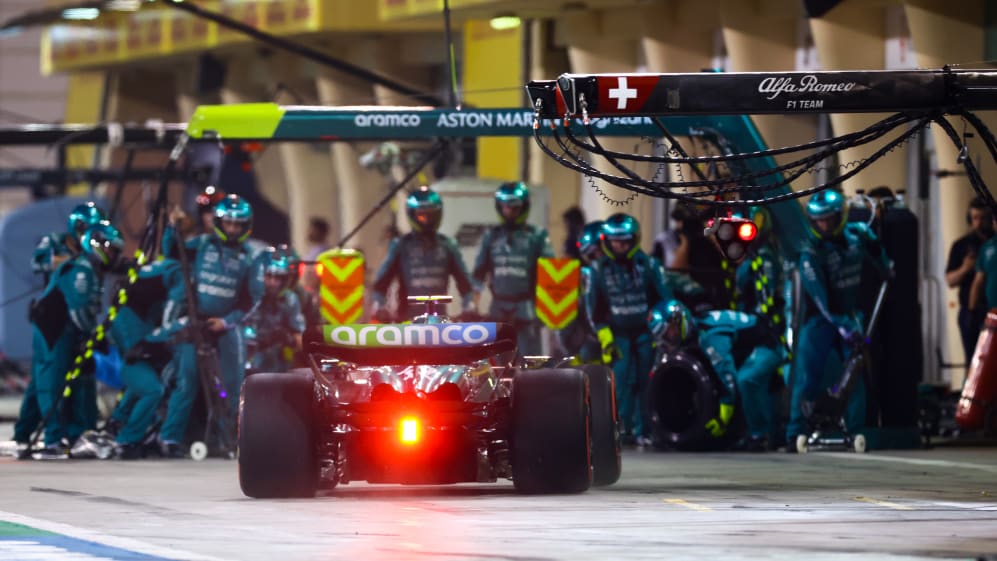 Alonso says: "Let's get closer and see what they do." Mercedes, concerned by the Alonso threat, call Hamilton in to fit his final set of hard tyres on Lap 30. Hamilton is unsure and questions the decision.
Hamilton's engineer says: "Box, box." Hamilton responds: "Why? My tyres are good." Hamilton's engineer adds: "Undercut threat." Hamilton later says: "Its a long way to go on these tyres."
MONDAY MORNING DEBRIEF: How Red Bull's unique strategy helped seal their dominant 1-2 in Bahrain
Again, Sainz covers the Hamilton pit stop the next lap and Alonso is left with clear track ahead. Alonso gives important feedback to the pit wall in the new clear air.
Alonso says: "Traffic hurts a lot, it affects tyres a lot. Hopefully they find traffic." He adds: "We keep on going, tyres are still good."
Alonso's engineer says: "Behind you, Russell and Lance have stopped, so just keeping an eye on that gap. Sainz and Hamilton have stopped, so we are just going to build a tyre advantage."
Through this phase, the Aston Martin pit wall would have been carefully monitoring the pit stop gaps around Alonso. They needed to build a tyre advantage over Hamilton and Sainz, but they could not afford to drop positions to Russell and Stroll, who were competing with each other.
Would Alonso have caught Leclerc?
On Lap 34, Charles Leclerc ahead stops, and rather than risk any traffic with Leclerc, Alonso is called to stop. This achieves the goal of Alonso avoiding traffic, building a three and four-lap tyre advantage on Sainz and Hamilton respectively, and not losing position to Russell or Stroll.
F1 NATION: Red Bull's clean sweep and Alonso's amazing Aston debut – it's our Bahrain GP review
Alonso realises in the final stint that the tactics of the first two stints are no longer valid. He can no longer play a waiting game. This time it is all about taking position early before the tyres become damaged in traffic. Alonso pushes early to take position from both Hamilton and Sainz.
Leclerc unfortunately retired on Lap 40 with an engine issue, preventing Alonso the opportunity to chase him down in the closing laps. With Leclerc 9.5s ahead of the group, it would have been a tall order, but Alonso and the Aston Martin pit wall holding their nerve throughout gave Alonso the best possible chance.
So, with three on track overtakes, through smart strategy from both the team and driver, and one retirement, Alonso found himself on the podium at the end of race one. Job done.
To read on, sign up to F1 Unlocked for free
You'll unlock this article and get access to:
Live leaderboard data
Epic experiences and rewards
Money-can't-buy competitions