Stripped wheel nut behind slow pit stop that ruined Vettel's points chances at Imola
Sebastian Vettel was left feeling that he could have come away with a handful of points from the Emilia Romagna Grand Prix had a 13s first pit stop not left him P12 at the flag – on a day when Ferrari team mate Charles Leclerc finished fifth.
An improved race performance from Vettel had seem him stealthily eke out the life of his medium starting tyres until Lap 39 of 63, with Vettel climbing as high as fourth before calling into the pits. As Vettel stopped on his marks, McLaren's Carlos Sainz – with whom Vettel was in a battle with for a net P10, and who'd eventually finish the race seventh – was just entering Rivazza 1. But a stripped wheel nut saw Vettel stationary for 13.1s, eventually emerging four places and 11 seconds down on Sainz in P14, and behind the Alfa Romeo of Antonio Giovinazzi.
READ MORE: Fifth-placed Leclerc suggests strategy switch could have netted podium at Imola
And with Ferrari later calling Vettel in again for softs under the Safety Car, the German was left to come home 12th – and ruing would could have been a very positive Imola race.
"I think the race today was a bit better for a couple of reasons," said Vettel. "I was comfortable in the car… but obviously the poor pit stop didn't help us. I'm sure the boys are down, but it wasn't meant to be our race."
Asked if he felt he could have scored a point, Vettel replied: "More than just a point. I think with the Safety Car in the end, we could have capitalised… we could have easily stayed on the hard [rather than pitting for softs], gained another couple of positions, but it wasn't meant to be.
"With hindsight it's always easy – we'll see next race."
READ MORE: The tantalising alternative scenario that could have given Verstappen victory at Imola
Ferrari Team Principal Mattia Binotto, meanwhile, apologised to Vettel after the German driver's "strong race" – but said he'd nonetheless been buoyed by the performance of the SF1000 at Imola.
"Seb… had a strong race," said Binotto, "and we are very sorry for the problem at the pit stop that robbed him of a top-10 finish, thus losing the chance to pick up valuable points.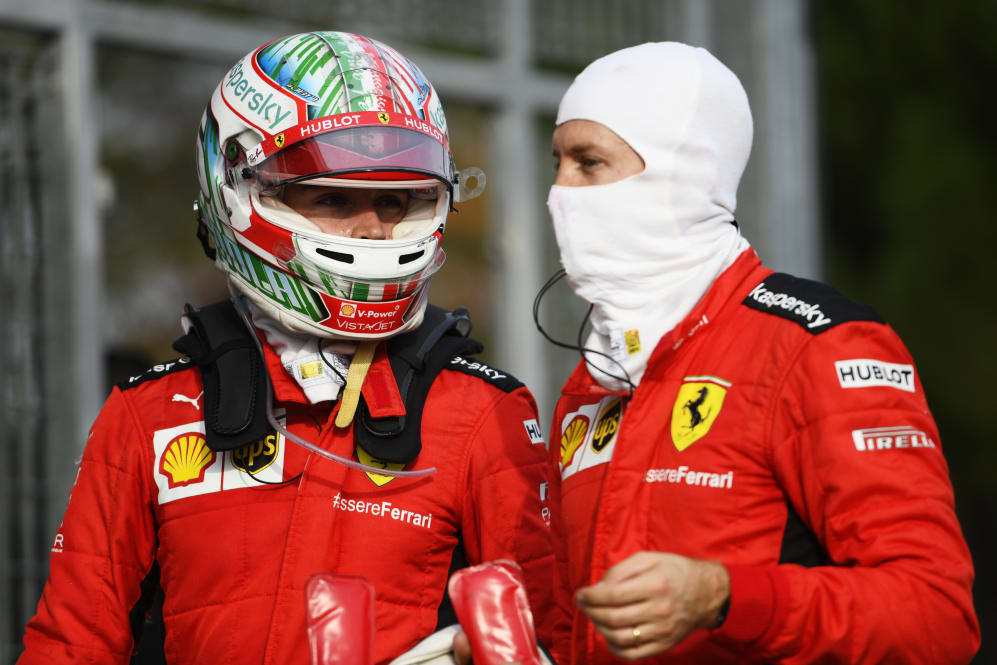 "It's clear to see that we are consolidating the progress we have made in recent races, especially in terms of race pace at a variety of tracks with very different characteristics," Binotto added. "That's important for the rest of this season and for the next one."
Vettel's failure to score at Imola means that he has now taken just two points in the last seven races, compared to Leclerc's 40 in the same period, with Leclerc's season tally now standing at 85 to Vettel's 18.