Stroll dubs contact 'dangerous' as Vettel edges closer to potential race ban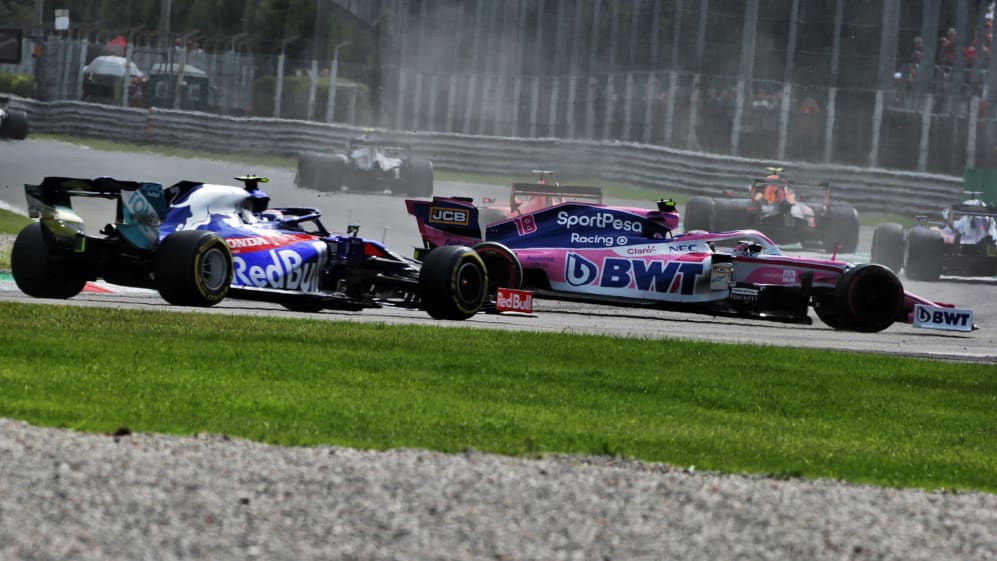 Having broken into Q3 at Monza for the first time this season to end a tricky run of Saturday performances, Lance Stroll had reason to be optimistic at a circuit he has fared well at during his F1 career. But the Canadian's Italian Grand Prix took a sudden nosedive after unavoidable contact with the Ferrari of Sebastian Vettel early on in the race, which put paid to what could have been a strong points finish.
After rotating at the exit of the fast Ascari chicane, Vettel edged his car back onto the circuit, but clipped the rear left of Stroll's unsighted Racing Point. The contact spun the Canadian back onto the edge of the track, and when he recovered Stroll almost collected the Toro Rosso of Pierre Gasly. Adding insult to injury, the race stewards dished out a drive-through penalty that pushed Stroll out of contention, as he eventually came home P12.
READ MORE: Vettel 'can't be happy' with race-ruining Monza spin
Stroll said: "[Vettel] came back on the circuit very aggressively and even at the speed I was going there was just nothing I could really do. I tried to avoid him by going to the left but he just kept moving forward and eventually we made contact so it was really dangerous.
"I mean I could have just hit him square in the side and that would have been pretty nasty so I tried everything I could to avoid him, but I was just in the wrong place at the wrong time."
With team mate Sergio Perez driving a trouble-free race to P7, having started P18, the Italian Grand Prix could have yielded much-needed points for Stroll, who has scored just twice in the last seven race weekends – and who failed to take points at Monza for the first time in his career.
He added: "Coming back on the circuit myself I got penalised for a very similar thing, I couldn't see anything from my right, couldn't see who was coming and I tried to get back on track."
The contact leaves Vettel with nine penalty points, having also blotted his copybook at this year's Canadian and British Grands Prix. It means that three more penalty points in any of the next three races in Singapore, Russia or Japan could see him banned from a race weekend.
He just kept moving forward and eventually we made contact so it was really dangerous
Team Principal Otmar Szafnauer said: "Lance's race was destroyed when Vettel hit him in the Ascari chicane on lap seven. The subsequent undeservedly harsh penalty dropped Lance out of contention for the points.
"It's a real shame because he had made a super stat and was running comfortably in seventh place at the time. He was just in the wrong place at the wrong time."
Stroll has finished a race in P9 or above just once this season and has only beaten his team mate in a race three times in 2019. It leaves the Canadian 15th in the drivers' standings on 19 points. Racing Point sit seventh in the constructors' standings with 46 points in total.