Vettel 'can't be happy' with race-ruining Monza spin
While Charles Leclerc was busy soaking up the adulation after securing victory at Monza for Ferrari for the first time since 2010, in the #5 SF90, Sebastian Vettel endured a horrendous race, after an unforced error saw the German spin himself out of contention early on, ending the race down in P13.
Having been annoyed yesterday to not have been towed into a chance for pole position during the end-of-qualifying fiasco, Vettel initially lost a place on the opening lap to Renault's Nico Hulkenberg, briefly dropping from fourth to fifth before reclaiming the place.
READ MORE: Dazzling Leclerc fends off both Mercedes to end Ferrari's Monza win-drought
Then on Lap 6, the tifosi watched in disbelief as Vettel spun his Ferrari SF90 on his own after riding the kerbs at the Variante Ascari – his second race-defining spin in as many years in Italy.
Worse was to come, though, and as Vettel then clumsily re-joined the track – his vision admittedly compromised in the cockpit of his Ferrari – he came dangerously close to serious contact the Racing Point of Lance Stroll, who was forced into his own spin.
When you're not doing well what you know you can do well, you can't be happy
That move earned Vettel a 10-second stop/go penalty, leaving him to eventually come home a lap down in 13th – and as the crowd were still cheering team mate Leclerc's first victory for Ferrari at Monza in nine years, the German was forced to reflect on a nightmare weekend.
"Obviously I'm not happy with it," he said. "I can't be happy with my day today. We had a good start, nowhere to go, lost the position [to Hulkenberg], got it back, reconnected to the cars ahead and then lost the rear and couldn't catch it.
"I struggled a couple of times to get the car going, I struggled to get in the right direction as well, so I couldn't see [Stroll].
"So simple as that, but obviously not happy, and after that the race was obviously gone."
Asked whether he was beginning to fall out of love with the sport of F1, having now not won a race since the 2018 Belgian Grand Prix, Vettel replied: "No, not really, I haven't. Of course I still love what I do, but surely when you're not doing well what you know you can do well, you can't be happy."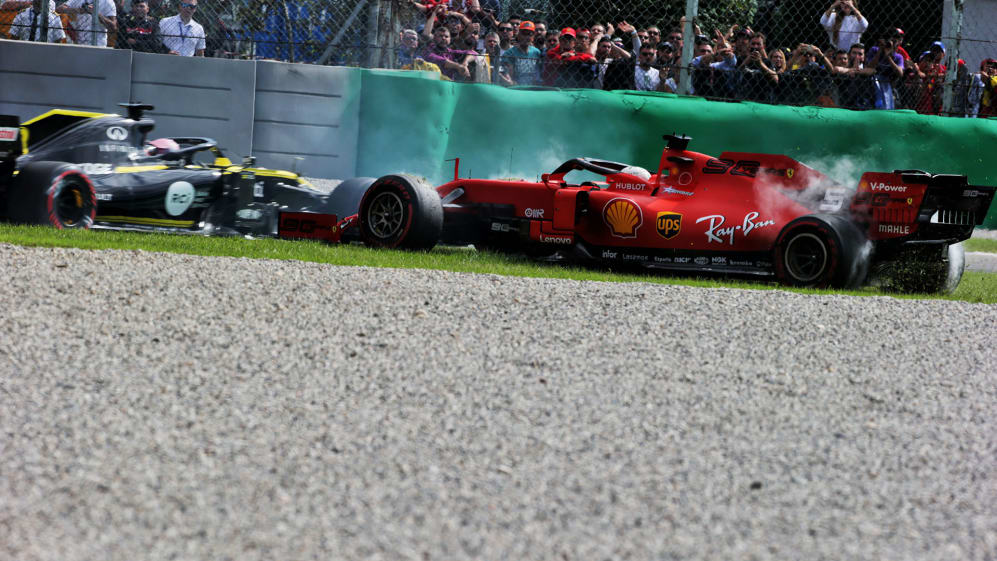 Team Principal Mattia Binotto also appeared less than pleased by Vettel's performance which, apart from anything else, left Leclerc to defend from a fast-charging pair of Mercedes on his own.
"That was really shame," said Binotto. "He was somehow closing the gap on Bottas ahead so he could have had a good race today as well today. It's a shame."
Vettel's point-less race, as Leclerc was securing his second 25-point haul in as many races, meant that the German now drops to fifth in the drivers' standings, with seven races of the season left to run – and the momentum at Ferrari apparently very much with his team mate.