Stroll loses P7 to Gasly at Imola after overtake on AlphaTauri driver deemed illegal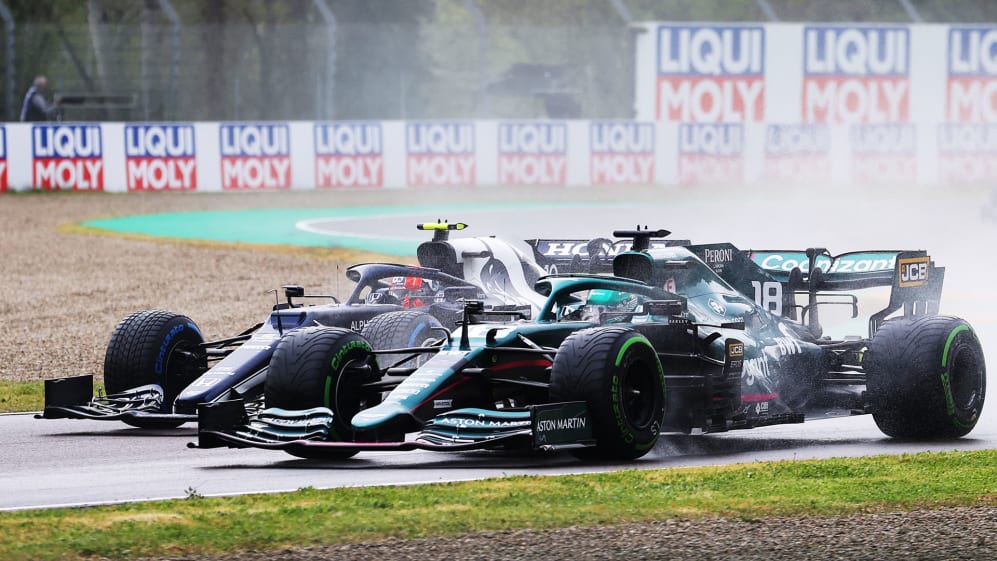 Aston Martin's Lance Stroll took P7 on the road at the Emilia Romagna Grand Prix. But that became P8 in the aftermath of the race, after an overtake on AlphaTauri's Pierre Gasly was deemed to have been made illegally – with the Canadian handed a five-second race penalty.
Stroll had recovered well from an issue on his brakes just before the start of the race, jumping to P7 on Lap 1 before spending the whole of the Imola contest in the points. But after dropping down the order again, a pass for seventh on Gasly on Lap 11 of the Grand Prix came under the attention of the stewards, with Stroll getting by the Frenchman – who was struggling on wet tyres – by running over the kerbs at Tamburello.
READ MORE: Verstappen takes victory from Hamilton and Norris in action-packed Grand Prix at Imola
"[Stroll] was not able to complete his pass on [Gasly] at Turn 2/3 without leaving the track, completely shortcutting Turn 3 and returning on the track ahead of [Gasly]," ruled the stewards. "He then failed to give the position back.
"In hearing from the drivers, the stewards accepted that [Stroll] was ahead of [Gasly] at the point he left the track, but that he was in that position because of a manoeuvre that he was not able to complete on the track given the wet conditions."
DRIVER OF THE DAY: Stellar drive to third at Imola wins Norris your vote
The outcome was a five-second penalty that dropped Stroll from seventh to eighth behind Gasly in the final standings – with the accompanying result that Aston Martin lost their fifth place in the constructors' standings post-Imola to Gasly's AlphaTauri squad.