Stroll takes new chassis for Russia after describing old one as 'toast' after Mugello crash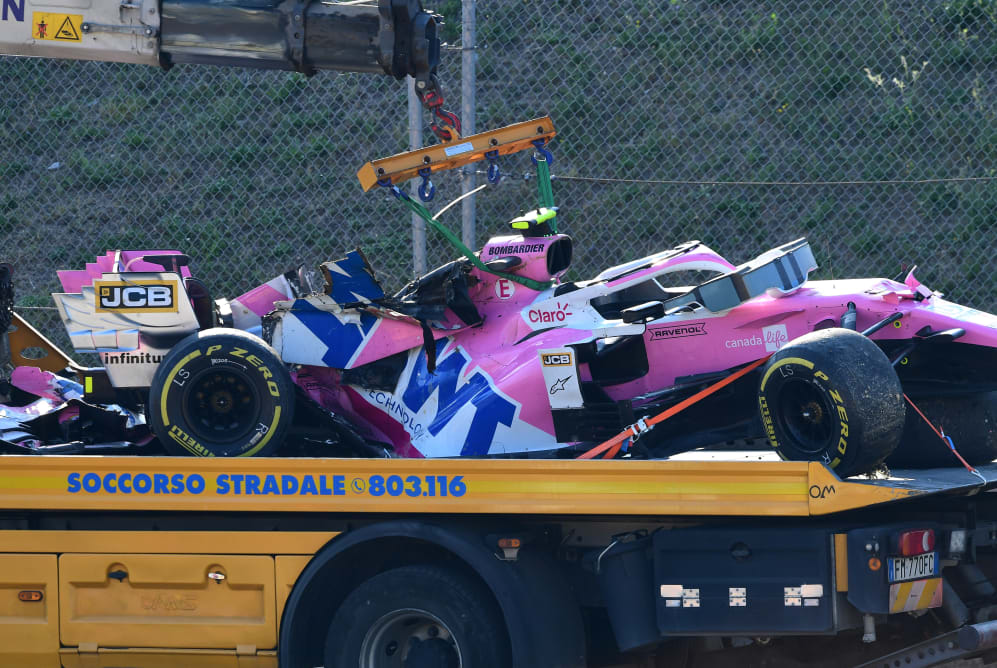 "Toast" - that's how Lance Stroll described his Racing Point car after his crash on Lap 42 of the Tuscan Grand Prix, a crash so big the team were forced to provide him with a new chassis for this weekend's Russian Grand Prix...
Stroll said it remains a "mystery" as to why he slid off the track and crashed hard into the barriers late in the race at Mugello, causing a red flag and a pivotal restart that shaped the race's conclusion.
READ MORE: Perez forced to wait for Racing Point upgrade as a result of Stroll crash at Mugello
"It's still a bit of a mystery. We believe it was a puncture, like I ran over some debris. That's the conclusion we've come up to at the moment but we're still looking into it because it's not 100% clear," began Stroll.
"Yeah, [I have a] new chassis and I mean it was pretty toast that car, after the crash," he said.
Racing Point were on course for a double-points finish but Stroll's late retirement had them take just 10 points away from Mugello while rivals Renault took 12. But the consequences of the wreck could have been much worse, if not for stringent F1 safety regulations, as Stroll continued.
"My left calf was a little bit sore the next day because I put so much pressure onto the brake pedal when I went off. But that was it. The cars now are so safe it's really thanks to the FIA and Formula 1, for, over the years, implementing all the safety regulations, that I walked away from that crash without any injuries.
READ MORE: Vettel will bring '1000 little things' to help Aston Martin team improve, says new boss
"So, it's great to see how safe the cars have become over the years and really at the end of the day it's just a shame that we had such a potentially big points score slip away from us."
Stroll returns to Russia seeking his first points score at Sochi, having finished 11th here on two occasions: for Williams in 2017 and Racing Point last year.
The Canadian will continue to run Racing Point's recent aero upgrades on his new car as team mate Sergio Perez misses out once more, but both drivers will have upgraded rear suspension.