Tattoo bet not on Ricciardo's mind as he concedes 'we had no answers' to Albon
Daniel Ricciardo nearly delivered a first podium for Renault since their return to F1 in 2016 - and with it a chance to make Team Principal Cyril Abiteboul get a brand new tattoo of his choice thanks to a prior bet – but it wasn't to be as Red Bull's Alex Albon swept by the Australian late on to score his maiden F1 podium at Mugello.
Having run high up throughout the Tuscan Grand Prix, it was at the last restart that Daniel Ricciardo put himself in prime position for a podium having swept past Mercedes' Valtteri Bottas for P2. But the Renault driver was passed by Bottas on Lap 48, and then again by Albon for P3 on Lap 50, later revealing that he had no answers to the Red Bull driver's pace in the final stint.
READ MORE: Hamilton beats Bottas to win crazy Tuscan GP, as Albon secures maiden podium
"To be honest I wasn't thinking about tattoo designs, but I was thinking about the trophy and some champagne," he said. "It was hot out there, so I was certainly thirsty for that.
"It's at the end the last part of the race, that final restart, Albon showed more pace than he had all race and we didn't have an answer for that. He was really quick on the softs [tyres], on lower fuel, and it looked like that suited them more than us. I felt really good in the car but third sector was where he had us and that's where you latch on to the DRS. We didn't have an answer really."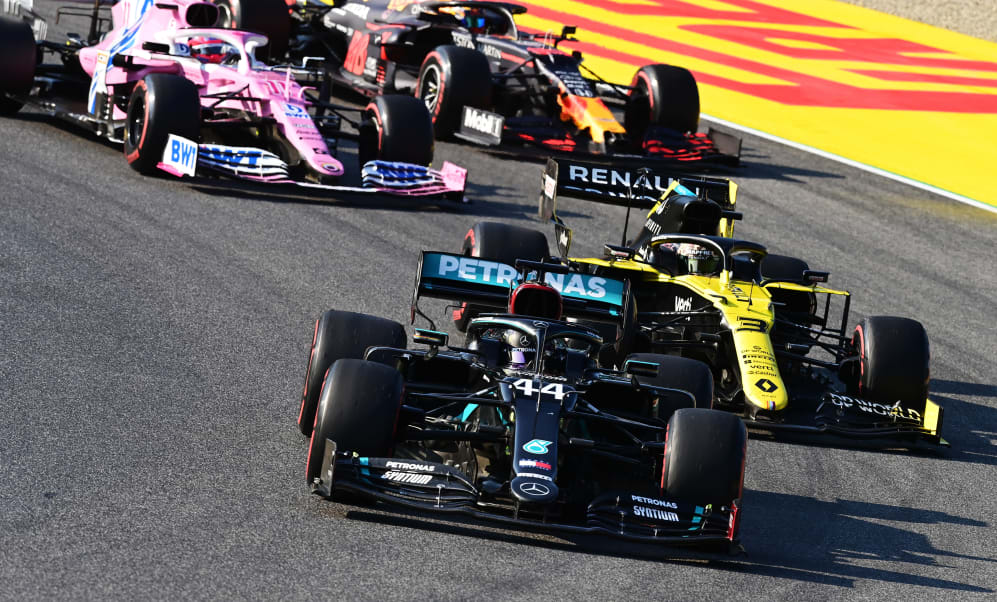 If it hadn't been for Lance Stroll's crash on Lap 42, and the subsequent red flag and standing start, Ricciardo reckons that podium might well have been his.
DRIVER OF THE DAY: Plucky Ricciardo is the fans' favourite
"If there wasn't a red [flag] for Stroll, I guess, we had track position at the time and the medium was looking pretty good for us – I felt a bit in control of the pace. It's pretty crazy, three reds in the last week. But they all had reason, there was big accidents.
"We'll keep coming back and we'll try to do it. I don't feel like we missed out today, we put ourselves there, we didn't have the speed at the end," he said.
It was all smiles, then, as Ricciardo still managed a fourth P4 finish at Renault – his joint-best finish for the team – and this one coming from P8 on the grid.
READ MORE: 'We shouldn't have been in that position' – Verstappen rues power problems that led to lap 1 crash
He concluded: "If Albon got me at the start and I'd dropped back to fourth I could have maybe said 'if we had him we could have held on to track position', but we had it, and we lost it. So that's just on pure speed and pace.
"I don't feel too sad, I'd have loved to be up there so that certainly hurts, but diagnosing ourselves, our evaluation of the race, my race and the strategy – we undercut Stroll – we couldn't do anything else."